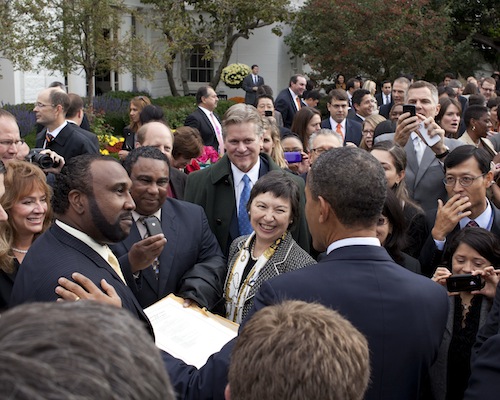 After years of protests, numerous failed Congressional bills and dozens of lawsuits, black farmers began receiving payment for their grievances last week. Nearly three years ago President Obama signed the bill authorizing compensation for discrimination in farm lending at the hands of the United States Department of Agriculture.

Nearly 17,000 black farmers will each receive $50,000 plus $12,500 for taxes. In sum, the federal government will pay $62,500 in settlements for racially discriminatory practices that went on for many years. Nearly 30 years ago, I first experienced these injustices and led in forming the National Black Farmers Association (NBFA). Since that time we have traveled many rough roads. No matter how it is sliced, the $2.5 billion in payouts is historic in nature. In 1999, black farmers received a $1 billion payout in the first phase of settlement. In 2010 a $1.25 billion payment was made in a late filers' lawsuit settlement.
The NBFA also paved the way for similar U.S. settlements with Hispanic and Women farmers ($1.3 billion) and Native American farmers ($800 million) and the related Cobell case settlement for ($3.4 billion).
I am proud to have led the fight for justice for the black farmers, a struggle few people ever thought we had a chance to win. During my 30-year lobbying campaign I made many friends and certainly heard from lots of critics. Some extremists questioned whether there were any black farmers in the U. S. and challenged our right to pursue justice. I heard charges that black farmers are frauds and were never real farmers. One member of Congress went so far to name my father "Drunk Johnny," a cruel epithet toward a man who uses no alcohol.
Still, we held to the simple belief that by remaining steadfast, putting God first and believing that your cause will serve the greater good, your victory is inevitable. The clock hands of justice are slow but steady in turning.

I still see the faces full of suffering among weary black farmers broken down by discrimination. I still hear the pain in the voices of thousands who lost land that federal loans might have saved. A $50,000 check will not bring back their lost farms. Total restoration is impossible, but for me the fight was about justice.
And it was not easy to persevere in the face of hateful phone calls, hate mail and even death threats such as I received after the president signed the bill authorizing payments to compensate the black farmers. There was never a blanket settlement; each black farmer's case was adjudicated by a neutral third party group, many of them retired judges. The long wait for fairness compounded our pain. My life largely has been a waiting experience. We black Americans had to wait or jump through some special hoops, often to be told NO at the end of the day. These days, watching the news about all the stalemate in Congress I truly see that if we were dealt the hand the president faces today in the House of Representatives, I almost certainly would still be lobbying Congress for redress.
Hearing from farmers who received their $50,000 settlement checks this week, I am overwhelmed with joy for them. But the payments are a bittersweet victory, because many challenges remain for black farmers. We still have problems such as banks denying us operating funds or farm ownership loans. Even today SunTrust Bank has refused to provide outreach to farmers who received the settlement funds not. Some have been denied checking accounts, IRA accounts or even help with basic financial literacy. This unfairness comes from the bank that held and used the $1.25 billion deposit in our settlement.

Much remains for black farmers pursuing full fairness in our economy. For example, we get virtually none of the huge business of supplying the fast food industry. For 12 years McDonald's has declined our attempts to supply their vast enterprise. The enormous firm Archer Daniels Midland sees no point in contracting with black famers to purchase our small grains. We have a giant challenge ahead to become self-sustaining and compete with large-production farmers.

For all the farmers who were denied eligibility in our settlement there is no appeal process. I am very sorry the settlement didn't help all who deserved it. Many black farmers have died waiting for justice, so for those families the settlement comes too late. As the black farmers' bill made its way through Congress it was narrowed down to a half loaf. Still, we have to pick ourselves up, brush it off and move on with our lives. We, as small farmers have to work together in lobbying Congress to change laws so we can remain on the land and become strong stewards of its bounty.
After all the shoes I wore out walking the halls of Congress, protesting with my mules "Struggle" and "Forty Acres," and riding my tractor, "Justice," to Washington, I question whether it was worth the fight. The answer is an unqualified "Yes," just for the few moments today of listening to one farmer who received his check. That made it all worthwhile. I'm reminded today that freedom is never free.
Popular in the Community