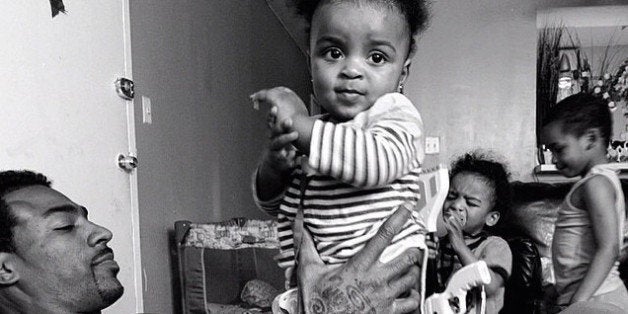 Too often, black fathers are either subjected to harmful stereotypes or held to unrealistically high expectations and aren't offered the leisure of living life without falling victim to these tropes.
"Why can't we just be everyday men? Affectionate, loving and present... somehow people fail to realize this exists," photographer Zun Lee told The Huffington Post. "Seeing black people just being is a powerful act."
Too many archetypes of black fathers in the media portray these men as aggressive and absent. To combat these notions, Lee focuses his work on the various complexities of black fatherhood.
Over the last four years, Lee has produced more than 12,000 photos, all of them based on black fatherhood. His work features some of the most intimate images of fatherhood that, collectively, send a strong message that pushes back against the negative assumptions about black fathers.
"Black people are expected to be supernatural and it's a dangerous narrative and I'm rebelling against that. For us to be respectable, we have to perfect," Lee said.
"Many men fall through the cracks. Many of these men aren't married or live at home but these very men negotiate the notion of presence in a very meaningful way."
Lee, a biracial man who had a rocky relationship with his own father, grew up around black men who helped discipline and raise him as a child, Lee said. For him, these men became father figures and inspired him to continue creating work that challenges the portrayal of fatherhood in a very fluid and realistic way.
"Black fathers are no different than other fathers," Lee said. "We don't need to owe an explanation or say that we deserve better treatment, we are not criminal. We don't have to prove anything to anyone. We are human. We're not on trial here."
Whether his work captures a father's long, loving gaze to his child, or their hands clasped to symbolize protection and presence, Lee's focus on these specific moments of love and affection is what makes his imagery so relatable.
"I'm not here to refute, explain or justify anything," Lee said. "If you don't get it, it's fine. And when people demand an explanation, that's not for me to give."
Instead, his pictures speak for themselves and capture the true beauty that is black fatherhood.