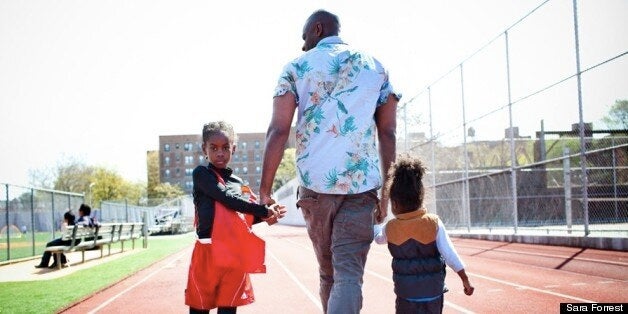 For entrepreneur William K. Middlebrooks, the only difference between living an ordinary life and an extraordinary one is your willingness to do the extra in everything that you do.
It's a lesson Middlebrooks says his father instilled in him growing up, and one that served as a source of inspiration for a compilation of wisdom he and marketing executive Leslie M. Gordon recently released on the role of fathers in the African-American community.
Among them: Cultural icon and entrepreneur Russell Simmons, NBA veteran Allan Houston, ABC News broadcaster Robin Roberts and the authors themselves, who sat down with The Huffington Post to discuss their mission to portray black fathers in a more positive light.
Given all of the negative notions around black men and fatherhood, how did this counter-narrative come about?
Bill: About two years ago I came to Leslie and said, "Hey, I've got this idea. I want to write a book that does a couple things." One, it honors and recognizes those African-American men that have stepped up and assumed the responsibilities of fatherhood. Second, I wanted to have a book that educated and reinforced, not only within the African-American community, but the greater community, that African Americans can, have been and continue to be engaged and loving fathers. Third, we wanted to inspire more African-American men to engage in the lives of their children. We wanted to offer a potential roadmap for fathers and parents from men who have raised extraordinary sons and daughters. And finally, we wanted to do something that was going to begin a new positive conversation about the role of fathers, particularly African-American fathers. We had to do something that gets us to our larger goal, which is to... bend the curve.
When I was born in 1960, U.S. Census reported that father-absent homes for white american children was at 8 percent. For African-American children, that number was 31 percent. Fast forward to 2010, the census figures show for white children living in father-absent homes, that number is 21 percent; for African-American children, it's over 58 percent. We have to figure out some way to change the dialogue, change people's thinking about fatherhood, and this was an attempt by Leslie and I to do that.
Leslie: From my perspective as a woman, as a mother of three, and as someone who loves African-American dads and men, I just felt compelled to help tell a positive story. As much as the news is negative about what's happening in our community, we just want to shine a really bright light on these extraordinary people who were raised by some phenonomenal dads and who were loving and selfless and very nurturing. They didn't just look at fatherhood as [being] the financial provider, but they literally, proverbially wrapped their arms around their kids and pushed them to be as extraordinary as possible.
Can you each tell me about your own personal relationship with your fathers or father figures in your life?
Leslie: My father, whom I was named after, he passed away when I was just 13 years old. We were very close and he was a really present father. When we lost him it was very devastating, but he instilled in me a real fighting spirit and a sense of persistence and determination, which has led me to where I am today.
But I also had wonderful father figures in my life. My grandfather, my father's father and I, were very close until he passed away about 5 years ago, and my step father, my uncle, a lot of the men in my family stepped up when my father passed away and provided what my brother and I really needed from our dad.
Bill: My dad was born in 1916 in Warm Springs, Ga., only had a high school education, but he sent five kids to college without a single dime of financial aid.
In the book I kind of follow on the 100 Black Men of America's motto of "What they see is what they'll be." I saw a number of African-American men in my community of northwest Detroit get up everyday, go to work, come home, be engaged in the lives of their children, respecting their wives and also opening up themselves to me and other kids in the neighborhood. I saw that and those experiences helped form my life and my approach to fatherhood. [They also] provided the underpinnings for wanting to do this project.
How did you go about choosing and interviewing the subjects featured in the book?
Some of the people are from Detroit -- we're in Detroit -- so there are personal relationships that we had there and some of those opened the door [to others].
What we tried to do is get some people who had some celebrity, because people are enamored with celebrity, but we also wanted to have some everyday people because we didn't want this to just be about [raising] a celebrity child. We wanted to have a full range of individuals. We've got people in law, politics, athletes, military, business; we tried to have a cross-sections of individuals.
Were there any stories that stood out, anything particularly compelling in your interviews?
Leslie: There were a few. Robin Roberts talked about her father, Colonel Lawrence E. Roberts, he was an officer in the United States Air Force, a Tuskeegee Airman and a gentle giant, really loving, but firm when he needed to be. She told stories about some disciplinary moments where he had to put his foot down, although, overall, he was a very quiet man.
Rosalind Brewer talked about her father -- she's the youngest of five children, raised in Detroit -- who had three jobs, worked long hours and was gone working a lot. But every piano recital, everything she did, she'd look out into the audience and see her father there. He never stopped supporting and believing in her dream or helping her get where she needed to go to be extraordinarily successful.
Bill: All 20 were great, but what I took out of these 20 interviews was a common theme: that these men, regardless of their background, education, experience, they embedded or infused in the lives of these men and women a sense of pride -- personal responsibility in delivering excellence.
Read and excerpt from "Dare To Be Extraordinary: A Collection of Positive Life Lessons from African American Fathers," plus photos from three photography projects celebrating black fatherhood in the slideshow below.
Robin Roberts & Lawrence E. Roberts
In New Jersey in the early 60s, Roberts's brother, Butch, was hauled into jail by the military police for being in the wrong place at the wrong time. Butch kept telling the military police, "My father is an officer! My father is an officer!" And yet they insisted he was a liar. Lawrence went to get his son from jail. Lucimarian was livid. Roberts had never heard her mom swear before that night. Lucimarian told her husband, "You tell these S.O.B.'s exactly who you are! You need to get angry and pitch a fit!" Lawrence refused to take that kind of stance. He cleared up the matter and brought his son home without raising his voice because he always felt there was the better way of going about solving such matters. Colonel Roberts had the unique ability to be a peacemaker without letting people run over him, and he passed down these important life lessons of strength and humility to each his four children. He was a problem solver. He felt that the universe was on the side of justice and that he would prevail without bending, breaking, or resorting to violence. "My dad never cowered," Robin says. "He had a quiet strength, and he believed in what he believed in. He was able to get his point across in a very dignified and passionate, but quiet way."
In Roberts's eyes, her father was a gentle giant. He was compassionate and although he had a straight-laced, buttoned up persona, and a deep voice, there was a real softness to him. She recalls that her mother would try to discipline her and her siblings, but when their father would walk through the door all he had to do was clear his throat and the kids would scatter. Colonel Roberts was always big about going to church together as a family on Sundays. If the Roberts kids didn't go to church, they couldn't play. That was one of his rules. When Roberts was four years old, the family attended a church retreat at Lake George in the Adirondack Mountains of upstate New York. Her parents explicitly told her not to go out to the lake by herself, but she didn't listen. It was the last day of the church retreat. Colonel and Mrs. Roberts could not find her and quickly went into full panic mode searching frantically for little Robin. Finally, they spotted her sitting at the end of the pier, dangling her feet over the water, swinging her tiny legs back and forth like a pendulum. Her father quietly came up behind her because he didn't want to startle her and cause her fall into the water. He came up very gently and scooped her up into his warm embrace. This is when they knew she was safe. Roberts thinks that's what she always subconsciously felt—a warm embrace from her first love, her dad.
Reprinted from Dare To Be Extraordinary: A Collection of Positive Life Lessons from African American Fathers by Leslie M. Gordon and William K. Middlebrook by arrangement with Lulu.com, Copyright © 2013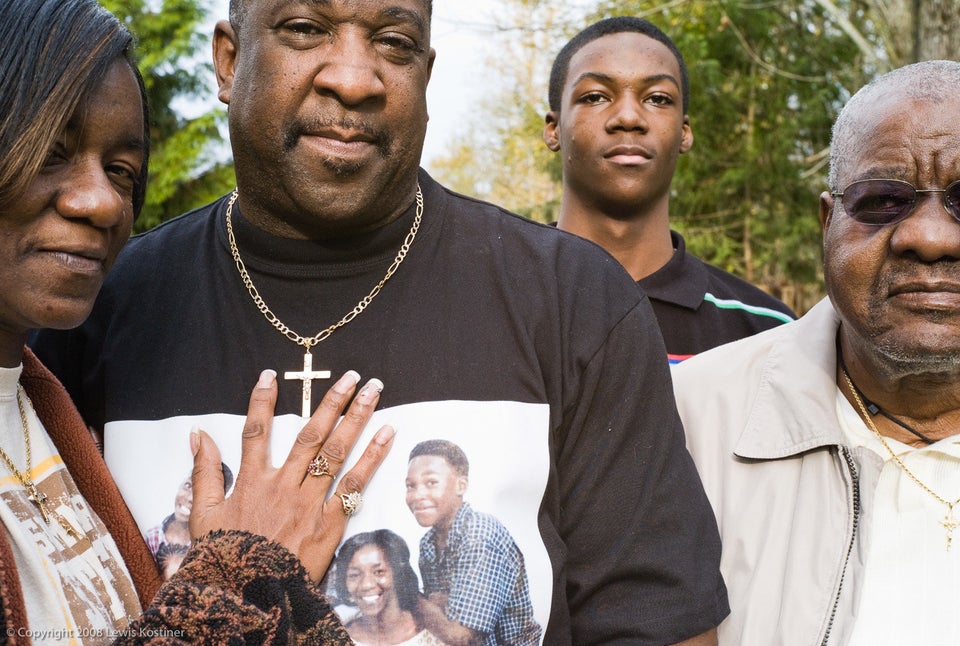 Black Fathers Daring To Be Extraordinary
Support HuffPost
Every Voice Matters
Popular in the Community