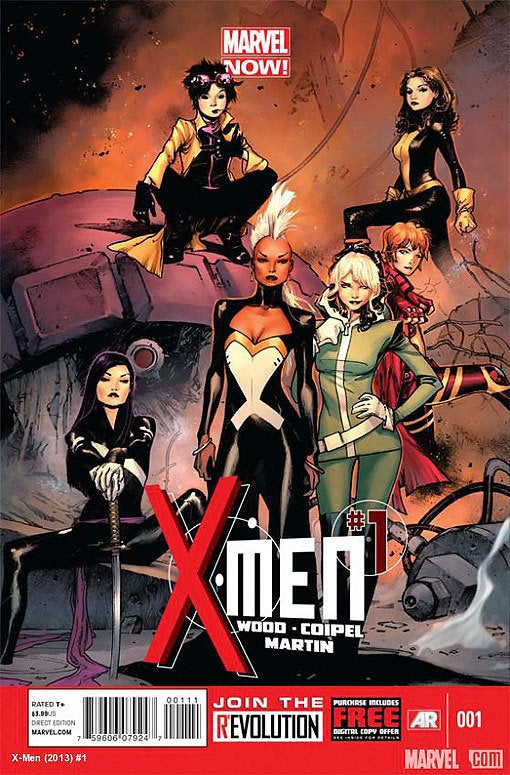 When it comes to female comic book superheroes of any race, Wonder Woman and Supergirl are by far the world's most recognized. Yet even with their international popularity, both have failed commercially in major films and television adaptations. This failure has historically been attributed to the white, male-dominated comic book industry and media, which is often accused of being largely inept in writing, crafting and celebrating complex female superheroines. It has also been attributed to our sexist culture, which struggles psychologically with the concept of women and power.
This difficulty to write white female superheroines (or, depending on who you talk to, Kryptonian and Greek superheroines who look white) has fallen down even more so on black female superheroines, who not only become victims to the white male sexist imagination, but, among other things, it's racist stereotypes. In fact, with the exception of the X-men's Storm, there are not any other widely recognized black superheroines in American culture.
Well, the work of Grace Gipson just may help to change all that. Gipson, a graduate student at Georgia State University, is researching the interpretations and history of black superheroines. Her work has centered on answering the question "What are comic books communicating about black women to younger male and female readers who participate in the cultural universe of superheroes?".
I caught up with Gipson to learn more about the black female superheroines that are out there, why we need to read their stories and why we should support black women and girls in being the heroes in their own lives.
Can you tell us more about your research on black female superheroines? Why did you choose to research this?
I chose this research because I wanted to provide a voice from a black woman's perspective regarding comics, especially the black female characters.
Also the comic book genre has primarily been discussed from the perspective and viewpoints of white males. There is very little research that specifically discusses the black female character in comics, so this was a great way to open this door even further.
What African-American superheroines are out there now?
Besides the ever popular X-Men's Storm, there are a numerous amount of black female superheroes/comic characters. Some of these characters include Dark Horse comic's Martha Washington, Milestone comic's Rocket, DC comic's Vixen, Crimson Avenger, Michonne from the graphic novel The Walking Dead, Marvel's Photon/Captain Marvel,Misty Knight, Melody Rich from Brotherman Comics, and independent Black comix characters Oya, Prodigy, Amazula just to name a few. It's important to note that the black superheroine is not just in the mainstream comic world (i.e. Marvel , DC and Image ) but is quickly growing in the independent comic genre.
Wow! There are so many characters that I have never heard of. How do you think that black women and girls specifically could benefit from learning and reading about them?
I definitely believe that black women and children can benefit from reading and learning about these characters, because their stories are much like our own. Many of these narratives motivate and can inspire young girls that they can be great in their own unique way. I have come to realize that although these are fictional characters they actually have very relatable stories, which can be a powerful tool especially when it comes to encouraging future generations. Also each and everyone of these characters allows for women to be able to step outside of their own reality, and step into another world even if it is for a brief moment in time.
You stated that many black female super heroines have very relatable storylines that can be empowering. Can you share one?
One of my favorite storylines would be Frank Miller's creation of the Dark Horse comic character Martha Washington. Martha Washington invites a discourse regarding issues of female empowerment, race and gender. Washington starts out as an ordinary African-American woman who "fantastically" becomes a resilient leader in her own community and ultimately the universe. Not only is she an empowering female action-hero, but she is also a black woman from the busy streets of Chicago who becomes the epitome of a "real life hero." In addition, visually, Washington challenges the typical comic book hero image. Martha Washington is not your classic privileged superhero -- she actually humanizes the superhero experience by being a "regular" African-American woman who ultimately becomes a hero.
Here is an average black girl from the grimy, crime-ridden Cabrini Green projects in Chicago that little black girls can relate to, because she is the average hero. Also the fact that she comes from a place that actually exists lets young girls who come from similar backgrounds know that I, too, can make it out "the hood...ghetto" and be somebody great!! Young black women no longer have to aspire to be someone who does not even look like them, nor does the person actually come from a place that even exists. In the words of scholar Aimee Cox, "Martha Washington does sort of celebrate this 'regularness' and demonstrates that being regular or being everyday, and the potential for that to be superhero-like or superheroine-like."
Martha Washington is a character who steps away from the traditional female comic book stereotypes, takes away the power of patriarchy, and departs from the traditional narrative of the white superhero saving the day and even more so the world... On a side note it's been rumored that her character may hit the big Hollywood screen, if that becomes a reality her story would provide a major impact on black women and girls.
Are there any narratives or origin stories that you have found particularly troubling? Any origins or narratives that you have found empowering and unique?
Unfortunately, black women in comics have been reduced to sidekick roles or deemed as helpless. Also there have been several instances where black female comic characters would be reduced to negative images such as hyper-sexed vixens (i.e., DC Comic "Vixen," DC Comic "Deborah Teigel" from the series HITMAN), cold-blooded killing machines (i.e., Top Cow's "Fox" from the series Wanted), sinister warriors (DC Comics "Fatality"), and the like.
However there are some characters like Milestone Comics Raquel "Rocket," Marvel's Misty Knight and Photon/Captain Marvel II who inspire you with their backstories of survival and determination. And even though they may not be the front-runner, they possess powers and abilities that go beyond flying, telepathy, and super strength.
These women among others can do everything from manipulate kinetic energy, to being highly skilled and trained in martial arts, to world-class athletes, to being great intellectuals. And that for me, still gives me hope that black female comic book characters have the potential to be as great as a Wonder Woman or even Iron Man or Batman.
You stated earlier that black female superheroes were more common in the independent comic book world. Why do you think that is? And are any of these characters being created by or written by black women?
There could be a couple of reasons that this is the case, one is the fact that most of the independent artist and creators are black, so this gives them the opportunity to voice and create their own stories. No longer do they have to depend on someone else to tell their story or draw their characters. And when you look at the big picture, blacks have this need for proper representation to be met, or this itch to be scratched and the independent comic book world can do just that.
Who is your favorite black superheroine and why?
I am a huge Storm fan!! The fact that she is from Africa is what would initially sell me on her character. Everything about her screams royalty and leadership. And the fact that she would be able to become a leader in a primarily white- and male-dominated group speaks volumes.
I always loved the fact that although she would become and orphan after the loss of her parents, her determination and will to survive is tremendous. Now another thing that I liked about Storm was that she was not one-dimensional, she had an alter-ego side that not many people are familiar with, there was a brief time where she went through this punk rock stage. It brought her humanistic element to the forefront.
Her whole demeanor, attitude, the way she dressed everything would just change drastically, and I found that quite fascinating. In a sense her character reminded me of someone battling with what DuBois would call double consciousness and the two-warring souls. And I can't forget the fact that she could control and manipulate nature and the weather elements. She was a bad sista!!
For more information on black women superheroes, independent black women comic book characters check out:
For more information on Grace and her work follow her on twitter at @GBreezy20
You can also follow Yolo Akili on twitter at @YoloAkili
Popular in the Community