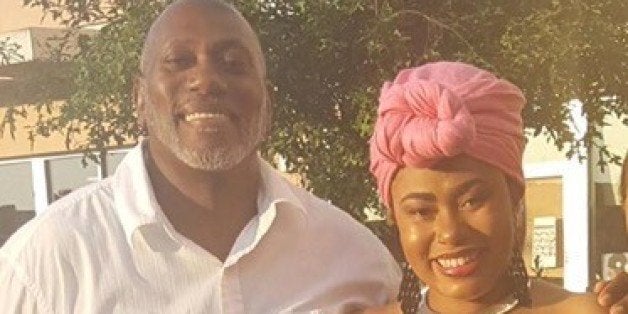 I remember an argument I had with my father as a little girl, in which I declared with my "Independent Women -- Destiny's Child" brand of girl power and wisdom that he was not a feminist.
He gave me a puzzled, unimpressed look and responded "I'm not a feminist?" before rolling his eyes and leaving me to attend to his other two, less boisterous daughters.
In my ten-year-old mind, being feminist meant my dad couldn't tell me to wash dishes or do laundry because a man shouldn't expect women to be their personal Cinderella. I realize now how wrong my assumptions about my father and feminism were at the time. The man just wanted me to get my chores done.
A few years later, I got my first glimpse into Black feminism in the pages of book that I took from the bookshelf in his home office.
The book, No Disrespect by Sister Souljah, took me through a journey of my Black womanhood future. With the sentence, "I was born in the Bronx," I started to feel like I really had opened my sister's diary even though I now lived miles away from Seton Avenue.
As a teenage girl, I read Souljah's words as a cautionary tale that portended difficult and complex relationships with Black men in adulthood. I also took note that growing into a Black woman meant fighting for self-definition and self-determination, challenging the views of womanhood that attack us from all angles including from the ones we keep close.
I suspect my father knew this too, so he made certain his daughters embraced our Blackness as we transitioned from girlhood to womanhood. He would drive from toy to toy store around birthdays and holidays until he found the Black version of the Barbie doll we had requested. He would buy my sisters and I copies of all the Black female coming of age novels like Coldest Winter Ever, Flyy Girl and The Skin I'm In. He never suggested our skirts were too short, clothes too tight, or behavior too unladylike. In one day, he would send us to swim practice in the morning, take us to the hair salon in the afternoon, and show us how to put air in our tires in the evening.
When he returned from his travels somewhere in the Caribbean or Africa, he would gift us jewelry, scarves, and dresses crafted by our Black sisters abroad. Above all, he ensured that our Black girlhood would be definitively Jamaican, reminding us that we were kindred spirits with Queen Nanny, the fearless leader of the Windward Maroons who freed nearly 1,000 slaves decades before Harriet Tubman was born.
My mother and sisters were a clan of women, but rather than play king, my father instituted in us more democratic principles -- particularly that being a woman did not stop us from accomplishing or doing anything we put our minds to.
Some of the most significant lessons my father gave us had to do with what we should expect and accept from the men we dated. First and foremost, we should never depend on any man for anything, unless of course we were on a date -- then he better be footing the bill.
Second, he advised us to pay attention to the relationship a man has with his mother. "The way he treats his mother, is how he will treat you" was just one of piece of wisdom he would dispense when we turn to him about our relationship problems.
Third, unlike fathers who feel compelled to control every aspect of their daughter's dating life, my father let us learn love and heartbreak on our own. When we love a man, he likes him. When we're ready to kick said man to the curb, he does not interfere except to remind us how many fish there are in the sea.
To be sure, our father offered us a perspective of men that called for us to demonstrate patience as we confronted the patriarchy and misogyny we faced from other Black men. The other day I called him, furious after an encounter with a mansplainer in serious need of a civics course. He calmly reminded me of the education gap between young Black men and women in the United States; to consider my knowledge a privilege and to rely on the always reliable option of choosing silence over clapbacks.
I probably will continue to choose clapbacks (I get that from my momma). Still, I am grateful to have a father who made room for my outspokenness to flourish despite what society expects women to behave like. To have him as a constant example of Black feminist fatherhood reminds me to expect and value loyalty, respect, and freedom to define oneself in all my relationships.
Calling all HuffPost superfans!
Sign up for membership to become a founding member and help shape HuffPost's next chapter