This morning, we woke up to the Academy Award news that three movies that center Black lives - Moonlight, Fences, and Hidden Figures - were nominated for Best Picture. Black actresses Naomie Harris, Viola Davis, Octavia Spencer were 3 of the 5 nominated for Best Supporting Actress. The Academy nominated Moonlight's Barry Jenkins for Best Director and Ava DuVernay's 13th for Best Documentary. The list goes gloriously on.
I recently had the opportunity to talk with filmmaker Nadhege Ptah about her experiences as both an independent filmmaker and a local mom making a name for herself in Harlem. I first saw her short film Dodo Titi in 2016 and was impressed by the poignant way she told the story of a Black nanny who felt that her employers valued the family dog more than they did their significant human employee. From Hollywood to Harlem, Black filmmakers are shining - and have so much more to share.
When did you first become interested in storytelling?
My interest in storytelling began as a youth when I preferred to create dialogues and characters with my fingers, rather than play with my siblings.
 
Is film your first love? How do you best love sharing stories?
 
I have various artistic disciplines that began my journey as an artist from dance, acting, and writing that were and continue to be expressed on stage and film.  So, creativity is my first love. Depending on the season one artistic medium takes precedent over the others.
 
Tell us about your Harlem. How has Harlem inspired you as an artist?
 
My Harlem weeps for what once was, a painful adjustment to the change. Harlem has a bold and spicy flavor filled with electrical energy of entertaining people. As an actor and writer it's a great place to watch and study characteristics, it fuels the creative juices. Also, the legacy, history, and memories still linger with the elders in the community, like my former neighbor who passed and shared personal stories with his friendship with Malcolm Little before he became Malcolm X.  One can't learn that from the history books. The engagement in real time and hearing the stories inspires me to carry the baton.
 
What are your homelands? How does "home" - real and imagined - figure into your work?
 
Interesting question of homelands because I was born in America, but raised culturally by my parents' homeland in Haiti. So, I experienced being in between two culturally different homelands. I was navigating the African-American experience with a Haitian upbringing.  My inner world of imagination was home for me, it allowed me to feel safe, create my own and be accepted without having to prove my allegiance in language, music, food, etc. So, my imagination plays into my work and pulling from various "homes", which is essentially the best homeland my work derives from.  
 
Tell us about Dodo TiTi - what inspired you?  How did you know this should be a film?
 
It was an incident that occurred at the outside entrance of the supermarket in New York City. I was shoved by a dog's owner that snapped at me for not moving further to make additional space for her dog to enter. That moment, which angered me, caused me to snap back. It made me feel not human and that the dog was more important than me. So, while I was furiously heading home the idea came to mine about a nanny competing with the family's dog for respect. It was initially explored as a play, then I shared with a friend what I was working on and she suggested it be great as a short film. So, it became a film instead.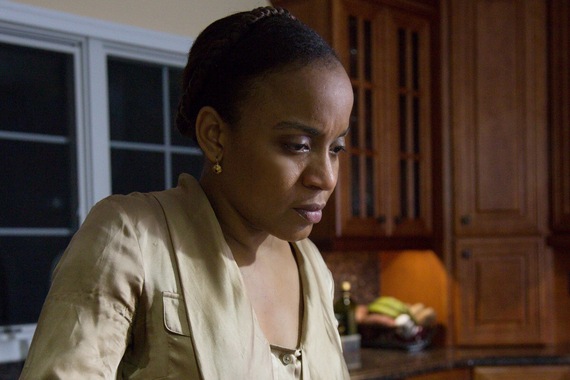 Photo Credit: Juanita Hong
Did anything surprise you as you made Dodo TiTi? Any unexpected lessons?
 
When the script of DoDo TiTi was completed as a writer we are attached to every word and the shape of the story. However, when you trust the idea that was birthed inside of you and bring other visionaries to tell the story, it was surprising what I had to detach from to allow it to be told from another angle without losing the root of it. So, in filmmaking, I learned the story will be told three different ways. It begins with the script, then production, and finally in the post.  You will receive the result of your story that was molded twice and the third phase is post. I learned to detach to what is necessary and preserve what is pertinent. 
 
What are you working on now?
 
I recently completed as a producer and actress a Rich Joseph's short film Harlem Love. It's a period piece about a couple in the 1920s whose past love struggles surfaced at the altar.  Yvette Joseph also produced, costumed and acted in the film. We are planning to screen privately in February to celebrate the 100th anniversary of the Harlem Renaissance with Sonia Sanchez who recites a poem in her voice in the film and Dr. Jeff Gardere serving on the panel. Then it will begin to make its journey in the film festivals circuit. Currently, I'm working on another draft of the script for Paris Blues in Harlem.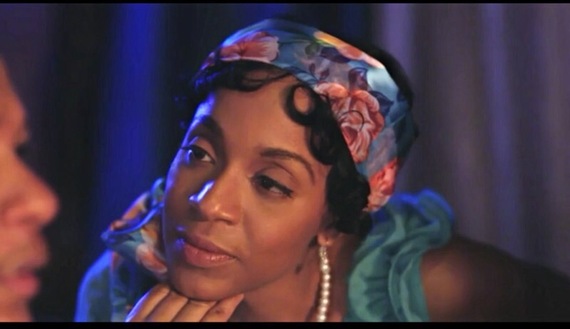 What advice would you offer emerging artists?
 
When you are an emerging artist, graduate to an evolving artist. Once you come into view and get notice, then what? There are so many artists who emerged but never evolved. So, continue to develop, progress and advance in your craft and self.
 
What advice would you offer local mothers who are trying to complete projects of their own?
 
You can't do it on your own. It takes a village to raise a child, so the concept applies for projects. Find like-minded people who are supportive, share the same goals, and just do it.
Calling all HuffPost superfans!
Sign up for membership to become a founding member and help shape HuffPost's next chapter