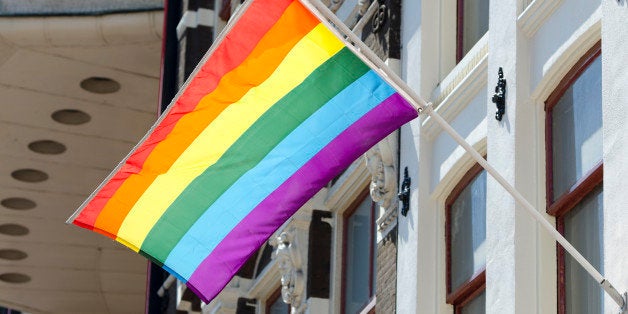 As the nation celebrates the long overdue legalization of gay marriage nationwide, many black Americans are carrying a different tune. In the wake of the Charleston shooting -- and the same day as Rev. Clementa Pinckney's funeral, no less -- members of the black community are voicing well-reasoned frustration as issues intrinsic to Black America seem to fall by the wayside in favor of more "agreeable" social issues. However, apart from these outcries, we seem to be voicing more discriminatory comments toward LGBT+ people -- a painfully familiar fact for the African American community. So, black folks, let's talk about homophobia.
When I got on Twitter this week, I expected to be greeted with nothing but positivity about Obergefell v. Hodges from my fellow black activists -- people who I regularly have spirited interactions with concerning issues such as feminism and race relations. That fantasy was quickly demolished. The anger flew as freely as the slurs among a fair number of black people, sprinkled with generous helpings of, "This is the downfall of America," "This country is going to hell," and other bewildering comments. While none of these tweets were as ludicrous as, say, the dissent of Clarence Thomas, they did provoke a fair bit of confusion. Is it really possible for such a historically marginalized group to harbor such hatred? With all the tireless social activism efforts spearheaded by the black community, it is easy to forget about this skeleton in the closet.
Some are quick to blame religion in these situations, drawing a controversial line from the black church to issues of bigotry. To their credit, they do have a statistical leg to stand on with roughly 80% of African-Americans identifying with some form of organized religion. And I still have searing memories of going to black-dominated Southern churches where members of the gay community were treated with anything but respect by a stone-faced preacher and a receptive congregation. But to say that the cause of homophobia in the black community stems entirely from religion only weaves a deeper web of hypocrisy.
Homophobia is not entirely exclusive to the black community, but it would be ludicrous to deny that we are immune to it. Perhaps it is our notorious penchant for upholding ideals of hypermasculinity which form the false connection that the effeminate = homosexuality = undesirable. Maybe religiosity does play a key role. Whatever the cause may be, it is unfortunately not that uncommon for a gay black person to note that the most hate they face comes from the black community itself.
As I scroll my timeline, talk to friends, or even overhear a passing stranger, I am reminded of a prevalent, cruel hypocrisy in the black community. The audacity of some to discriminate against those fighting for the civil liberties that we grappled for not even a century ago is repulsing. With black gays constituting the majority of the LGBT+ community, the legalization of same-sex marriage represents a colossal victory for a sizable chunk of black folks. But still, many in the community will continue to oppose the furthering of LGBT+ rights and paint a picture of Black America as an unsafe place for its gay brothers and sisters.
Few, if any, groups can claim that they've felt the discrimination and oppression like that of African-Americans. So I understand the heart-wrenching frustration that accompanies black issues constantly being overshadowed and ignored. What we need now is to rebuild a relationship of mutual support between the LGBT+ movement and the black community. We possess a duty not only to our LGBT+ members, but the entire community, as well, to stamp out this hate from our churches, streets and households and build an environment that fosters acceptance. The time for denial is no more -- we must actively address an issue that so many continue to write off.
If we can't call ourselves activists for all oppressed groups, then who can we really call ourselves activists for?
Calling all HuffPost superfans!
Sign up for membership to become a founding member and help shape HuffPost's next chapter