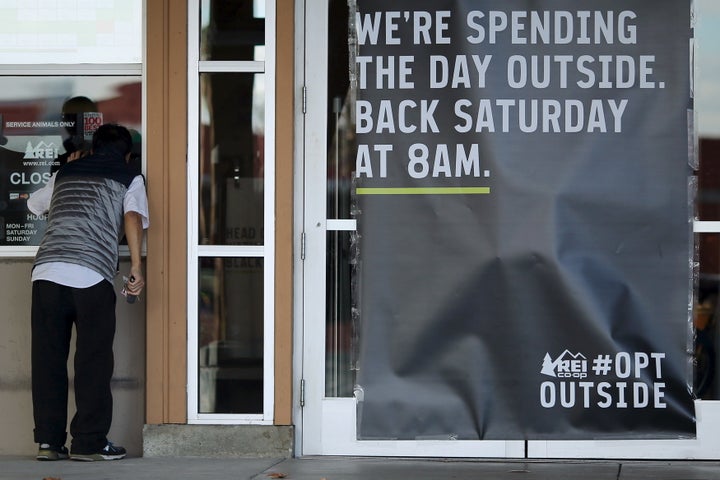 Who wants to be a chicken? Right now, in America, on average our kids spend less time outdoors than prison inmates… and chickens. When I first heard that statistic from IslandWood CEO Ben Klasky, my teeth started to grind and make a nasty noise in my skull.

If you're not the type to be motivated by that, here's another startling fact. The average person in the most developed nation in the world spends 95% of his or her life indoors. That adds up to somewhere near 70 years indoors. For a species that benefits so much from nature, this is an unnatural state.

For many, today's poultry-centered celebrations will be interrupted abruptly by a clarion-call to hit the malls for Black Friday.
No-one is arguing that the economy should screech to a halt, only that rampant consumerism can be rebalanced. I just think it's worth pausing to ask why we can't take a break. There are plenty of other days for sales. Every one of those minutes spent fighting for stuff in a state of heightened, adrenaline-fueled anxiety is a minute spent away from the people (and the places) we love most.

This time is set aside for reflection and reconnection, and it should stay that way.

Being outdoors forges bonds and breaks down divides like nothing else. For REI and millions in the outdoor community, this is year three of #OptOutside. REI is shutting down all our stores and processing no sales online.
On Thanksgiving and the day after, more than 12,000 REI employees are heading outdoors to spend time with family and friends (all are paid on Black Friday even though they are not working).
Last year, more than 6 million people from around the country, including participating employees and anyone who loves the outdoors joined #OptOutside. Perhaps more surprisingly, 700 organizations from the for profit and non-profit sectors did the same (thank you, all).
The scale of nature offers perspective. Even a short break in a local park measurably reduces stress. Doctors are prescribing outdoor time to heal. Others are onto it, too.
Just yesterday, Lyft started offering people $10 off #OptOutside rides to major parks in 12 cities around the country. More than 30 state park systems have joined-in. Hundreds of events are being held by non-profits in communities around the country.

If you have experienced the transformative power of the outdoors in your life, you understand why this movement has momentum.
Compare the quick fix of swiping a credit card with the sensation of being immersed in nature. Compare the fleeting high of unpacking a new pair of running shorts with the lasting feeling after a long run. Compare how you feel sifting through page after page of websites with the awe of being lost in the vastness of a forest – its sounds and smells enveloping you.

There is no comparison. One passes in an instant, the other lasts and leaves you enlivened. If you're lucky to have experienced those moments, you will never forget them.

But not everyone has.

That's why, for #OptOutside 2017, REI has developed free digital tools and provided inspiration and advice, attacking the barriers to getting outdoors. Nearly 20 videos created with images contributed by REI members tell the story of life outside through the eyes of people in communities all over the country.

We are digging deeper into tougher questions about the current health and future of life outdoors. In The Path Ahead, we explore nine macro trends in a 50-page publication. Topics include the link between health and the outdoors, the role of technology, urban development, the importance of access for all, the implications of our choices for the planet and, more immediately, for our kids.

The Path Ahead asserts that we do have a choice, which is what #OptOutside is really about. In a world that feels like it's moving at warp speed, we choose to find a moment of peace to quell the overwhelming noise. To remember what matters most.

After all, it's tough to protect something if you feel disconnected from it.
REAL LIFE. REAL NEWS. REAL VOICES.
Help us tell more of the stories that matter from voices that too often remain unheard.