It may be a week before Thanksgiving -- and a full eight days before Black Friday -- but shoppers hoping for doorbusters and low-priced electronics are already lining up outside at least one Best Buy location.
Jonas Allooh was the first to pitch his tent, setting up shop at 5 p.m. on Monday, the outlet notes. Next to him is Tony Avitar, another seasoned veteran of the Black Friday line. Both men are prepared for almost anything, bringing microwaves, heaters and televisions.
Perhaps more importantly, they also have support staff.
"He had to go take a shower so we're here filling in for him until he gets back," Avitar's mother, Janet Regic, told Fox 8. She also cooks for her son, including a full Thanksgiving feast that in the past the family has eaten in the tent.
"Originally I started because you know I have five kids and when you're on a limited income, or even not a limited income, you want to be able to get them nice presents instead of getting them like some crappy toy," Avitar told local NBC affiliate WKYC. "Then it kind of became a family tradition my kids started coming down and it became a bonding experience with me and the kids."
"Black Friday is our Super Bowl, and we plan to win," Duncan Mac Naughton, chief merchandising and marketing officer for Walmart U.S., told the outlet.
However, consumer research groups caution shoppers to be savvy about how they shop. Just because a retailer claims it has discounted an item, doesn't mean customers are actually getting a bargain, they warn.
"Retailers also trick consumers on Black Friday into falling for bad deals with misleading original prices, knockoff deals, and rebates," research group Nerd Wallet warns. "Shoppers who skip the Black Friday lines, then, might not be missing much. There's a strong chance they'll see the same items at the same prices for Black Friday next year."
There is one bright spot for retail watchdogs, however: Costco and a few other large retailers, such as BJ's Wholesale Club, told The Huffington Post last week that they will not be open on Thanksgiving this year. A Costco representative, in particular, said the store believes employees deserve to spend the holiday with their families.
Related
Before You Go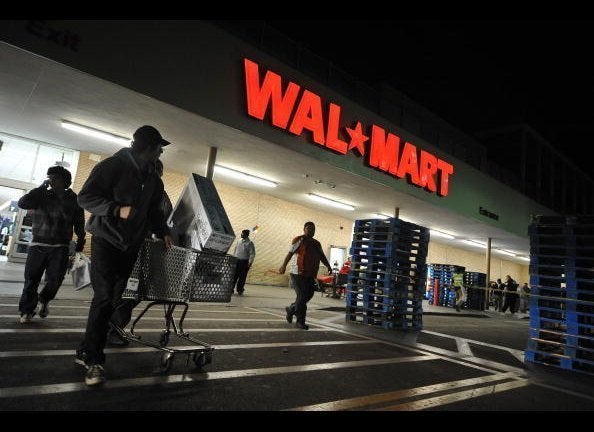 Thanksgiving 2013 Store Hours
Popular in the Community