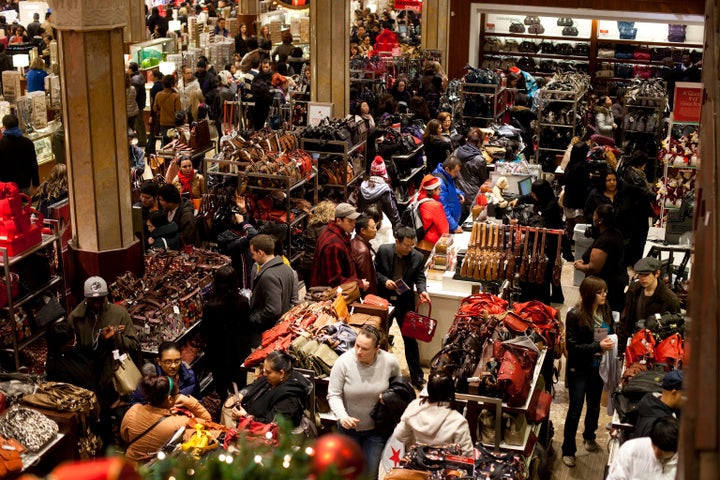 This year marked a record turnout for America's holy ritual of consumption, Black Friday. Retail sales were up 9.1 percent over last year, according to the National Retail Federation, with some experts scrambling to declare the beginnings of a large-scale consumer comeback.
But while some did splurge on flat screen televisions and jewelry, many others rushed into stores for more basic necessities -- the $4.47 baby clothes and $1.28 towels that have become increasingly difficult for low-income Americans to afford.
At a Walmart in North Charleston, S.C, Black Friday shoppers huddled around stacks of children's Disney pajamas, waiting for employees to tear off the plastic casing at 9:50 p.m. At Walmarts in Benton Harbor, MI. and Little Rock, Ark., shoppers-turned-YouTube spectacles fought over towels and waffle makers.
But these scenes, humorous to some, also paint a bleak picture for an American economy in the grip of a recovery that to many still feels like a recession. Nearly half of Americans lack economic security and are unable to afford basic needs like food, transportation and health care, according to a recent study by the nonprofit Wider Opportunities for Women. In fact, families' abilities to pay for food recently hit a new low this month, nearing 2008 recessionary levels, according to a Gallup Poll.
"It's competitive because the economy is bad," said Melissa Wolford of California, Mo. Her Black Friday list included towels and the $35 "Straight Talk" prepaid Motorola phone from Walmart.
Dev Shapiro, a spokesman for Gottadeal.com, a website that has tracked Black Friday discounts since 2003, said his company began noticing deals on basic household items at the start of the recession in 2008.
Shapiro, who lives in Dallas, Texas, said many of his friends no longer buy each other cruises for Christmas, instead choosing to go to Best Buy on Black Friday to buy appliances like washing machines and driers.
Kmart, for one, has long offered discounts on basic household items on Black Friday, according to Tom Aiello, VP of communication for Sears Roebuck & Co. There's just been "more of a slant to practical gifts" since the recession, he said. "Families are giving gifts like sheets, comforters, towels."
Yet gadget deals remain the ones most heavily promoted by the stores themselves in the lead-up to Black Friday. Best Buy's most talked about item this year was a $199 42-inch Sharp TV. Meanwhile, Amazon.com reported Monday that Black Friday Kindle sales were four times higher than last year.
It's not that customers buying flatscreens aren't buying towels, according to Aiello. While most shoppers won't camp out for five hours for a set of towels alone, they're aware of those deals and include such items on their lists, he said.
With the median national income falling more during the recovery than in the recession itself, it'd be wise not to pin the Black Friday sales jump on any increase in customer cash, according to Candace Corlett, president of WSL Strategic Retail. Instead, shoppers may feel Black Friday is the one day they can find affordable prices, Corlett said.
Indeed, in a survey of 1,500 people, WSL concluded that a large majority of shoppers of all incomes, ages and ethic groups perceived Black Friday prices to be the best of any holiday shopping day. And it's also the exception to the growing spending gap between affluent shoppers and all others, according to Corlett.
"For six months now we've seen a sharp divide between people with incomes over $100,000 and everyone else," she said. "Black Friday is different. It brings out that competitive spirit of those who just want to get the deal regardless of how much money they have."
"This is the shopping day of the year," 18-year-old Seth Hollibaugh said. Hollibaugh waited in front of Best Buy in North Charleston, S.C. for more than 30 hours in anticipation of Black Friday and the $199 42-inch flat screen TV.
"Then you start saving up for next year," he said.
CORRECTION: A previous version of this article mistakenly said Benton Harbor is located in Missouri. It is in Michigan.
Calling all HuffPost superfans!
Sign up for membership to become a founding member and help shape HuffPost's next chapter