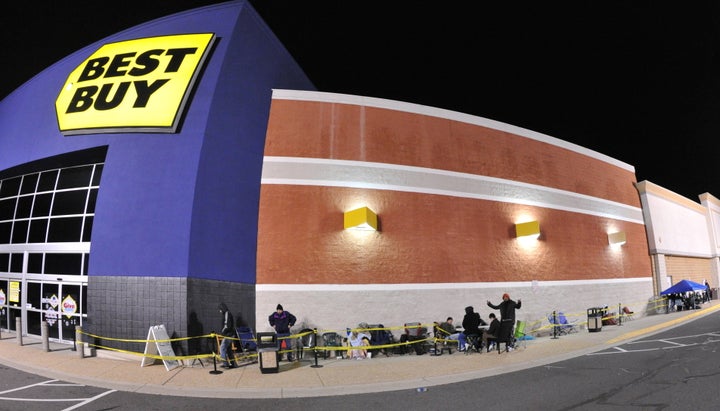 NEW YORK (Reuters) - It may not be a blood bath, but it will definitely be a dogfight.
The television aisles of top U.S. retailers are poised for a hard-fought contest this holiday season as chains take little chances with budget-conscious shoppers.
Unlike last year when some such as Best Buy held the line on discounts and promoted only high-end TVs, many retailers told Reuters this past week that they plan to do whatever it takes to get the customer through the door.
For the consumer, expect to see price cuts of up to 40 percent from a year ago on big-screen TVs, plus free shipping deals and even a 36-month financing option, in the run-up to ''Black Friday'' on Nov. 25, the unofficial start of the holiday selling season.
``As we look at the holiday season, we are going to play offense,'' Hhgregg Inc Chief Executive Officer Dennis May told Reuters in an interview last week. ``We are going to be very promotional. We are going to be aggressive.''
U.S. shoppers have held off on buying televisions and other nonessential items in the anemic economy. But the TV market is also a victim of a lackluster product cycle.
Early last week, Japanese manufacturer Sony Corp warned investors that its TV division is headed for its eighth consecutive annual loss, while rival Panasonic Corp forecast its biggest annual net loss in a decade.
``My outlook is not any different from Panasonic and Sony,'' Anthony Chukumba, an analyst with BB&T Capital Markets said. ''We have a lull right now in terms of TV demand; part of it is macro-driven, part of it is product cycle-driven. There is just not a lot of innovation out there.
``And a couple of things that may in fact just have been counted on to drive incremental demand like 3-D and Internet-connected smart TVs are just not working.''
Against this backdrop, global demand for televisions is expected to fall about 1 percent in the fourth quarter, according to Paul Gagnon, director of North American TV research for consulting firm Display Search.
This will fuel the intense fight for shoppers as they look for the biggest bang for their buck during the holiday season.
``It is starting even earlier than usual. You are seeing sharp promotions. You are seeing Wal-Mart out there with a TV this weekend and Amazon.com with special deals. It is upping the overall intensity,'' Bernstein analyst Colin McGranahan said.
``It is going to be a dogfight. Everyone's going to be fighting because demand is not great,'' McGranahan said.
Best Buy has already said it would offer free shipping on online orders from Nov. 1 through Dec. 27. On TVs costing more than $899, the world's largest consumer electronics chain is offering 36-month financing, a 60-day price guarantee and a promise to even pick up the TV from the customer's house if the model was not what he or she really wanted.
``Given economic realities, consumers are definitely more discerning this holiday season, definitely looking for the best value for their money,'' Mike Mohan, senior vice president and general manager of Home Theater at Best Buy, said.
FOCUS IS ON BIGGER SCREENS
Industry watchers expect retailers to focus less on promoting special features like 3-D technology, which can be difficult for the average consumer to understand.
``Today's TVs have so many capabilities such as Smart TV, Internet and 3-D technology and there are also a lot of confusing terms such as screen refresh rate and HDMI Inputs. Consumers can become overwhelmed and have difficulty understanding what television will meet their needs,'' Jim Hilson, BJ's Wholesale vice president of merchandising said.
Instead, they expect the focus to be on screen size, stressing the increased affordability of big screens.
``In the U.S. which is one of the more mature markets around the world for TVs, one that has already largely gone through the flat-panel TV transition, mostly what people are out there doing right now is updating the size,'' Gagnon said.
Hhgregg said it is carrying more giant TVs with 60-inch and above screens, and reducing its inventory of 32- and 40-inch TVs this holiday season.
``I can get a 60-inch TV for what I used to pay for a 40-inch TV,'' Hhgregg CEO May said. ``The screen size the consumer has always wanted has become affordable to them now.''
Due to their focus on larger sizes, retailers including Best Buy, BJ's, Sam's Club and Hhgregg told Reuters that they will not be reducing their shelf space for televisions despite the uncertainty in demand.
``To some degree, the 42 (inch) is the new 32. The 55 is the new 42,'' said Jason Shaw, vice president of merchandising for electronics at Wal-Mart's Sam's Club warehouse store operation. ''They are getting more for their money than they have ever gotten before.'' (Reporting by Dhanya Skariachan in New York, editing by Bernard Orr and Maureen Bavdek)