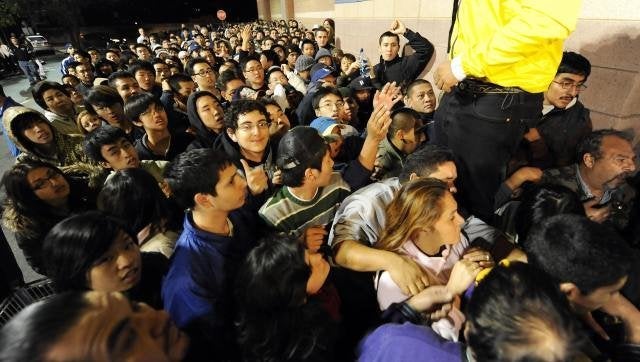 Promises of cheap laptop computers, TVs and video games drew shoppers across Southern California out on a cool Thanksgiving evening to cash in early on the holiday shopping season.
Across Southern California, stores opened their doors for those eager for a deal on that long-wanted flat-screen television or that sleek new laptop, marked down to door-buster prices.
But some, including Tasha Gibbons, weren't just wooed by big-ticket items. Gibbons rushed to Wal-Mart in Torrance after Thanksgiving dinner hoping to buy lots of discounted bath towels.
"You gotta have face towels, hand towels. My bathroom's like the Holiday Inn," Gibbons said. "I wonder how many people are here for towels. I'm racking up!"
Sal Serrano of Fontana was the first person in line for an 8 p.m. Kmart opening in Ontario, hoping to snatch a 50-inch TV for less than $300.
"It's all about the deals," Serrano said. "My best deal was probably a Xbox 4G I got last year for $200," he said as he proudly showed off his tickets holding his place in line.
Crystal De La Cruz ate Thanksgiving dinner sitting on a beach chair in line at Toys R Us in Torrance, where she and her mother, Toni Magallanes, snagged the first two spots in line. De La Cruz said her husband and two sons didn't mind that she wasn't at their dinner table because she would save hundreds of dollars on Christmas shopping.
"I'm getting my sons a tablet and toys," De La Cruz said. "Stuff is so expensive now. Here I can buy them three video games for the price of one."
The holiday season's shopping kickoff traditionally begins the Friday after Thanksgiving -- called Black Friday because it's when stores go in the black, or start making an annual profit. This year, most large retailers started door-buster sales early on Thursday night. Wal-Mart began selling some deeply discounted items at 8 p.m., as did Sears and Toys "R" Us. Target started at 9 p.m., while Best Buy, Kohl's and Macy's had midnight openings.
Kmart had a Panasonic home theater at $99.99 at 8p.m. And Best Buy had a 40-inch flat-screen TV going for less than $200 after a rebate.
Nationwide, holiday sales are anticipated to reach $586.1billion, which is 4.1 percent higher than last year, according to the National Retail Federation. Leading economists do not think the looming possibility of higher taxes and fears of an impending "fiscal cliff" have darkened the mood of festive shoppers.
"We've seen this pattern of cautious optimism all year, and despite the challenges that still exist in our economy, it looks as if consumers are eager to celebrate with friends and family," said NRF President and CEO Matthew Shay. "Retailers will continue to look for ways to stand out, specifically with attractive deals on toys, electronics and apparel, even well before the 'official' start of the holiday shopping season -- Black Friday and Cyber Monday."
Up to 147 million people nationwide are expected to shop in stores and online over Black Friday weekend, according to the NRF.
Social media websites have made it easier for retailers to connect with consumers immediately, said BIGinsight Consumer Insights Director Pam Goodfellow.
"The days of waking up Thanksgiving morning to find out what retailers' Black Friday promotions will be has transitioned into an ongoing dialogue between companies and their customers starting days in advance," Goodfellow said. "Through sites like Twitter, Facebook and Pinterest, company blogs, emails and mobile apps, consumers can connect with their favorite retailers like never before."
Workers set up rows of barricades draped in police tape in front of Wal-Mart in Harbor City as they prepared for an overflow crowd of thousands of shoppers to arrive for $179 laptops, $69 bicycles, $199 Sony PlayStation 3 bundles and more.
Inside, lines formed in front of popular items several hours before the 8 p.m. door-buster sales began. Plastic-wrapped pallets stacked with toys could be found throughout the store. There were $12 Discovery Kids Color Me Playhouses, $19.88 folding scooters, $1.96 DVDs, among dozens of other sales.
Los Angeles Police Department officers set up a command post outside Wal-Mart in Harbor City in case any violence broke out. On Black Friday last year, a woman sprayed a crowd with pepper spray at a Porter Ranch Wal-Mart in a confrontation over an Xbox video game system.
Wal-Mart workers have planned strikes at about 1,000 retail locations nationwide this weekend asking for better pay, cheaper health care and for managers to stop shuffling shifts to avoid paying overtime.
Brian Pospichal broke down a tent he had shared for a night with his son in front of Best Buy in Torrance on Thursday night, in anticipation of the midnight opening. He and his son have a Thanksgiving tradition of camping outside the electronics store to get Black Friday deals. This year, Pospichal was hoping to snag a 42-inch television for $179.
"I can always cook up a bird tomorrow," Pospichal said. "This is kinda fun, it breaks the monotony, and I've gotten two laptops in the past two years at really good deals."
Staff Writer Beatriz E. Valenzuela contributed to this story.
sandy.mazza@dailybreeze.com
twitter.com/SandyMazza ___
(c)2012 the Daily News (Los Angeles)
Distributed by MCT Information Services
Before You Go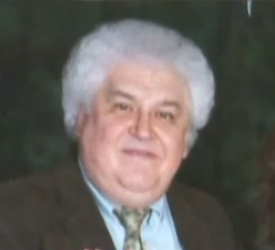 Black Friday Brutality
Popular in the Community