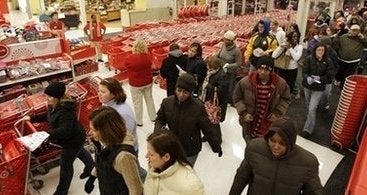 Update: The New York Daily News is now saying that reports of a woman having a miscarriage during a Wal-Mart Black Friday stampede are unfounded.
A 28-year-old pregnant woman was knocked to the floor during the mad rush. She was hospitalized for observation, police said. Early witness accounts that the woman suffered a miscarriage were unfounded, police said.
A worker died after being trampled and a woman miscarried when hundreds of shoppers smashed through the doors of a Long Island Wal-Mart Friday morning, witnesses said.

The unidentified worker, employed as an overnight stock clerk, tried to hold back the unruly crowds just after the Valley Stream store opened at 5 a.m.
Additional reports from NY Newsday say the "34-year-old Wal-Mart worker died Friday morning after he was knocked to the ground after 'a throng of shoppers physically broke down the doors,' pushing their way into the store at the Green Acres Mall in Valley Stream, Nassau police said."
Related
Popular in the Community