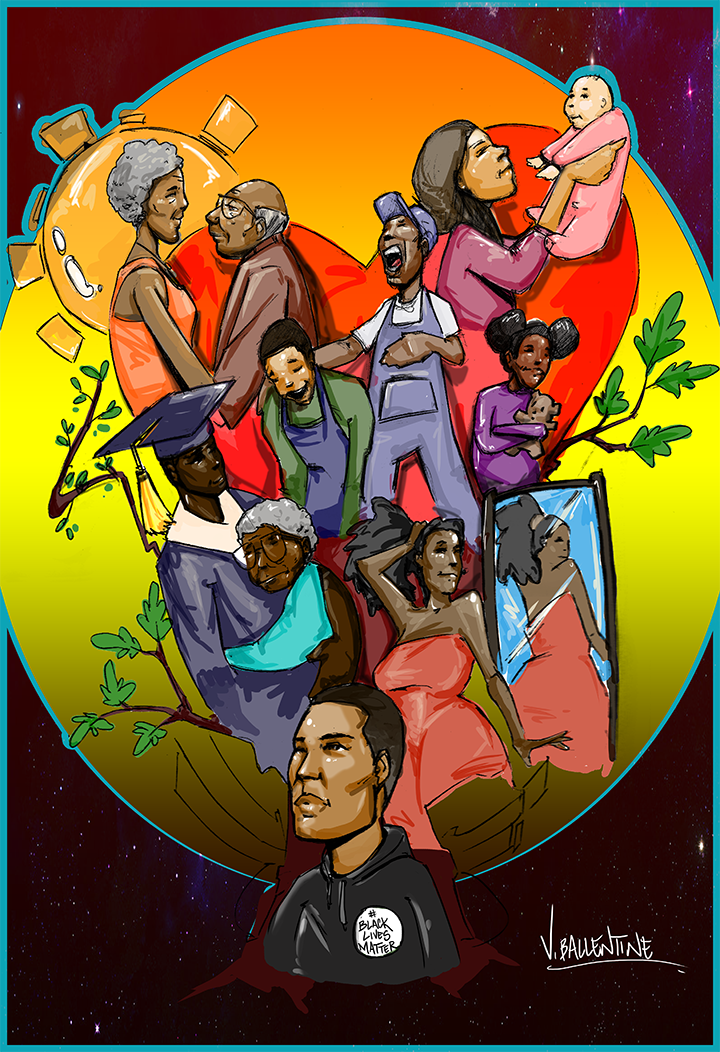 I'm a Black girl from the east side of Columbus, Ohio. Before graduating from high school, Columbus was all I knew, and more importantly it was my home.
But Black girls building home together is a threat to white supremacy. That's why in schools Black girls are being suspended at 5 times the rate of White girls for exhibiting leadership qualities like attitude, confidence, and assertiveness. It's why Black girls are continuously told that we must leave our communities in order to be successful. And it's why we are encouraged to achieve the dreams that our families have dreamt for us by not only leaving our homes, but by creating distance between ourselves and the Black women–led communities that gave us space to be leaders.
I embodied these messages that were fed to me about the power, and the danger, of my intelligence and leadership qualities and I left. I went to college in Pittsburgh, Pennsylvania. I studied abroad in Istanbul, Turkey. I took my first political organizing fellowship opportunity in Portland, Oregon. And I landed my first big girl job in Washington, DC, where I have stayed. I've made it around the world on my own, using my energy and know-how to make positive change for others.
However, my need for community, home and Black-only spaces never left me.
"The people I love and who love me are the foundation and core of every move I make."
What I have needed all along is not just my power, but also the expression of my love, perhaps the most threatening thing of all to systemic oppression. In the final book of her three-part series on love, Communion: the Female Search for Love, bell hooks writes, "We can all speak of our longing for power. Our longing for love must be kept secret. To give voice to such longing is to be counted among the weak, the soft." After moving to Washington, DC, and working to live my greatest Barbara Jordan dreams, I realized that it meant very little if I wasn't in community with the people I claimed to be working on behalf of as a reproductive justice organizer – Black women and our communities.
I'm writing these words with the attitude, confidence and assertiveness of love, because it has become clear to me that the people I love and who love me are the foundation and core of every move I make. I prefer to do everything in partnership. Whether it's to build a business (BLACK) with my Co-Director Kevin Banatte or to expose my deep love of politics and pop culture on a weekly podcast (The Black Joy Mixtape) with my SisterHomieFriend Jazmine Walker. With every step I make as an organizer, there is a group chat or a physical gang of Black women to whom I run back to for guidance, support and feedback until I go out into battle again.
If we are invested in ensuring the collective liberation of all Black people, we must be in healthy and constant relationship with the community we claim to love. To be sure, healthy doesn't mean there is a lack of conflict, difficult conversations and struggles towards creating a practice of accountability to address the hurt we are bound to cause one another simply by being in a relationship with one another. Our chosen families should not only include people who agree with us and cheer us on when we win. Our community also includes the people who are quick to be honest with us when we've fallen short or cause harm.
"To move forward and to love each other is justice."
Time and time again, my community has held my hand and said "Look at me. I'm your family now, too." Through firings, promotions, direct actions, babies and the loss of families members – they remain. They remind me that even when I am away from home, I should seek to create home, building and strengthening ties to home, by any means necessary.
To look at a person you love in the eye and to tell them where they harmed you takes courage. For that person to acknowledge your pain and to work to address the hurt they've caused takes fortitude. To move forward and to love each other just the same or more is justice. Though this hardly ever happens for Black people within our criminal justice or political system, there's no reason not to model it in our families, workplaces and communities.
Adrienne Maree Brown says that all organizing is science fiction because we are working towards a world that is free from oppression even though that is not our current reality. Yes, we have a lot of work to do before our society is a source of the love we deserve. Still, my vision for this Black Futures Month is that we take that next step, whatever it may be for each of us, toward love. I encourage all of us to start creating love and community for ourselves wherever and within whomever we call home.
This post is part of the Black Futures Month blog series brought to you by The Huffington Post and the Black Lives Matter Network. Each day in February, look for a new post exploring cultural and political issues affecting the Black community and examining the impact it will have going forward. For more Black History Month content, check out Black Voices' 'We, Too, Are America' coverage.
Popular in the Community