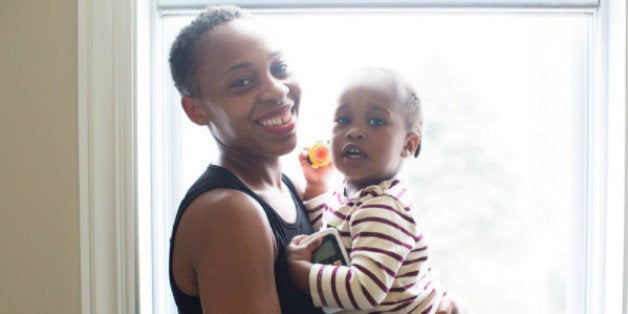 Leila Noelliste, her husband, Norman Baldwin, and their 15-month-old son Noah are just settling into their first home, a 1920s era remodeled house on the West Side of Chicago.
"I wasn't content with the idea of being a Chicagoan and letting go of my Caribbean heritage in a major way," Noelliste recalls. "It was a big step emotionally for me to buy property here; it kind of solidifies that this is my new home."
Though it feels like new, Noelliste has been acquainted with Chicago for years: She received her bachelor's degree from Wheaton College, an evangelical Christian school in the Chicago suburbs, and in 2007 began her career as a journalist with The Chicago Defender, a historically black newspaper, after shelving her dream of becoming a television writer.
"Once I started journalism I fell in love with that brand of storytelling and the importance it has for the preservation of democracy and the documentation of culture," she says.
In addition to black culture, Noelliste was inspired by the photos she saw online of black women learning to love their natural hair. She started her blog Black Girl with Long Hair as a hobby in 2008 to document her own journey. Noelliste had worn her hair in its natural texture for nearly her whole life with little knowledge of how to properly care for it. In college she was "the braid girl" and then the "press-and-curl girl" before the confluence of a break-up and other stress led her to "big chop" her hair. The blog's name voiced her desire to dispel a commonly held myth about hair growth in the black community.
"I always thought that black girls like me couldn't grow their hair out," she says. "What if that [was] not true?"
Blogging casually about natural hair while working full-time as a reporter allowed Noelliste to tell the stories she cared about on both platforms, but the economic downturn was unkind to the newspaper industry and led to Noelliste's layoff from the Defender in 2009. "[It] was heartbreaking," she says now. "I really loved that job." She soon took a new job at a rural paper in Illinois, but quit shortly after realizing that position offered no opportunity for professional advancement.
Facing unemployment, Noelliste took a good, hard look at her options. "'I have this little website, people seem to like it, I enjoy doing it, and I think it's serving a need,'" she recalls thinking. Though BGLH was barely profitable, Noelliste made a deal with Baldwin, her then-boyfriend: she would move in with him, contribute any income she received, and take the next 12 months to ramp up the site's revenue.
"It was a very, very difficult transition," she admits now. "I really learned who my friends were. A lot of my friends at the time thought I was foolish for trying to be a blogger. Some of them straight out talked about me and laughed at me. I actually went into kind of a depression around that time. I was ashamed. I was embarrassed."
Despite her fears and her detractors' warnings, Noelliste earned twice as much at Black Girl with Long Hair as she had at her prior job within that first year. Today her blog is one of the most popular natural hair websites on the Internet.
How do you and your husband balance working and caring for your son?
Initially we were both working full-time, and I was also responsible for Noah's care during the week, which was pretty much full time, because I work from home. We soon found this setup was very unsustainable. I felt that I wasn't running my websites as effectively as I could be, and I was not raising Noah with good energy and presence of mind.
After suffering severe abdominal pains in January [2014] and consulting with my doctor, I learned that my body was not taking well to the full-time work and full-time mommying schedule. So after several long discussions, we made some pretty serious decisions. We hired a nanny and my husband decided to go from [working] full to part-time while he pursues his master's in computer programming of information systems.
Our setup is pretty nontraditional, but we are really loving it so far. Now I feel that I can give the requisite time and energy to my business and really be rested, attentive and "present" when I engage with my son.
Photos courtesy of Lizilu Photography

REAL LIFE. REAL NEWS. REAL VOICES.
Help us tell more of the stories that matter from voices that too often remain unheard.