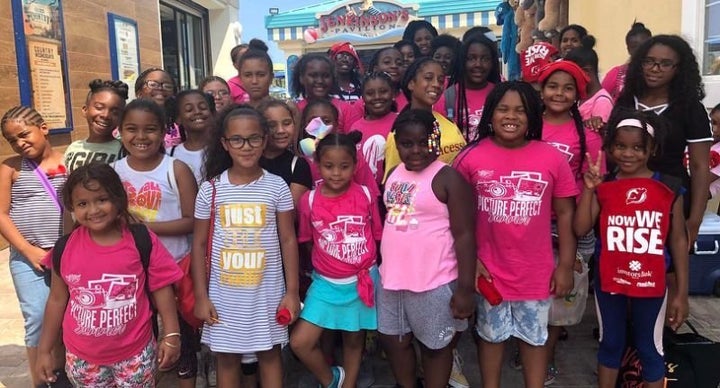 Last week, a group of young African-American girls was kicked out of an aquarium gift shop by an employee, but, according to the group's program director, Attiyya Barrett, "the racist lady did not win."
Several girls, most in their early teens, were trying to buy souvenirs of their trip to the Jersey Shore when they were tossed out by a shop worker.
The girls were on a field trip to Jenkinson's Aquarium with their summer program Princess to Queenz. They entered the shop on their way out of the aquarium but were told they were not welcome. Attiyya Barrett, who runs the program, posted about the incident on Facebook, and her post has gone viral, accruing 66 thousand shares so far. 
"My girls went inside the gift shop @jenkinsonaquarium and we were racially profiled and discriminated against!" she wrote. She said that a female employee told the girls they were not welcome without a chaperone — although, according to one of the girls, Kianna Williams, they saw other young girls, who were white, without chaperones in the store. Regardless, the group obeyed and left to get their 32-year-old camp counselor.
Upon re-entering, chaperone in tow, the same employee said, "Didn't i say YOUS ARE NOT WELCOME HERE! GET OUT!" Barrett wrote in her Facebook post. "The girls ran out crying asking why they couldn't buy something," she wrote. "I had to explain to 40 girls that they are still valuable and they're green dollars still spends even if racist folks try to hurt them!" In her post, she identified the employee as "Linda."
Barrett captured part of the exchange on video, which she shared on Facebook and has over 2 million views. In the video, the employee admits to saying the girls were not welcome and explains that she didn't believe their chaperone was actually a chaperone. Despite that excuse, the girls were shaken by the experience.
"We were all excited to go because a lot of the girls had not been there before," Kianna Williams, 13, told the North Jersey Record. Jayla Bush, 12, said that even when they came back with their chaperone, Linda "started yelling at us, that we weren't allowed to be in there … She was loud and her expression was mad," according to the North Jersey Record. Williams said Linda threatened to get security, and that's when she started to wonder what she did wrong to deserve this.
Bush immediately identified what she thought was the problem — a "colored thing" that made her feel "like we were less than we really are," according to the North Jersey Record. Williams said:  "I felt sad, but for her — that there must be something seriously wrong with this woman because she thinks that we did something wrong but we didn't," she said.
Although this type of apparent discrimination has been happening far too often — like earlier this month when campus police were called on a black student at Smith College who was eating lunch — this  was some of the girls' first brush with what they saw as racism. "I never experienced anything like that before so it was shocking to me to have someone scream at us and tell us to get out of the gift shop," 13-year-old Sajadah Tisder told the North Jersey Record. "I was just shocked …This is the world we live in today … You can't expect good from everybody."
One of the younger girls who was on the trip was traumatized. "There's a 7-year-old girl who went on the trip … whenever her 12-year-old sister mentions (what happened) she starts crying," Barrett told the Asbury Park Press. "But the older ones, I've been talking to them since last night. One of them texted me at 6 this morning. She said that this has been on her mind, and she asked, 'What's next?'" she said. "They're not feeling defeated; they're feeling like something has to change because this was not OK."
Understandably, the girls have no plans of returning to the store, even though the employee has been suspended. They said they would like to see Linda apologize.
Jenkinson's Aquarium gift shop already has, however. "We strive to provide all of our customers with an enjoyable experience and we clearly missed the mark this time," Jenkinson's Boardwalk marketing director Toby Wolf said to the Asbury Park Press. "We sincerely apologize to the girls from the camp group for the way they felt upon leaving. We have been in contact with the group leader and will continue to work with her to make amends."
Barrett confirmed that she has spoken to Jenkinson's.
A few hours after the excruciating exchange, Barrett posted a group photo from the trip on Facebook in which the girls seem to be in relatively good spirits. "This pic was taken AFTER we were asked to leave Jenkinson's Aquarium Gift Shop," Barrett wrote. "The racist lady DID NOT WIN! My princesses left with poise… Several cried on the bus on the way home. But 'Linda D' you didn't break us! You didn't win! These Proud Princesses of color were not moved by your banter!" She ended by channeling Michelle Obama, "when she went low we went High!"
More from Yahoo Lifestyle: