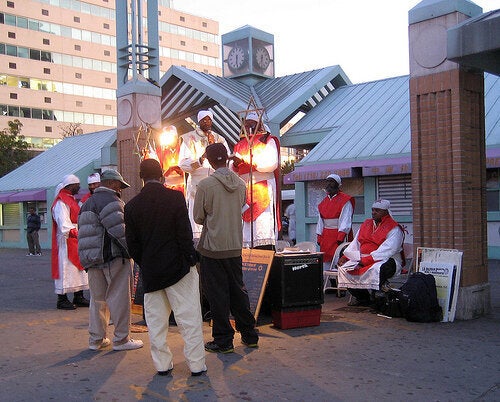 By Stephanie Rice DIMONA, Israel -- As a young African-American man in late 1970s Chicago, Atur Yirmeyahu was contemplating the fairly standard dilemmas of whether to go to graduate school and ask his girlfriend of three years to marry him.
Before the year was over, he had decided on a wholly unorthodox way forward. Scrapping the university plans and breaking up with his girlfriend, he left his hometown for a sleepy desert settlement in southern Israel.
He has hardly seen his family in the three decades since he packed his bags, but here, in this working-class Negev town, he says he has found his rightful home. Yirmeyahu is part of the 2,500-strong Hebrew Israelite community settled in one of three neighboring villages.
The first group of vegan, polygamous and ethnically African-American settlers arrived in 1969, following their young, charismatic leader, Ben Ammi Ben Israel. Ben Ammi, formerly a Chicago factory worker named Ben Carter, preached that black Americans were descendants of one of Israel's lost tribes and needed to return to their homeland.
To the Hebrew Israelites, or Black Hebrews as they're known here, Ben Ammi is the Messiah and their exodus from America an escape from oppression and violence.
Yirmeyahu said he grew up in a crime-ridden neighborhood, experimented with drugs in college and "shudders to think" what might have become of him if he had stayed in Chicago.
"The most common cause of death in the black community was handgun murder," he said, sitting on a bench in the village courtyard on a recent afternoon, a group of teenage boys playing basketball nearby. "I've been shot. I've wrestled with individuals with guns. The black experience -- the captivity -- it wasn't a picnic."
Life hasn't always been carefree here either. For decades, the group battled the government for the right to live in Israel. They refused to officially convert to Judaism to satisfy the religious nationalists who doubted their authenticity, arguing they didn't need to prove themselves to anyone. There were mass deportations, and newcomers often resorted to sneaking in, sometimes posing as tour groups.
"It was a big struggle," said Hagit Peres, a Ben-Gurion University professor and anthropologist who has studied the Black Hebrews. "They didn't get anything easily, and many left during the process."
In recent years, some of that tension has dissolved. There was a turning point in 2003 when the government awarded the community permanent residency, allowing them to join the army and apply for full citizenship. Several weeks ago, the government approved a citizenship application from a Black Hebrew man for the first time.
"It's a great victory for us," said Avichiel Ben Israel, a spokesman for the group. "It shows us that the God of Israel lives. We see it in a very historic manner -- after 40 years, being recognized."
Hiskiyahoo, the director of the one of the nearby villages, said the citizenship is validation that Ben Ammi's teachings are correct and that community members are following the right path in their quest to create what they call the Kingdom of Yah, or "Kingdom of God," on Earth.
"All the things he said have come to pass," Hiskiyahoo said.
To be sure, the Black Hebrews have come a long way in their relations with government and society here. They run a successful national chain of vegan restaurants, more than 300 of their youth are serving in the army and their choirs regularly perform throughout the country. In 2006, Israelis even chose Black Hebrew singer Eddie Butler to represent them in the Eurovision song contest.
"Before, people thought that we were a cult," said Avichiel, the spokesman. "That perception has changed now that people have the opportunity to visit and see that it couldn't be farther from the truth. We have a culture, a way of life."
But while their lifestyle has similarities to Judaism -- they practice circumcision, celebrate Passover and observe the Sabbath -- there are major differences that still raise eyebrows among Jewish Israelis. There's the polygamy, for example. It's common for men to take several wives and have more than a dozen children -- a practice Avichiel says stems from an uneven female-to-male ratio and strict purity rules that keep women from fulfilling their domestic role during their periods and after childbirth.
"There are more women than there are men, it's really practical," he said, sitting on a couch in an office with a framed photo of Ben Ammi staring serenely from the wall. "During menstruation, she's set aside and doesn't prepare food. After childbirth she's isolated for 40 days after a boy, or 80 days after a female. So you kind of need more than one."
Yirmeyahu, the Chicago native, has only one wife and no children but hopes to marry two more women and have at least 10 kids. He is also hopeful he will be among the next to receive Israeli citizenship. "I was never an American anyway," he said.
Popular in the Community