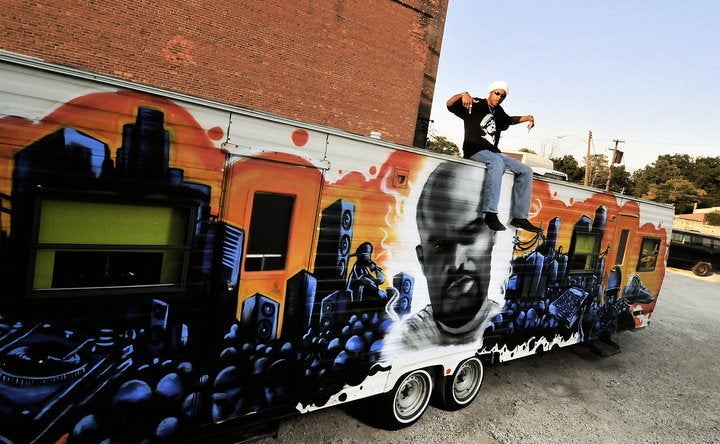 Khalid el-Hakim is a teacher with two classrooms. Much of the time he teaches social studies at Detroit Lions Academy on the city's east side, but his second classroom takes him all over the country.
University of Detroit-Mercy architecture students designed the structure's interior, which can accommodate about 15 people. Outside, the trailer is decorated with a mural by Detroit graffiti artist Sintex. Its exhibits draw upon an archive of over 5,000 objects that include slave chains, a Ku Klux Klan hood and a document signed by Malcolm X.
El-Hakim said some of the museum's more popular exhibits include "NECESSARY!" which celebrates the legacy of Malcolm X and other black revolutionary leaders; the "3 Ms" exhibit, which looks at Martin Luther King Jr., Motown and Michael Jackson; and a hip-hop exhibit called "And the Legacy Continues ..."
The museum got its start as an teaching aid for el-Hakim's Detroit students and has been operating now for 21 years.
"The early days were mainly using artifacts in my classroom as a teacher in the Detroit Public Schools," el-Hakim told The Huffington Post. "I would use artifacts to introduce concepts such as Jim Crow to my students. Also, I would set up mini-exhibits at community events, such as Kwanzaa celebrations."
Inspired by Minister Louis Farrakhan's call to improve communities around the country at the Million Man March, el-Hakim took the project mobile in 1997.
Over the last several years, it has also attracted a number of high-profile speakers as well, some of whom he knows through his background in the hip-hop business where he managed artists like Proof of D12.
"For the last seven years, Professor Griff of Public Enemy has been my main guest speaker. I've also have had Jessica Care Moore, Fred Hampton Jr., The Last Poets, Brother J of X-Clan and Sam Greenlee, author of 'The Spook Who Sat by the Door' as guest speakers," he said. This year "Bertha McNeil, one of the members of Motown's Velvelettes, will be touring with me."
After more then two decades, the Black History 101 Mobile Museum shows little sign of slowing down. This year's plans include an eight-state tour that will travel as far as Cape Cod, Mass., Tennessee and Hawaii.
And the museum just released its first publication, "Drum Majors for Justice," to complement the museum's most recent exhibit of the same name. The book compiles 101 quotations by African-American politicians, and the exhibit features over 200 artifacts from important African-American political figures such as Coleman Young, Adam Clayton Powell, Barbara Jordan, Shirley Chisholm and John Conyers.
The roots of the museum grew out of el-Hakim's own personal collection. He drew guidance from his former Ferris State sociology professor, Dr. David Pilgrim, who encouraged students to pick up artifacts to document and reveal America's ugly racist past.
El-Hakim purchased his first artifact at a southern gas station during a Spring Break trip in 1991. The museum's website describes the piece as "a disturbing and racist figurine of a Black boy going to toilet on a pot, eating a piece of watermelon."
Many pieces of el-Hakim's collection are even more unsettling: For example, a print of the photograph of the lynching that inspired the song "Strange Fruit," made famous by singer Billie Holiday.
According to el-Hakim, these emotionally charged artifacts serve a powerful purpose.
"People remember Martin Luther King's 'I Have a Dream' but forget about how bad the Jim Crow era was," he explained. "So I have very hardcore reminders of it, with items like a segregation sign from a southern water fountain and an axe handle, symbolizing the response to those who challenged Jim Crow laws."
His dedication to obtaining rare objects has taken him to some unusual and downright hostile places, including a Ku Klux Klan Grand Wizard's estate sale in Howell, Mich.
"No one said anything to me, but you could cut the tension with a knife," el-Hakim said of the visit. "It was my first auction, so I had to learn quick. Everyone bid against me, but I was able to walk away with the Grand Wizard's personal scrapbook of Klan activity in the 1960s and early '70s in Michigan."
That dedication to collecting has definitely paid off.
"I get many of emails from young folks inquiring about history," el-Hakim said. "I've inspired people to start collecting. I know of one person who started collecting to build an Asian mobile museum and someone else who is planning a Latin mobile museum."
Clarification: The mobile museum's interior was originally said to have been designed by students from the University of Detroit Mercy School of Architecture. More specifically, it was designed by the Detroit Collaborative Design Center, design firm affiliated with the university.
Calling all HuffPost superfans!
Sign up for membership to become a founding member and help shape HuffPost's next chapter