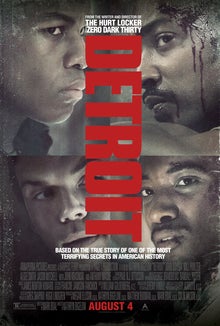 I was 10 years old when three men were murdered at the Algiers Motel in Detroit, MI. I had not heard of the incident and riots before and after until the 50 year anniversary and the release of the movie. Here are 10 things I learned about Detroit:
It started 7/25/1967 with a raid at a speakeasy by the Detroit Police Department.
It followed with a total of 5 days of riots, 43 deaths, including a four year old girl, 1200 injured, and 7,000 arrested.
Before the Algiers Motel incident, the 12th Street Riots started.
Three black teenagers were murdered by Detroit Police Officers at the Algiers Motel, Carl Cooper, 17, Fred Temple 18, and Aubrey Pollard, 19.
John Conyers was the representative from Congress for the city.
The Michigan State police, National Guard, and U.S.. Army were called in.
Three police officers were found not guilty of assault and/or murder.
The co-founder of The Dramatics, Larry Reed, was an eyewitness at the Algiers Hotel and he along with two others were consultants on the film.
Police brutality and other law enforcement turning away from helping during the rebellion and riots was de rigueur.
Police also planted evidence.
There were civil penalties against the city of Detroit and the individual police officiers.
Peace, love, joy, gratitude, faith, courage, compassion, and blessings.
Popular in the Community