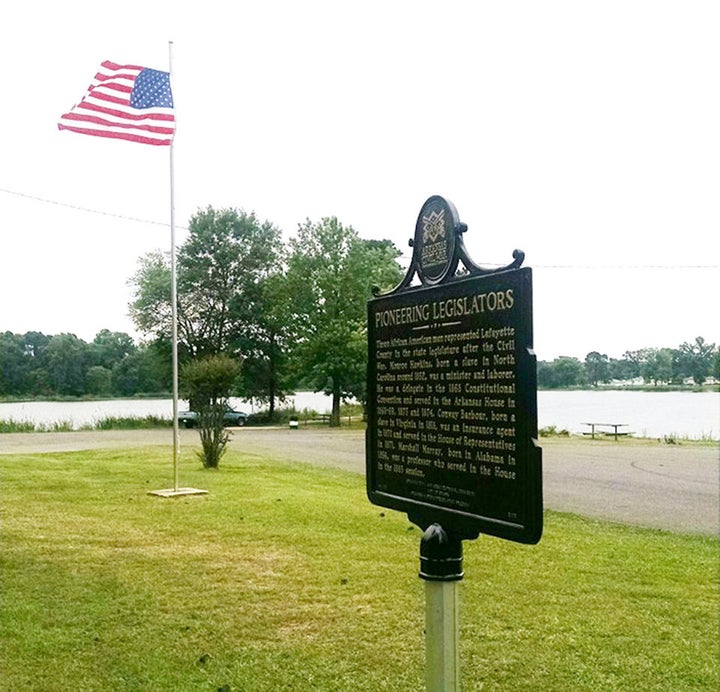 Two monuments honoring historical African-American figures were stolen from an Arkansas town just days after its first black mayor took office, police said, prompting concerns that the theft was race-related.
The historical markers were snatched last month from a park in Stamps, a few days after Mayor Brenda Davis ― the town's first black mayor ― took office.
The most valuable was a bronze marker that honored three African-American state legislators, a city official told HuffPost. Two of the pioneering lawmakers were born slaves, and represented the surrounding Lafayette County in the state legislature after the Civil War, according to the city.
Thieves also stole a temporary marker that dedicated the tiny town's park to the late author Maya Angelou, who grew up in Stamps and wrote about it in her 1969 autobiography, I Know Why The Caged Bird Sings.
City Hall clerk Laurie Gaines called the timing of the thefts "odd."
"She's a black female, the first in this town's history," Gaines told HuffPost on Wednesday, referring to the new mayor, who took office on Sept. 19. "We don't know if that had anything to do with the theft, but that's just an odd thing to happen because they've been out there, the permanent one had been out there for maybe a year, or a year and a half."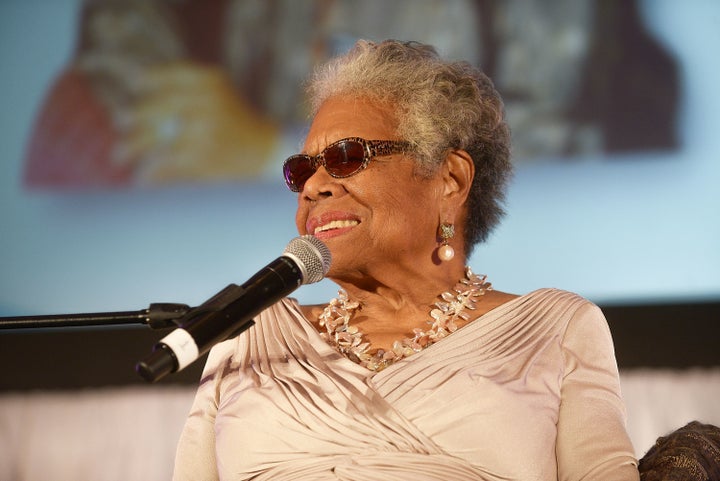 A police report obtained by HuffPost says the thefts occurred sometime between Sept. 22 and Sept. 24. Authorities have made no arrests, Gaines said.
The new mayor said the thefts were a disappointing start to her term and brought tears to her eyes.
"I went into work Monday morning and first thing, I met with my chief of police," Davis told local news site Arkansas Matters. "He said, 'Mayor, I have some bad news …'"
"I don't understand," Davis told the Texarkana News. "I don't know if it's a message because I'm the first African-American woman as mayor. It makes you wonder, but I wouldn't speculate." 
I don't know if it's a message because I'm the first African-American woman as mayor. It makes you wonder."
Lexi Fuller, who lives across the street from the park, said she believes the timing is no coincidence.
The Arkansas Historic Commission has agreed to replace the stolen bronze monument, which cost about $2,000, according to the Texarkana News. The new plaque should be completed by January.
That marker recognized Monroe Hawkins, who was born a slave in North Carolina around 1832 and was a minister and laborer. He was a delegate in the 1868 state Constitutional Convention and served in the Arkansas House from 1868 to 1874, according to the city.
The marker also honored Conway Barbour, who was born a slave in Virginia in 1818 and became an insurance agent, then served in the Arkansas House in 1871, and Marshall Murray, who was born in Alabama in 1856, became a professor and served in the Arkansas House in the 1883 season.
REAL LIFE. REAL NEWS. REAL VOICES.
Help us tell more of the stories that matter from voices that too often remain unheard.
BEFORE YOU GO