February is here, and that means Black History Month is, too!
For forty years, America has observed Black History Month as a time to reflect on the revolutionary work black people have contributed to this country's history. What first began in 1926 as Negro History Week thanks to noted scholar Carter G. Woodson has evolved into a month-long celebration of black progress and power. But as time passes and the country's racial climate changes, the ways in which we recognize and honor Black History Month have since evolved too -- and we at HuffPost Black Voices are highlighting the significance of the annual tradition in our own special way.  
This year, Black Voices is once again commemorating Black History Month by inviting you to enjoy our "Black Future Month" series. Throughout the month, we are not only paying tribute to the achievements of yesterday but are also reflecting on how to create a better tomorrow for black America.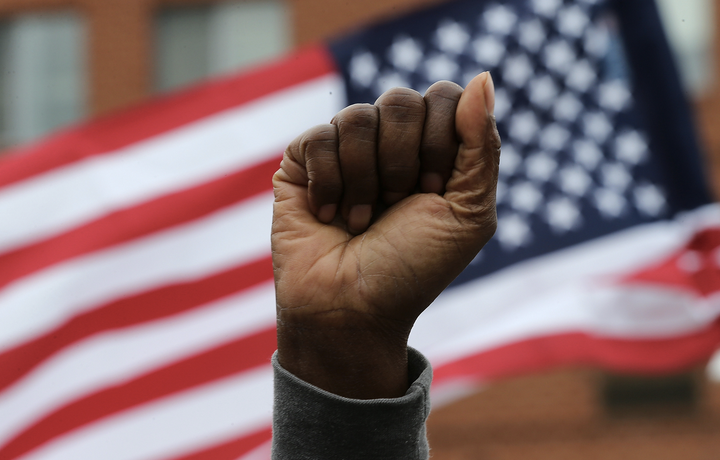 Today, Tometi's words seem more relevant than ever, which is why we're bringing back the series and expanding it. The Black Lives Matter movement has made a hugely significant impact on the ways we discuss race: It has highlighted the inadequacies among America's justice system and tackled the nation's ongoing racial disparities. As a result, it has bred a new crop of civil rights fighters who are speaking up, fighting back and making history every day.
So as part of our "Black Future" series, we're honoring black visionaries who have adopted the movement's mission as their own. We believe these individuals exemplify black excellence and are using their voice to unify and uplift others across the fields of entertainment, media, activism and business.
In addition, Black Voices has teamed up with Black Lives Matter Network to take a deeper look at 29 different cultural and political issues affecting black lives. For each day in February, we will publish a piece written by a black writer who will examine an important issue and envision the ways we can work together to help solve it. The topics will include everything from education and employment to policing and criminal justice reform.
"We can't afford to solely commemorate the past. We must seize the opportunity to change the course of history by shaping our future." --Opal Tometi
But because white history is the dominant narrative in America and because it casts a shadow over black history, we're doubling down this month and recommitting to telling the stories of black past, present and future. 
We invite you to follow our "Black Future Month" series on social media on Facebook and Twitter with the hashtag #BlackFutureMonth. Join us in the conversation this Black History Month as we remind the world that black lives have always mattered, and they always will.
PHOTO GALLERY
11 Things Black Activists Accomplished In 2015
Calling all HuffPost superfans!
Sign up for membership to become a founding member and help shape HuffPost's next chapter