Last month, I wrote about iO's youth poetry team embarking on their sixth annual poem for Wayne State University's Martin Luther King, Jr., Tribute Luncheon, and readers, they did not disappoint! As Kennedie King, Terrell Morrow and Arzelia Williams finished their performance of "Poetry Is Not a Jukebox," the entire audience jumped to their feet. I was especially pleased that day to introduce my friend Dr. Susan Opotow to the best of Detroit, our shining youth right there in our city's treasured Orchestra Hall. Susan was in town visiting the archives of the Charles Wright Museum of African American History for her research into the history of "moral exclusion" and social injustices such Jim Crow. She is particularly interested in how oppression and the resistance to it are portrayed in museums, photographs, art exhibits and elsewhere in the world today.
Our students were a living example of what she was looking for. Their performance gave a powerful rebuttal to the mean-spirited remark "Teaching poetry to Detroit children is like fiddling while Rome burns" that a certain "Matthew" posted last fall on the PBS NewsHour website after U.S. Poet Laureate Natasha Trethewey's "Where Poetry Lives" series spotlighted iO's work in Detroit. (The PBS NewsHour has taken Matthew's comments down.)
Poor Matthew. He just doesn't get what poetry can do. As a white woman, beginning my teaching career in Detroit in the early 1970s, poetry was one way that I learned about the realities of what it means to be black in America. One poem in particular lingers from those years, although I have lost its title and author. In the poem, the speaker is walking optimistically out of his house into a black sun and balmy black air, meandering among the warmth of a black neighbors when he suddenly slams the poem shut with, "all of a sudden, white snow." That last line has stayed with me ever since I read it over 30 years ago, and I heard its echo again in 2006 when a first grader in an iO classroom wrote the following"
I am Black

I am black and in this picture
Of me
Black in the evening
I'm riding my bike and see
dogs and cats and birds
I feel happy
It's fun to be black
without slavery

Dynasty O'Neal, 1st Grade
Bunche Elementary, 2006
African American poets gave, and continue to give, a glimpse into what W.E.B. Dubois famously identified as "The Souls of Black Folks." Our students honored their poetic forbears -- Maya Angelou, Langston Hughes and others -- in their performance, which was also a manifesto about the importance of poetry -- and voice -- in young people's lives. It seems fitting to me that, as we embarked upon Black History Month, we honored the birthday of Langston Hughes on its first day. Through his poetry, Hughes was also a great mentor. I pored over The Sweet Flypaper of Life, and I brought recordings of Hughes himself ("The Negro Speaks of Rivers") and the voice of Ossie Davis reading Hughes's poetry and prose to my students. Hughes' poem, "I, Too" which Natasha Trethewey described in "Where Poetry Lives" as giving her so much fortitude at a difficult time, has inspired many poems by iO youngsters.
I, Too, Am America

I promise I will
join you at the table
when company comes.

My ancestors were
dark and I am
dark like
a beautiful stallion.

I, too, will brush
off any
mean comment
like a dust bunny
on my
shoulder.

I, too, will stand
proud and yell
out loud
I am me and no
one else can be!

Simone Denard
Golightly Education Center, 2011
So I say this to Matthew: Our young wordsmith has put you right where you belong -- as just another dust bunny to brush off her shoulder.
It's amazing to me that I am only two degrees (or is it one?) of separation from such a great, historic spirit as Langston Hughes. My friend Detroit Poet Laureate Naomi Long Madgett knew Hughes personally, and she has kept the comments that he made on drafts of poems she wrote as a teenager, carefully covered with scotch tape so that they do not fade.
I am also happy to be only one (or is it zero?) degree(s) of separation from another fine mentor poet: Jamaal May. Jamaal is a native Detroiter, and he has dedicated his first book of poems Hum to the spirit of the people of Detroit. I like that very much. I also like that, before moving along on his brilliant path as a poet, Jamaal served as a writer-in-residence for InsideOut. One of my fondest iO memories is of Jamaal's year-end gala book release of Clippert Middle School's The Other World, when he awarded his "Brickheart Poetry Prize" to students for their hard work and brave poems. (He was also known to add, on occasion, sport a pair of bunny ears part of his ensemble when teaching seventh graders.)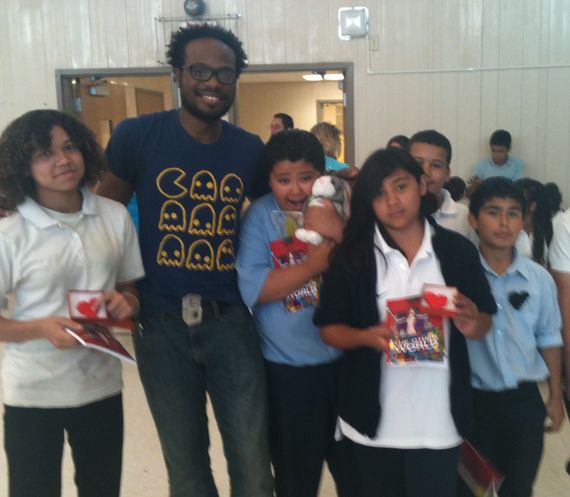 Jamaal and his Brickheart winners, Clippert Academy, InsideOut in-school Gala, June 2011
photo credit: Terry Blackhawk