Neal Henderson couldn't find a place to teach his son to play hockey. A native of St. Croix who fell in love with the sport while growing up in Canada, he relocated to the suburbs of Washington, D.C., early in the 1970s, when the city didn't have a public hockey rink.
So the former minor leaguer resorted to a makeshift setup in his driveway.
Before long, boys from around the neighborhood joined in. They were an odd crew then. The NHL was still lily-white. Henderson, who is black, was teaching the sport to a mixture of young African-Americans, Latinos, Africans, and Indians.
One day in 1976, Henderson's son came to his father with a question.
"Dad, why don't you start a hockey team?" he asked.
As it happened, D.C. had built a new hockey rink on southeast side of the Anacostia River, in a neighborhood that has views of the U.S. Capitol and the Washington Monument. So Henderson founded the Fort Dupont Ice Hockey Club.
He wasn't aiming to teach young people of color to play the sport. But in the Fort Dupont neighborhood, which still remains predominantly black despite the influx of whites across the city, those were the kids who came to play. His son graduated and moved on, but Henderson stayed. Nearly 40 years later, he is still the head coach of the nation's oldest minority youth hockey program.
"I had a bunch of kids playing ice hockey," Henderson said. "I'm still getting a bunch of kids, and now they're coming back with their kids."
Fort Dupont, named for the Civil War fortress that once stood nearby, is a "hidden gem," said Robert Primus, who hustles from his day job as a chief of staff in Congress to the rink two nights a week for practice. Primus has volunteered for the program since he showed up one day and Henderson handed him a stick and a pair of skates. He's teaching his two sons, ages 4 and 6, to play. His third will learn as soon as he's old enough.
"It was love at first sight for me once I got here and realized how special it was," Primus said. "I like to think of it as the best kept secret in Washington."
Secret as it may be, Henderson has commanded the respect of nearly everyone who has crossed his path over the last four decades. They include the children he's taught to skate, executives in the NHL's front office, and other African-American hockey fans affected by his work, even if they never played in his program.
Bill Douglas, a congressional correspondent for McClatchy newspapers who is an avid hockey player, said D.C. is the first city he's lived in where white players don't watch him lace up his skates or put on his pads before a pickup game to make sure he's doing it correctly. It's the first place, Douglas said, where he isn't "one of one or one of two" black players when he shows up for pickup games.
"Neal has built a generation of black hockey players and black hockey fans," Douglas, who also runs the Color of Hockey blog to chart the progress of minorities in college, junior, and professional hockey, said.
And as Fort Dupont has grown, the rest of the sport has developed.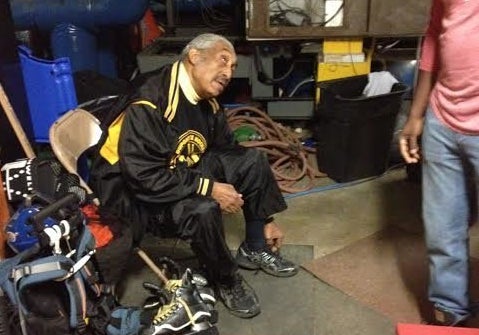 The year before Henderson established the Fort Dupont Ice Hockey Club, the Detroit Red Wings selected Valmore James in the 16th round of the 1977 NHL Draft. An Ocala, Florida, native, James was the first American-born black player ever picked in the draft. But the following fall, he failed to make even the Red Wings' minor league roster.
Four years later, though, James signed with the Buffalo Sabres, and when he made his debut during the 1981 season, he was the first black American to set foot on NHL ice.
The idea of black hockey players wasn't altogether foreign -- Willie O'Ree had broken the league's color barrier in 1958, and a handful of black Canadians followed in the years after. But while many in hockey were eager to help James, just as many fans told him he belonged elsewhere.
"It was a free-for-all when I played," James said. "I had bananas thrown at me ... and [the fans] didn't get thrown out."
James had received the majority of his hockey education in Canada, where he played at the junior level before reaching the NHL. For players like Henderson, finding proper hockey infrastructure in American cities was nearly impossible. There were, and still are, few rinks in urban centers to provide ice time to aspiring hockey players, or even those who just want to play pickup. The Fort Dupont Ice Arena is the only public rink in the nation's capital. On an average week, nearly every open hour is filled by youth, high school, or adult teams just trying to get on the ice.
The economics of hockey, meanwhile, make it prohibitively expensive for many young players, even those in middle-class suburbs. The annual cost of equipment can stretch into the thousands of dollars, even before accounting for transportation and league fees.
And then there are the well-worn stereotypes that hockey simply isn't "an African-American sport."
"There was always someone there who thought I should be playing football or basketball."
"There was always someone there who thought I should be playing football or basketball," said James, who recently wrote Black Ice, an autobiography of his time in the NHL. "A lot of people made it known that this wasn't my sport, it was a white man's sport."
Henderson began to break down many of those barriers through Fort Dupont even before the NHL and USA Hockey, the sport's governing body in the U.S., put time and money into doing the same. By the late 1980s, the number of children showing up for his program had more than doubled.
There were, in the early years, times when teams would avoid Fort Dupont because it was a mostly black team, Henderson said, and moments of shock when a mostly black hockey team showed up to play.
"But after they see us play, they're surprised by how well we play," Henderson said. "And then they just see us as hockey players."
In 1995, Fort Dupont, outfitted in black, white and gold jerseys (black to honor the black soldiers who'd fought at the Civil War-era fort, white for the white officers, and gold for the buttons on their uniforms), won their first local tournament: the Tier III Junior Varsity Division of the Purple Puck, the National Capital Hockey Tournament hosted by Gonzaga Preparatory School. It followed with more trophies in the years after.
That same year, the NHL launched its first comprehensive effort to promote its sport to players and communities -- primarily those in inner cities -- it had long ignored. The NHL Diversity program included the Hockey Is For Everyone initiative, a partnership with USA Hockey that over the last two decades has spread to 39 U.S. cities, from Buffalo to Dallas and Washington to Anaheim. It will add a 40th program this year.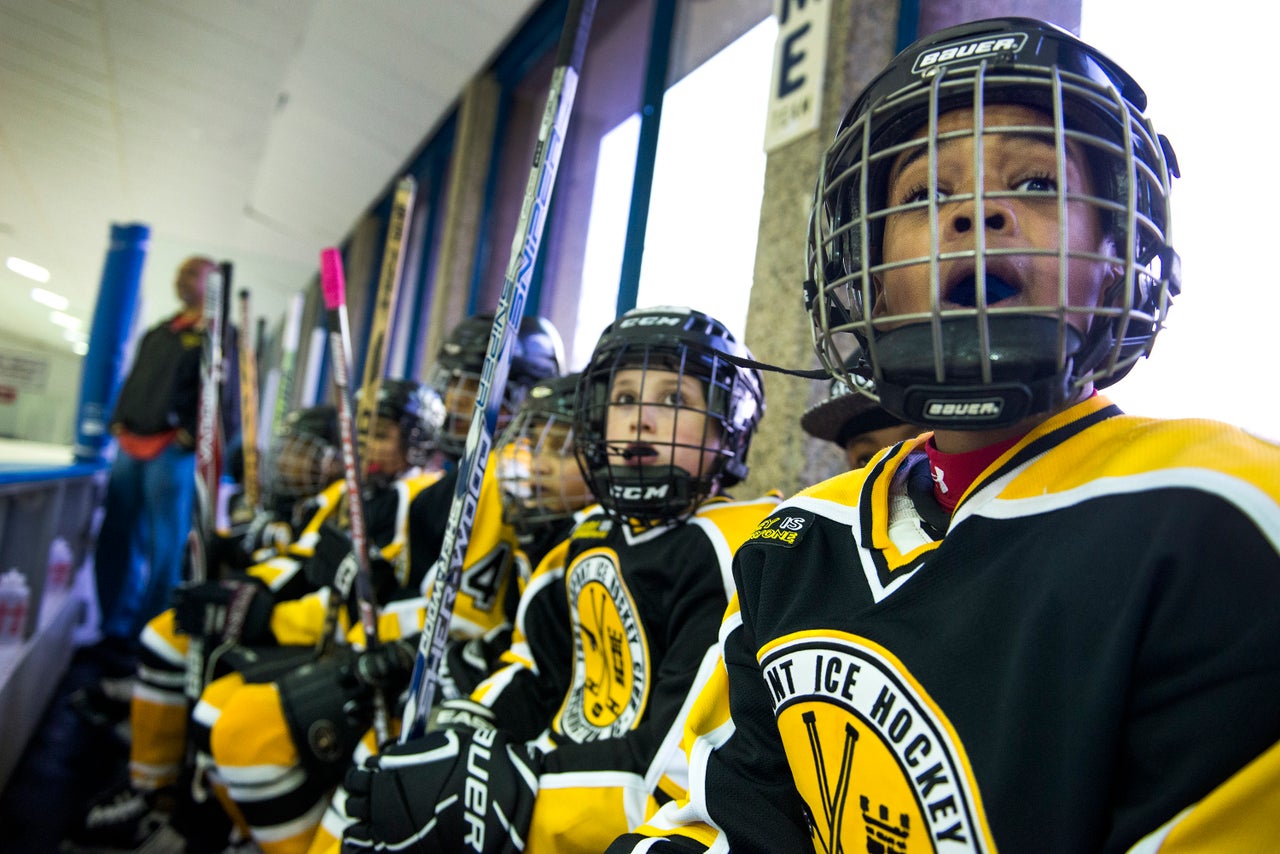 The NHL and USA Hockey's joint partnership aims to lower barriers to hockey and to education. USA Hockey provides free membership to participants in the 39 nationwide programs and $100,000 in annual grants to cover the costs of equipment and transportation for young players. It also sponsors training and certification for coaches.
The NHL, meanwhile, provides funding that the programs are supposed to use primarily for educational purposes. According to Ken Martin, the NHL's senior vice president of community affairs, its participants have spent the money on SAT tutors, computers, and other education-focused initiatives. The NHL recently established the Thurgood Marshall Scholarship to help graduates go to college.
Some of the programs have grown rapidly since the NHL and USA Hockey began investing. Fort Dupont now has more than 50 kids who regularly attend practices. The Ed Snider Youth Hockey program in Philadelphia has grown from about a dozen participants when it first launched in 2005 to nearly 3,000 now, Martin said.
Intentionally or not, Hockey Is For Everyone follows many of the principles Neal Henderson established at Fort Dupont two decades before the NHL began its program.
Henderson said his aim is not to create professional hockey players. Rather, it's to provide opportunities through the sport he loves that children may not have otherwise.
The kids who show up to Fort Dupont for practice each Monday and Wednesday night range in age from 4 to 18. They are there to play hockey, but Henderson also keeps a close eye on their academics. If their grades aren't where they should be, they don't play. The same goes for school attendance.
His goal, he said, is to teach the best lessons a sport can provide: responsibility, determination, teamwork, accountability. Before practice one night in December, a young player bounded up the steps to Henderson's makeshift equipment room that overlooks the ice at the Fort Dupont Ice Center.
Practice started in 10 minutes. He needed new laces in his skates.
"Didn't those break during the last practice?" Henderson, busy lacing up his own skates, asked.
"Why didn't you bring them to me then?"
He was met with respectful silence and a shrug, his point made. He handed the kid a multi-colored lace and told him to leave the skates in his office after practice. They'll have brand new laces for next week. For waiting till the last minute, he'll have to make do tonight.
None of Henderson's kids have made it to the NHL, but that's hardly his barometer of success.
A corkboard in Fort Dupont's front hallway features collegiate logos plastered on a map of the U.S. They are the places Henderson's students have gone to school, to play hockey or otherwise: Rochester Institute of Technology, MIT, Georgetown, Boston College.
"Everything I've become today is because of what Fort Dupont made me. I'm going to keep playing until my legs fall off."
"Ninety-five percent of my kids who graduate go on to college," Henderson said.
His proudest moment came when he found out that one of his players had been accepted into the Naval Academy. Soon, Henderson may have another success story, when 18-year-old high school senior Katherine Baker, who learned to skate at Fort Dupont and holds her own with the boys during five-on-five drills, graduates and heads north to college. She's considering Vermont, Wisconsin, and a few other schools, and will play hockey when she gets there.
"Everything I've become today is because of what Fort Dupont made me," Baker said. "I'm going to keep playing until my legs fall off."
While it might be easy to see Hockey Is For Everyone as a program aimed at creating a new generation of black NHL players, the reality is that on a percentage basis, few of the children who take up any youth sport will play professionally. So far, the program has produced just one NHL player: Gerald Coleman, a goalie who played two games for the Tampa Bay Lightning in 2007.
"It's really not designed to create the next Alex Ovechkin or Sidney Crosby," Martin said, referring to the star scorers for the Washington Capitals and Pittsburgh Penguins. "It's really designed to allow kids to try something different or something new, especially for the African-American community, where traditionally that hasn't been an opportunity in the past."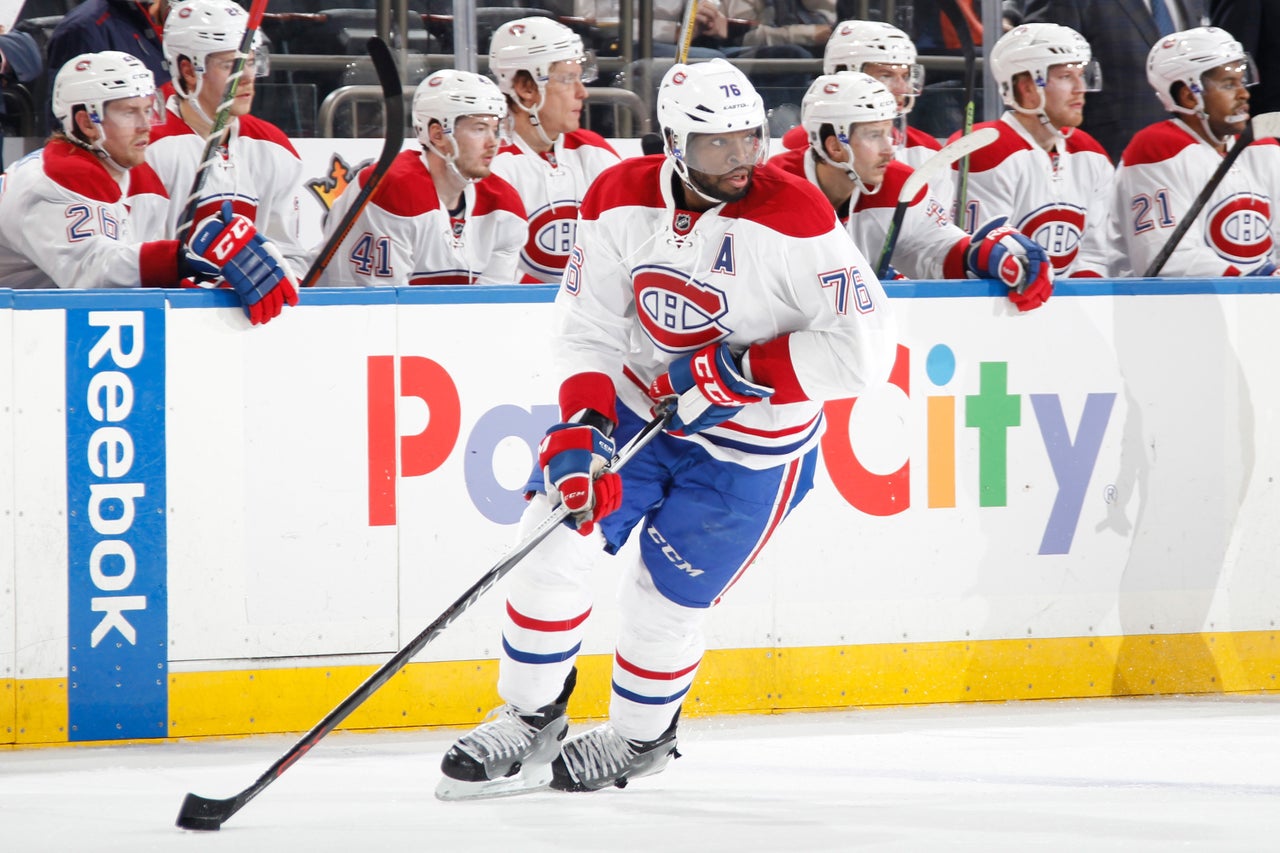 Today, there are more than five dozen players of color -- black, Hispanic, Asian, and Native American -- on rosters across the league. There are more than 25 black players, including stars nearing the end of their careers, like former scoring champ Jerome Iginla, and younger players, like Montreal Canadiens defenseman P.K. Subban, who have quickly ascended to stardom.
Much of that growth is rooted in Canada, where black players have become more common in the country's favorite sport. In the U.S., hockey's economic and cultural barriers have been compounded by its regional popularity and its place in the sports pecking order, well behind football, basketball, baseball, and, at least at the youth level, soccer. Perhaps, then, it is no surprise that just five of the NHL's black players are American.
Yet that represents its own form of progress. It has been only two decades since Mike Grier became the NHL's first black player born and exclusively trained in the United States, and there have been more than a dozen who followed since.
The league's expansion into Southern and Western U.S. cities over the past 40 years has broadened its popularity across the country -- hockey's participation numbers among American children have risen steadily in the last two decades, in contrast to declines other popular sports have seen.
To Douglas, the McClatchy reporter who chronicles the careers of black hockey players on his blog, the success of the NHL's diversity efforts cannot be measured in solely in the number of players.
There have been numerous shifts in the way hockey approaches minority communities, Douglas said. Programs like Hockey Is For Everyone have at least dented economic and cultural barriers to the sport by providing a place to play. At the same time, NHL franchises have embraced minority communities more directly. Before they moved to Winnipeg in 2011, Douglas noted, the Atlanta Thrashers had five black players on their roster and partnered with local schools and other programs to bridge gaps to the city's African-American community.
Douglas also has seen a shift in the roles that black players now fill in the NHL. They are no longer relegated to bit roles as enforcers or goons, as was the case in the earliest days. Today, players like Iginla, Subban, Wayne Simmonds, and Joel Ward are stars in ways they wouldn't have been decades ago.
The number of black faces in pro hockey arenas is increasing every year. Two of the top seven picks in the 2013 NHL Draft were black -- including American Seth Jones, who went fourth to Nashville and was traded to Columbus this week -- and there were eight players of color among the 211 picks. There are more players of color than ever in the junior, minor league, and college ranks, and African-Americans are now the fastest growing segment of NHL fans, according to recent surveys.
"We're not commonplace, but we're more common," Douglas said. "We're no longer an anomaly."
But ice time is still hard to come by, and hockey remains more expensive than many other youth sports.
The NHL is exploring ways to help its urban programs bring existing rinks up to code and to expand the number of places available, by helping build new facilities, the NHL's Martin said. In Washington, for example, the Capitals donated boards to Fort Dupont, though they chose to build a new practice facility that doubles as a public rink in suburban Virginia, outside the city limits. The league also is trying to find ways to connect players who show early talent to high school, junior travel, and collegiate teams that can help them stay in the game -- and potentially develop into professional talent.
James, the NHL's first American-born black player, wondered if a new generation of players would step up to succeed men like Henderson and Willie O'Ree, the league's first black player who has worked alongside the NHL for more than 20 years. Economics are one barrier, but the lack of quality coaches available to youth programs that target kids of color are another, James said.
"We still have a long way to go," said Dan Brennan, the director of USA Hockey's inline and sled teams who works on the organization's diversity initiatives.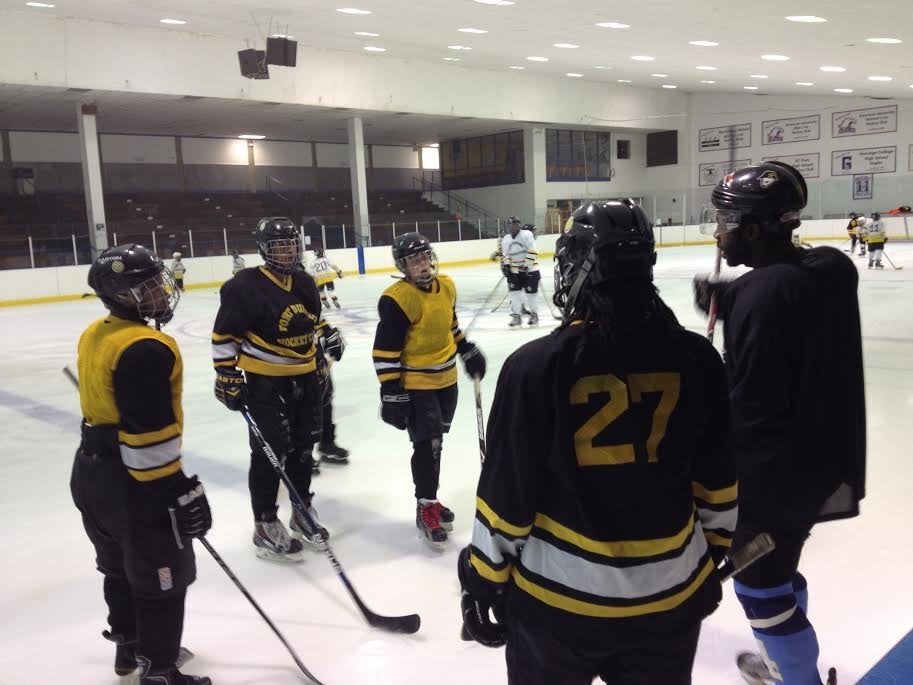 Just minutes after Neal Henderson sent one of his players back toward the dressing room with a lace for his broken skate, another of his disciples popped into the claustrophobic attic that houses the crowded equipment room.
"How long have you been home?" Henderson asked, welcoming Duante' Abercrombie back to the place where he learned to skate more than 20 years ago with a hug and a handshake.
On this night in early December, Abercrombie leads Fort Dupont's players through skating and shooting drills, begging them to move faster, cut sharper, or come to the puck when he slaps it across the ice instead of waiting for it to reach their stick. After practice, he gathers the group in a party room above the rink and quizzes them about different on-ice scenarios.
"This is hallowed ground to me," Abercrombie said. "I'll be a part of Fort Dupont till I'm buried."
Abercrombie, 28, is a native of northeast Washington. He came to Fort Dupont as a 6-year-old, then played competitively at Gonzaga Prep High School in the city. He left college and returned to coach at Gonzaga before he decided to give the only game he'd ever loved another shot.
He latched onto a minor league team in New Zealand, then returned to the U.S. to try to earn a minor league contract. Abercrombie promoted his efforts in YouTube videos that show him training in the earliest hours of the morning, before anyone else has arrived to claim the ice. He was home tonight after a short stint with the Brewster Bulldogs, a New York-based team in the minor Federal Hockey League. He'd just been released, but still hopes there is hockey in his future.
There was a time when he didn't comprehend the history of his home rink. But now, he said, he understands. Fort Dupont has churned out lawyers, doctors, Naval officers, and government officials. Those are examples, he said, that the kids can look up to.
But so is he. When Duante' Abercrombie stands in front of them, professional hockey, once so distant from communities like this, no longer seems like an impossible dream.
"We try to ask the guys who come back to come back with a story to show what's possible," Abercrombie said. "I'm one of those routes. It's more tangible, a little more attainable, when they can see someone who's done it."
Video shot by Peter James Callahan and produced by Christine Conetta.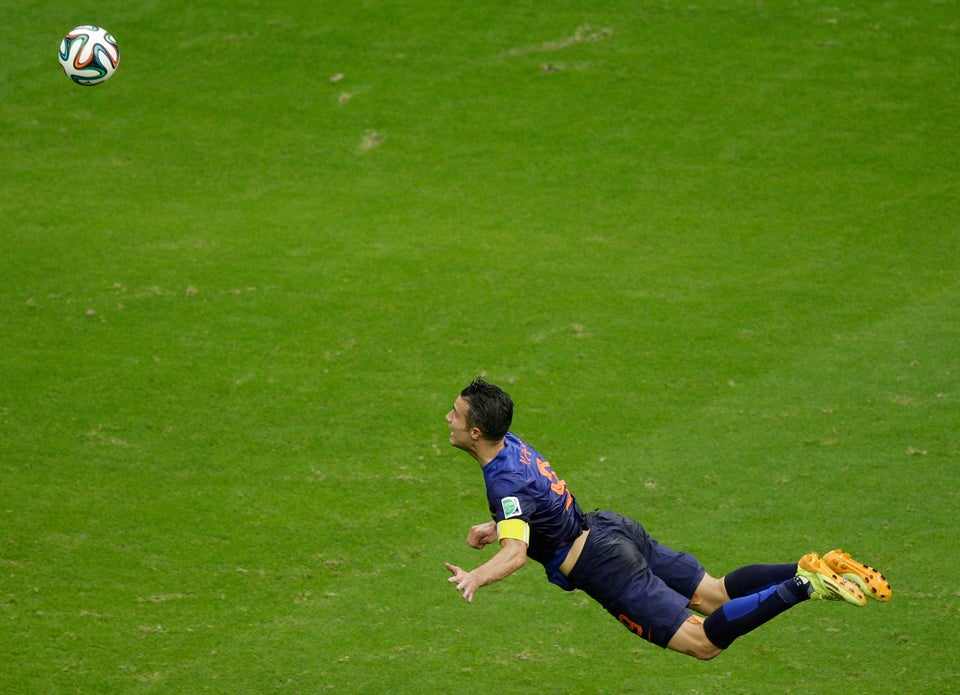 Amazing Sports Photos
Related
Popular in the Community