Once called the "greatest event for the colored race," black Kentuckians commemorate the Emancipation Proclamation as a Confederate flag fight looms over their celebrations.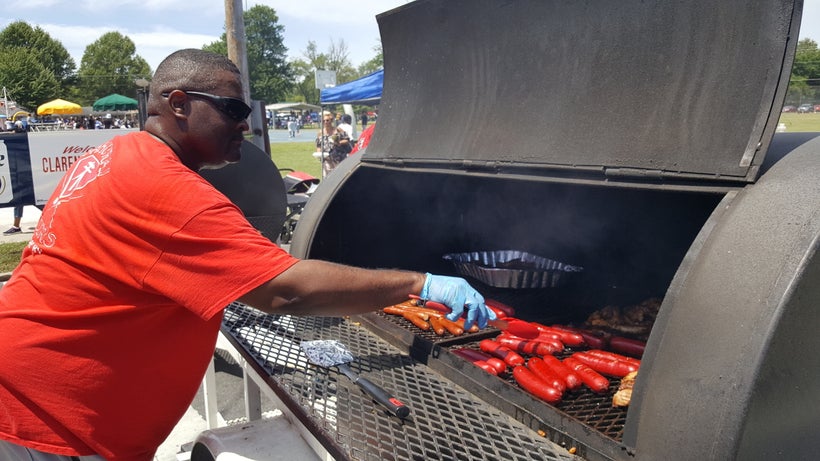 Every year, the WC Young Community Center braces for the generations of black Kentuckians who return to Paducah for the annual Eighth of August emancipation celebration. The week-long event is so packed—so full of family reunions, revelry and church revivals—that there is little time to worry about fluctuating crowd sizes every year. This year, the Sons of Confederate Veterans are awakening their slumber with an appeal to fly the rebel flag in Paducah parades.
Paducah barely resembles the city that hosted the "greatest event of the year for the colored race," according to the 1905 edition of "Paducah Daily News-Democrat" when a reported 10,000 black people arrived by rail and steamboat to celebrate their emancipation. Some historians believe the town celebrates on August 8 instead of the more widely recognized June 19, or Juneteenth, because Kentuckians did not learn about the Emancipation Proclamation until later.
Today, plant workers file in to decontaminate the Paducah Gaseous Diffusion plant, a former uranium enrichment facility. Families from surrounding counties pile into cars for their weekly visits to riverfront boutiques, museums or the mall. Paducah is becoming an economic driver for the state. New big box stores and zoning fights are proof of its growth.
Before Paducah's current revitalization and long before the city erected housing projects then tore them down, black families like mine owned rows of homes and rented out properties to their working–to-middle-class neighbors. Up and down the block were businesses owned by blacks for blacks because other establishments did not welcome them. During Reconstruction and Jim Crow years, Eighth of August was a refuge, for residents, visitors and even the occasional celebrity who would stop in while on the chitlin' circuit.
The tents are going up for the emancipation picnic. People are wearing college, armed forces and family reunion t-shirts. All of this is to show their kinfolk they have done better. The town is renaming a street and dedicating monument to Clarence "Big House" Gaines to show it is doing better for its citizens, too. Fewer will see this exchange because black people are moving away from Kentucky. They have left since Lincoln signed the Emancipation Proclamation. Now they are not returning, not even for the Eighth of August celebration.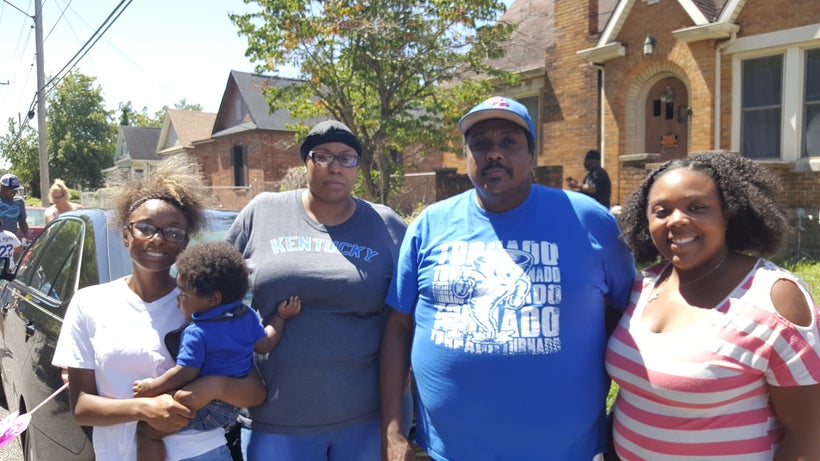 "I don't think the Great Migration ever ended," says Reverend Babydoll Kennedy of the exodus of southern blacks to northern industrialized cities from 1916-1970. The Generation X Newark native pastors Burks Chapel AME Church. "I think, in places like Paducah, there is not a lot that's offered to them culturally." Kentucky's business and political community, now concerned with population decline, is trying to stem the tide of citizens going to other states. The bluegrass state also competes with other southern states as a New Great Migration of blacks flock to southern metropolises like Atlanta, Charlotte, and Houston. Paducah's black population is 23%, which is down from 40% right after Lincoln signed the Emancipation Proclamation. (Native Americans, Hispanics or Latinxs, and Asians combined make up less than 5% of the town's population.) Kentucky's brain drain happened long before now.
"We [Kentucky] look good on top, but deep down inside there is still racism to the point that they only want to see us get so far," according to J.W. Cleary, head of the Paducah branch of the NAACP. Kentucky hopes to attract new industries to a state where coal is king. When those businesses come, Cleary wants qualified applicants to have an equal chance at the high paying jobs they bring. The activist and business owner collaborated with a surprising ally, the late Fred Paxton, co-founder of Paxton Media Group, to increase job opportunities for blacks in Paducah. The pair started at Paxton's flagship daily paper, The Paducah Sun and WPSD, after requests to diversify his newsrooms went unanswered. Paxton tied inclusive hiring decisions to bonuses and promotions. "It was lily white, and then you started seeing a bigger picture," says Cleary. He also sits on the board of the Paxton-funded McCracken County Community Career Endowment, which aims to improve education and employment opportunities so the city can retain educated black Paducahans and their talents. "Of course, when you get a good one, they're not going to be here [in Paducah] for long," Cleary admits before suggesting that I apply for a local news job. "Everyone is trying to get the good ones."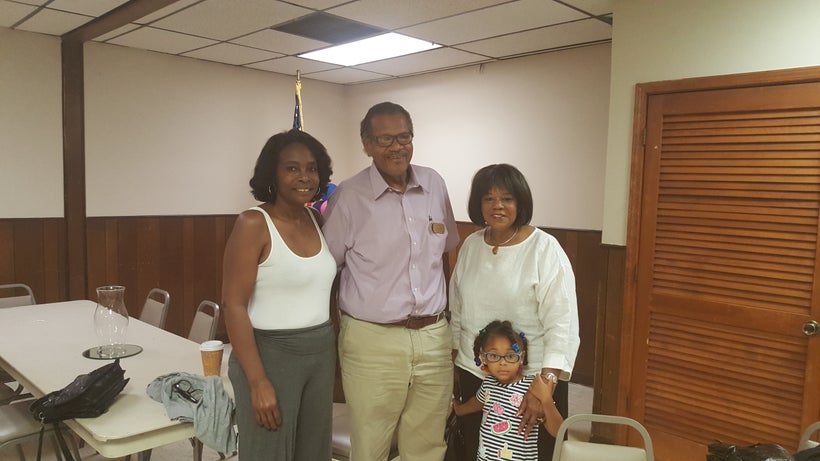 Reverend Kennedy is hopeful about Paducah's new mayor, Brandi Harless. Only seven months into her term, she is a fresh voice in a city that is already evolving since it began inviting artists to move and purchase homes in its historic Lower Town district for as little as one dollar 17 years ago. Paducah will host the 2017 UNESCO Creative Cities Annual Meeting in September. Paducahans of color aren't playing a significant role in this creative resurgence. "They have to be very intentional about bringing in African-American and other minority works of art besides quilting that shows what people can ascend to," says Reverend Kennedy.
They might not feel safe creating in Kentucky.
"I am very concerned about the Department of Justice under AG Sessions and certainly the role that the DOJ plays particularly among police departments," says Kate Miller, Advocacy Director of the non-partisan American Civil Liberties Union. It is the middle of Ramadan. Still, it is jarring to be the only people of color listening to Kate recite the ACLU's latest legal wins before a crowd of 20-30 people, including the mayor and few commissioners during the Paducah leg of their civil liberties happy hour tour. A woman leans in and whispers, "One of the things we need to work on is getting our different communities to work together more." She is right. Besides an interracial coalition, inspired in part by Cleary, many community organizations progress toward equality with little diversity.
Kentucky is not set apart from nation's civil rights struggles. As local imams opened the doors to their mosques to the community to combat Islamophobia, ACLU and other civil liberties groups successfully argued to temporary halt the Muslim ban. The ACLU would soon be awarded attorneys fees for representing four couples-two same-sex, two straight-who sued county clerk Kim Davis after she refused to issue them marriage licenses. The organization with groups like the NAACP Legal Defense Fund is challenging voter suppression techniques, which separate blacks, people with disabilities and too many Americans from the ballot box.
Can the ACLU protect civil rights of marginalized Kentuckians as it protects the freedom of speech of people who wish them harm? "I think it's a good question for us to ask ourselves, and for ourselves to ask the leadership within our organization," says Miller. We speak weeks after hate crime suspect Jeremy Joseph Christian stabbed three men on a Portland train, killing two of them, after they came to the defense of two Muslim teenagers. "Free speech or die," Christian yells in court. According to the Southern Poverty Law Center, 23 hate groups call Kentucky home. The Trump Administration continues to exclude right-wing extremist groups, which are responsible for 74% of deaths related to domestic extremism according to the ADL, from its counter-extremism program. After our interview, I would learn of another free speech rally in Pikeville, KY with neo-Nazis. There would be no violence this time. Two months after this rally, white supremacists would invade Charlottesville, Virginia leaving three people dead and 19 injured. "The First Amendment requires that we leave breathing room for political speech, which can be messy, upsetting, and controversial. At the same time, the ACLU recognizes that hate crimes and attacks are real and at an all-time high," says Amber Duke, ACLU's Communications Director. Blacks and other minorities cannot afford to live in the dangerous holding pattern between the right to free speech and the right to life.
The rest of America can't either.
A week before the Emancipation Day celebration, a vestige of the old south rises to haunt the attendees. The Sons of Confederate Veterans appeals a months-old decision banning their confederate flags from Paducah parades. Inexplicably, the city schedules the appeals hearing on the Eight of August, at the same time of the closing prayer breakfast. The news spreads in small town fashion: fast with conflicting details. Not even a Human Rights Commission member who supports the ban knows if the public can comment on the issue. Meanwhile, the Sons of Confederate Veterans sponsors a half-page, ahistorical defense of the Rebel flag. It invokes Martin Luther King, Black Lives Matter and accuses the original black complainant of "frolicking" with white female commissioners.
Then, admitting the timing of appeals meeting is disrespectful to Eighth of August attendees; Mayor Harless cancels the meeting and pledges to "continue the dialogue" between the two sides later. A debate about the Confederate States of America rages on.
"We almost fell asleep thinking the world was a better place because there was no unified struggle, not understanding that there were struggles going on, but they weren't making the front page news," says Pastor Kennedy. Her voice is full of conviction and drive. I cannot help but wonder how much longer she will stay in this town, perhaps because I ask myself the same thing. There are black folks in red Kentucky. For every threat to our emancipation, we fight with the swagger of Cassius. We flaunt our freedom like a Jesus piece because the "greatest event of the year for the colored race" is here to welcome us home.
Dawn S. Smith (@novemberdawn) is a freelance writer and playwright of the choreoplay "Sunshine for a Midnight Weary," who loves Atlanta and Western Kentucky.
This post was published on the now-closed HuffPost Contributor platform. Contributors control their own work and posted freely to our site. If you need to flag this entry as abusive,
send us an email
.