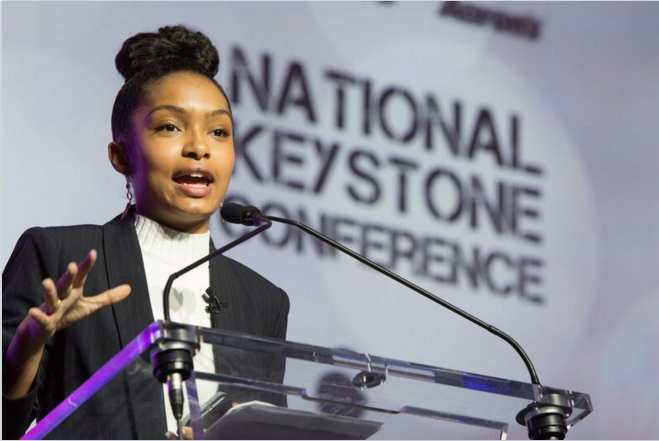 It's typical for actress Yara Shahidi to feel panicked before she addresses a large crowd. Not this time.
To the 16-year-old's surprise, she felt excited as she looked out at the 2,500 empty seats during her mic check Thursday evening, she told The Huffington Post. She was preparing to address teens at the Boys and Girls Club 2016 Keystone Conference in Dallas, Texas about how they can own their future.
"I think why I'm here and what I want to discuss is what that means for a teenager," Shahidi, who plays Zoey on ABC's "Black-ish," told HuffPost before she went on stage. "Like we get the hypothetical, we get what it theoretically means but how do we actually enact it in our lives. And this is such a huge key because often times we do get such great advice but do we don't know just how to [utilize] it."
Shahidi served as the keynote speaker for the three-day leadership conference which brought teens from all over the world together. She applauded the Boys and Girls Club and this conference for being pivotal for teens.
"It's really about impacting Generation Z as the people that are inheriting the world," she said, applauding the conference. "[It's about] giving us opportunities to connect and create our own support groups as well as have positive programs that allow teens to blossom."
Teens like Whitney Stewart, 19, have benefited from attending this conference and getting involved in the support groups Shahidi mentioned. Stewart, who is now a freshman at University of Pennsylvania, told HuffPost that she was unsure of her future a few years ago. She was the oldest of three raised by a single mother living in poverty. On top of that, she was constantly bullied and suffered from depression, she told HuffPost. After finding guidance and mentorship, however, she now is the 2015-2016 National Boys and Girls Club Youth of the Year and aspires to become president of the United States one day. Like Shahidi, Stewart wants to spread a positive message to teens.
"I just wanna make sure that I continue to be a leader, not only at the Boys and Girls Club but just as a college student and as a leader in my community so that the teens that are coming up can see what kind of possibilities are open to them so they know that they too can make differences in their communities," Stewart said.
Though Shahidi's upbringing in Minnesota was different than Stewart's, the actress emphasized the importance of teens, especially teens of color, seeing themselves reflected in the media. Too often, she said, characters of color are narrowly developed in film and on TV shows.
"Everybody's story deserves to be told so it's not saying there should only be black role models in media because that's not life, there needs to be a spectrum. Cause, as of right now, we really only have one side," she said. "[R]epresentation is more than just theoretically the numbers… it's what are they doing and can my child watch them and aspire to be something or assume that successful is the expectation and not the anomaly?"
But the teen shed some wisdom about how her journey that may be able to help teens shred the boxes and categories society tries to place them in.
"What is beautiful is enduring the space of recognizing that I'm growing and recognizing that we as teens are growing so there is no need to stay static but rather accept this growth and accept that… my opinions and decisions are going to change," she said. "But as long as it comes from decent motive, that's really all that matters."