A 22-year-old man was charged with first-degree murder in the shooting death of Tyshawn Lee, 9, Chicago police said at a press conference Tuesday, calling the boy's killing, "a targeted assassination." According to police, Dwight Boone-Doty shot the child in the head on Nov. 2, 2015, after luring the boy from a play lot into an alley in retaliation against his father.
The charges against Boone-Doty, the alleged triggerman, come four months after the killing. A killing that left even this city, which has grown accustomed to witnessing the unconscionable, reeling over the execution of a child; filled with questions; and, like this writer, searching for answers.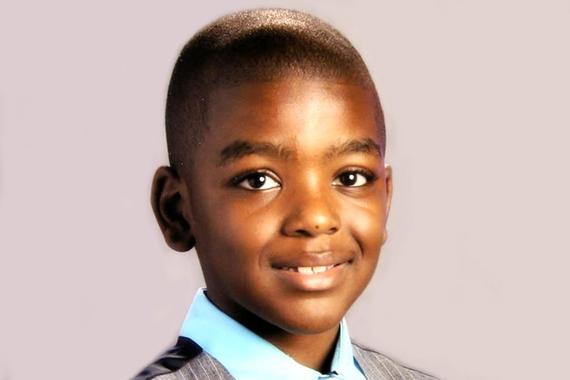 Tyshawn Lee, 9, a Chicago boy fatally shot Nov. 2, 2015, by gang rivals in retaliation against his father, police said. (Photo: Provided)
In his last breath, I wonder, did Tyshawn wonder why he was about to die? Or whether--if black lives really matter--why his assassins most likely looked like the family he saw soon after he first opened his eyes?
Except in his killers' eyes, Tyshawn saw only hate and bloody murder.
The last earthly sight for an innocent little black boy most likely horror. At close range, police said, they shot Tyshawn again and again. A child slain by men.
If black lives matter, then why does Tyshawn Lee
now permanently sleep?

I wonder: Did they watch him die? Witness the light of life leave his chocolate eyes?
I wonder: Did Tyshawn cry?
At age 9, lying in an alley, near his basketball, in a pool of blood, on the breath of fall, I wonder why Tyshawn Lee had to die at all.
Did he call out for his mama or dad? What could make anyone so depraved, so callous, so sick and incomprehensibly sad. I wonder.
I wonder what new horror finally will stem the tide in this city we have come to know as Chiraq--for its incessant toll of deadly violence and nearly incalculable facts:
Thousands wounded by gunfire each year. The young who live with colostomy bags, wheelchairs, and permanently implanted bullets inside. Children living in fear. Through daily terror. Annually, hundreds of souls slain. Endless tears. An unfathomable era.
With the toll of souls and psyches scarred by this senseless urban tragedy, I wonder what will finally make us at last abhor our own complacency and tendency to bury our heads in sand. To finally cease from crying and recoiling in the moment and details of the latest horror, then so quickly resuming our lives and plans with so much insanity at hand. I wonder.
For I have covered murder long enough to know that these so-called new horrors are mostly old horrors long since forgotten and now in syndication. Tragic real-life tales of babies, and little boys and girls, of grandmothers and grandfathers felled by gunfire when they had absolutely nothing to do with nothing. So much devastation.
I wonder. Amid all the chatter that black lives matter.
Amid cold hard fact, I wonder how this can really be our collective consciousness as African Americans when so much black life most often is left lying lifeless at the hands of someone black. Someone black who has determined that the lives--and the color of the skin--of their black victims did not matter.
I wonder, knowing that those who march defiantly to meet this scourge head on represent a small minority, compared to the collective thousands who remain holed up in churches, tickling their ears with sermons of prosperity. Rather than moving beyond its walls to show true charity to a people besieged by suffocating calamity.
I wonder amid the homicidal soup of drill music and a disintegrating sub-subculture that denigrates black women as female dogs, "hoes" and "trap queens." That promotes fatalism, drug dealing, gun-waving bravado and playing out evil and decadent rap video dreams.
I wonder how we as African Americans can ever convince the world that black lives--like all lives--matter. Until it becomes clear that black lives matter first to us.
Until we become as incensed by the cradle-to-killer timeline as we are over the schools-to-prison pipeline.
Until it becomes clear that "Black Lives Matter" is more than a fashionable recitation or mere words to be emblazoned on a T-shirt or placard to raise on the street. More than a damn hashtag or a tweet.
If black lives matter, then why does Tyshawn Lee now permanently sleep?

Outside St. Sabina Church where Tyshawn Lee, 9, was eulogized, his casket rests in a hearse as mourners pay their last respects last November. (Photo: John W. Fountain)
Calling all HuffPost superfans!
Sign up for membership to become a founding member and help shape HuffPost's next chapter