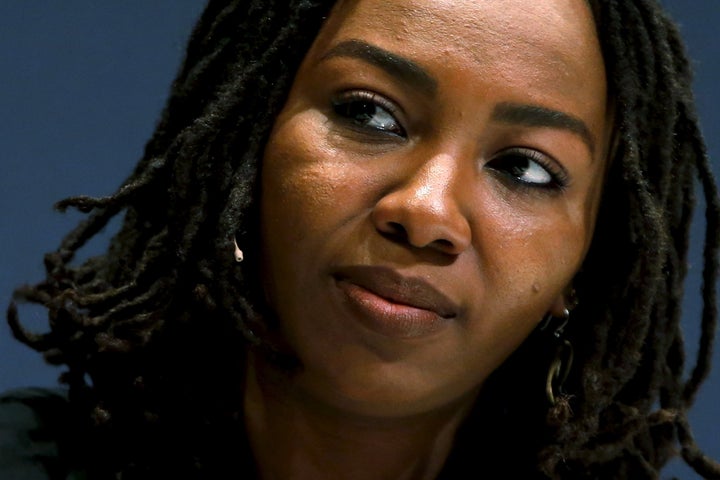 The fight to make sure black lives matter is a global one.
This message was reinforced by Opal Tometi, one of the co-founders of theBlack Lives Matter movement, during a recent address she delivered at the United Nations General Assembly.
Tometi described how the circumstances that surround their killings signal a growing human rights crisis that deals with discrimination and injustice on behalf of state agents. She went on to identify three core challenges that countries around the world must address when it comes to advancing human rights: global capitalism, white supremacy and the suppression of democracy.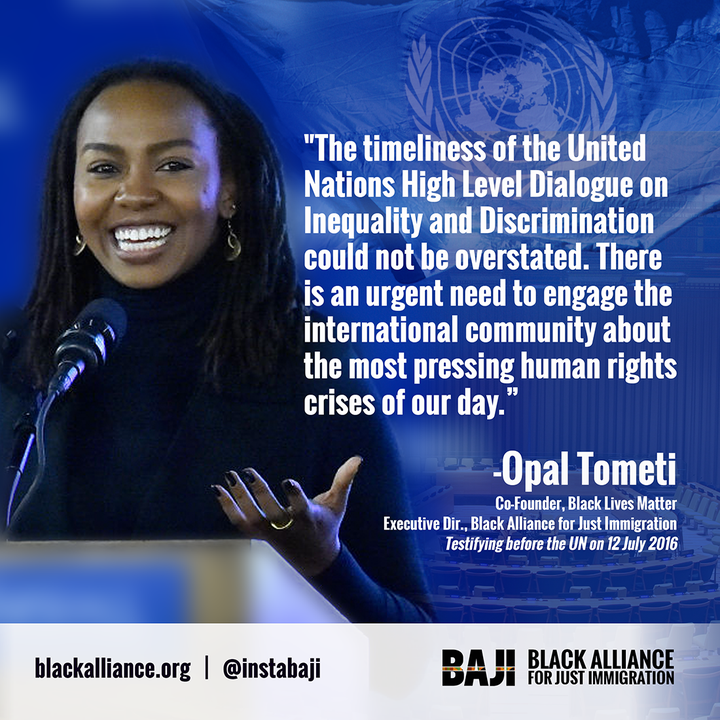 Tometi also serves as the executive director for the Black Alliance for Just Immigration, which is the nation's only black-led organization championing racial justice and immigrant rights. She has been a leading voice on how human rights are often impeded by racism and injustice.
"The timeliness of the UN High Level Dialogue on inequality and discrimination could not be overstated," she said in a statement obtained by HuffPost. "There is an urgent need to engage the international community about the most pressing human rights crises of our day. In the footsteps of many courageous civil and human rights defenders that came before, I look to this meeting to be a forum for meaningful dialogue and action."
During her address, Tometi tackled the growing impact of capitalism and how it has severely impacted black communities around the world. She denounced the agenda of some free trade agreements, which she said have caused cities like Detroit, Michigan, which has a majority black population, to suffer. She also spoke out against expensive development deals in countries like Haiti that have neglected and displaced residents who continue to live in poverty.
"The valuation of profit over people impedes human rights across much of the world," Tometi said. "Free Trade Agreements and Structural Adjustment Programs have strangled indigenous industries, privatized basic services, displaced over 65 million people and decimated the environment across Asia, Africa and the Americas."
""For the U.S., a nation that boasts of being the land of the free, it does not live up to its ideal.""
Tometi also addressed white supremacy and demanded that it be dismantled. She said the belief system of labeling whiteness as superior to other races has perpetuated structural inequality and created "racialized systems that are reinforced over decades through institutional practices and violence. "
She said that frequent police killings of black lives and the disproportionate criminalization of black Americans show how anti-blackness can have a real affect.
"For the U.S., a nation that boasts of being the land of the free, it does not live up to its ideal," she said. "Government investment into programs for health, education and housing is waning in favor of expanding efforts to survey, capture and control."
Tometi also discussed the ways democracy has been suppressed, especially in countries that are built to embrace it. She spoke against voter disenfranchisement, election rigging and the ways in which governments attempt to silence or criminalize others forms of civic participation, like protesting.
"I must emphatically state that the stifling of protest hampers the potential for democracy," Tometi said. "As communities face a myriad of challenges and hostility from the state, driven by neoliberal interests, they are advocating for their rights and asserting their human dignity."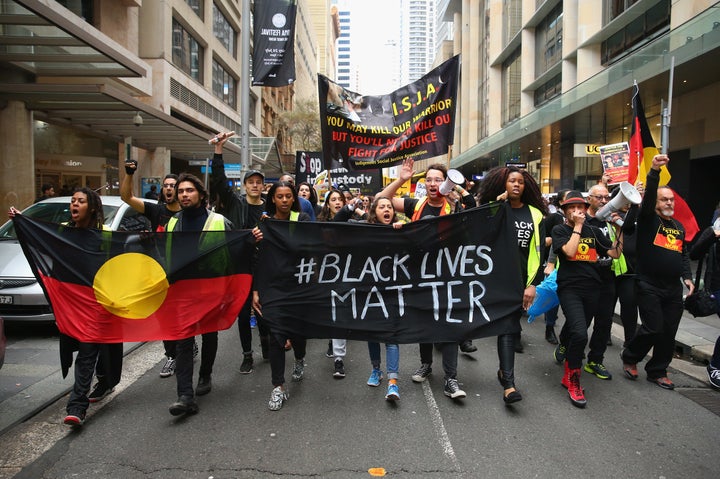 Tometi and other black activists have vehemently defended the right to protest and view it is a core component of the movement. Black Lives Matter, which officially launched in 2012, has since galvanized thousands across the U.S. and grown into a network with over 50 chapters across the globe. Tometi, along co-founders with Alicia Garza and Patrisse Cullors, have worked alongside members to keep the momentum of the movement going.
Tometi shared three lessons they have learned about activism along the way:
1. Tell the truth. "If there is an issue, name it and create the context to be heard," she said. "Only when the oppressed are heard can we have an honest solutions based dialogue."
2. Be inclusive and make central the concerns of the most marginalized. "We advocate with and are led by women, black immigrants, queer folks, people who are incarcerated, transgender, disabled, and people who practice different religions," she said. "We see this diversity and complexity as strength."
3. Mobilizing is not enough, you must demand what you need. "Reform of the current system will not suffice," she said. "We must transform it."
Before closing her address, Tometi reminded the room of the real purpose of Black Lives Matter and made one last declaration: "I challenge us all to have the courage of our convictions to fight for a fair, justice and inclusive society."
Watch Tometi's full speech below:
Before You Go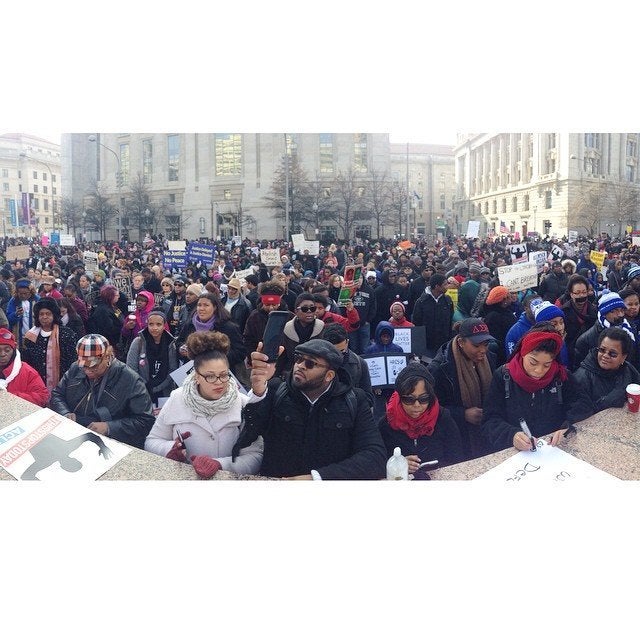 Powerful Black Lives Matter March In Washington
Popular in the Community