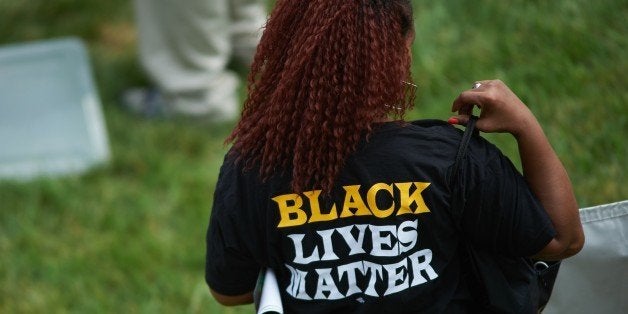 Towards the end of a powerful day of striking across this city on April 1, Page May, leader of Assata's Daughters, a black women's empowerment group, came on stage at the CTU led rally at the Thompson Center and proudly said, "F*ck the Police!"
Her three words have caused a tidal wave of discussions in this city among all groups of people. Many of these discussions have been necessary and difficult. Sadly, some of these discussions have made her the target of terribly racist and violent threats.
Since the rally that Page spoke at was in large part a CTU rally, we teachers have been forced to talk amongst ourselves, in person, on social media, and list serves about her three words, the meaning and the implications.
Many teachers have said things like, "That was not the place to make a statement like that. April 1 was about building unity to fight Rauner and Rahm and her comments created divisiveness, not unity, during what was an otherwise powerful day." Or "We need to work with other public sector union employees, like the police in our struggle to get more funding, but now the police hate us."
We blamed her essentially for putting a black cloud over what was "our" beautiful event.
The Black Lives Matter Movement has been successful at bringing issues of police brutality to the forefront of the American conversation over the past few years. Educators as a whole have been receptive and supportive of the movement.
But this comment has pushed us educators to discuss the movement in ways that many of us never have.
This is the apparent beauty of the Black Lives Matter Movement.
We teachers are on the front lines, advocating for our students, our schools, and communities. We consider ourselves forward thinking, social justice orientated and anti-racist.
Studies show that the teaching profession has become more and more white, which means we (white educators) also do not know what it is like to deal with the police the way our students do, day in and day out.
I struggled with Page's comment too at first. I thought to myself the timing wasn't right, the event wasn't right, maybe she wasn't right, because surely there are many good police officers, too. I have not had very many negative experiences with the police. When I call the police, they come and they don't bother me unless I am doing something that I shouldn't be.
These three words, "F*ck the Police" have made me re-examine all of that.
I have current and former students who have shared story upon story of police abuses with me. I know that in many of the situations that my students share with me, my students were not doing anything wrong and did not deserve the police encounter. But somewhere deep inside my brain, sometimes my privilege creeps. It whispers things like, "Surely, they must have done something or the police wouldn't have bothered them," But then my Chicago education (taught to me by students) overpowers that privileged thought, and I hear my students saying to me, "Mr. Stieber, all I did was walk down the street, while being black."
If you live in Chicago, and are young and black, you probably deal with the police -- or are tense because of the police -- daily. I only have to deal with this tension when I choose to listen to black youth.
In my mind, I was trying to operate in a world where police and black youth could exist in the same space. Thanks to Page, I am beginning to see differently. I now realize that if we teachers cared as much about why so many of our black students have a hatred towards the police to begin with, as we do to Page saying, "F*ck the police" at a rally, we would be much closer to stopping police brutality.
Many more discussions need to be had, but the Black Lives Matter movement (led in Chicago by BYP100, Assata's Daughters and others) as a whole sees to it that all white people have to grapple with these issues, even when we don't think it is appropriate or timed right.
Popular in the Community