When a Fox News panel tackled crime and policing on Wednesday, things got pretty heated, as one might expect.
On "The Kelly File," host Megyn Kelly asked the panelists about Chicago Mayor Rahm Emanuel's recent claim that protests over police brutality are driving up violence in major cities, including his, because police are hesitant to intervene.
"They don't want to be a news story themselves, they don't want their career ended early, and it's having an impact," Emanuel told reporters on Tuesday.
The first panelist, Bo Dietl, a former NYPD detective, said that the Black Lives Matter movement and its calls for greater police accountability have negatively impacted police. He argued that the police are under attack and "getting death threats."
In response, panelist Lisa Durden called that argument a "racist statement" and accused those who defend the police of making them the "victims" instead of the people unfairly targeted by law enforcement officers.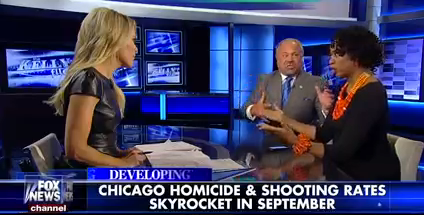 "To blame the Black Lives Matter movement for why you're not doing your freaking job, you robocops, is disgusting," Durden said. "That's the same thing as saying a woman whose husband beats her -- it's her fault because she stood up for herself. These guys are not the victims."
Kelly then suggested that police officers might be worried about "becoming the next Darren Wilson," in reference to the policeman who became infamous after he killed unarmed black teen Michael Brown in Ferguson, Missouri.
"Boo hoo hoo!" Durden responded, before noting that plenty of people are evaluated on their job performance, and police should be no different.
Watch the panelists' debate in the clip above.
Related
Popular in the Community