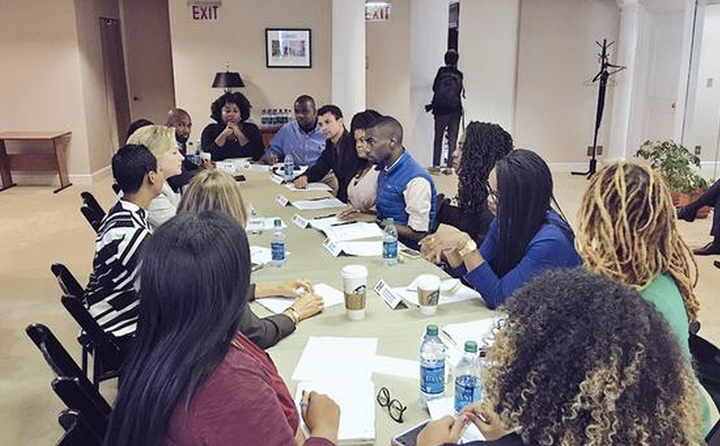 WASHINGTON -- Democratic presidential candidate Hillary Clinton met with Black Lives Matter advocates on Friday in Washington, D.C., to discuss racial justice and law enforcement reform. Attendees said Clinton talked more frankly about racism and the long legacy of slavery than she does in public, and they characterized the meeting as tough and productive.
Clinton and her top competitor for the Democratic nomination, Sen. Bernie Sanders (I-Vt.), have courted Black Lives Matter activists while seeking to distinguish themselves on criminal justice reform. Prominent members of the movement released a platform called Campaign Zero in August, which addresses issues such as the use of body cameras and police demilitarization.
Clinton met with a number of activists, including DeRay Mckesson, Brittany Packnett, Johnetta Elzie and Samuel Sinyangwe, all of whom are on the Campaign Zero planning team and are affiliated with the group We the Protesters. Those present from the Clinton camp were national political director Amanda Renteria, senior policy adviser Maya Harris and African-American outreach director LaDavia Drane, attendees said.
"In the end, I felt heard," Mckesson said. "It was a tough conversation, and we didn't agree about every approach or everything. But she was willing to be pushed, and it was a candid conversation, and that's important."
Clinton spoke directly about the continuing effects of racism and slavery, which attendees said she called America's "original sin." Elzie said she is curious to see if Clinton will begin speaking more frankly about racism in public. Clinton "would listen and acknowledge that her experience was totally different than any of the black people at this table," Elzie said.
"It took her awhile to get there, but she got there. So I'm hopeful that she will continue to have this educational conversation with herself to acknowledge her privilege," Elzie said. Sanders was much quicker to acknowledge his position in the world, she noted.
"You saying that you know that you're white, you know that you have power, and you know that you are wealthy is not the same as seeing it and knowing that the way that police interact with you is completely different than how they will ever interact with us," Elzie said. "I felt like Bernie understood that."
Mckesson said Clinton, like many Americans, also seemed to struggle with the notion that "police don't actually always make people feel safe" and that Americans don't all share the same conception of the police.
Both Elzie and Mckesson said they were disappointed that Clinton seemed resigned to the fact that the federal government doesn't play a major role in local policing.
"She kind of downplayed the role of the federal government and placed it all on state and local government," Elzie said.
"I think she can take a harder stance on how she understands the role of the federal government in protecting the rights of people of color and pushing and modeling for local and state governments," Mckesson said.
The activists said they pressed Clinton on providing economic support to racially marginalized communities, establishing national use of force standards and changing the role the federal government plays in law enforcement reform.
At one point, Cherno Biko, a transgender activist, spoke about trans women of color who have been killed this year. Biko discussed approaching the killers of those women with love, rather than locking up more people and contributing to a system of mass incarceration.
In a moment captured on video, Clinton told Biko, "You're a better person than me wanting to love folks who kill somebody." She added, "Listen, I will forgive them, but I'm not going to love them."
Clinton is pushing for an end to mass incarceration, but skeptics point to her history of advocating for tough-on-crime policies with her husband in the 1990s. When the presidential candidate met in August with other Black Lives Matter activists, the exchange was viewed as terse. "Look, I don't believe you change hearts. I believe you change laws," she said at that meeting.
The Clinton campaign did not immediately respond to a request for comment about Friday's meeting.
The Campaign Zero team met with Sanders in September. Afterward, they said he was open to being pushed on criminal justice issues, but expressed concerns that working in an overwhelmingly white state may cause him to be out of touch with the concerns of black voters. Packnett said she came out of that meeting "still thinking about where I will put my vote and not yet having an answer."
"In both meetings we had frank conversations," Packnett said Friday. After the meeting with Clinton, "I still don't know where my vote's going," she said. "That's significant, because there are still many conversations and bridges to build with communities like mine."
Popular in the Community