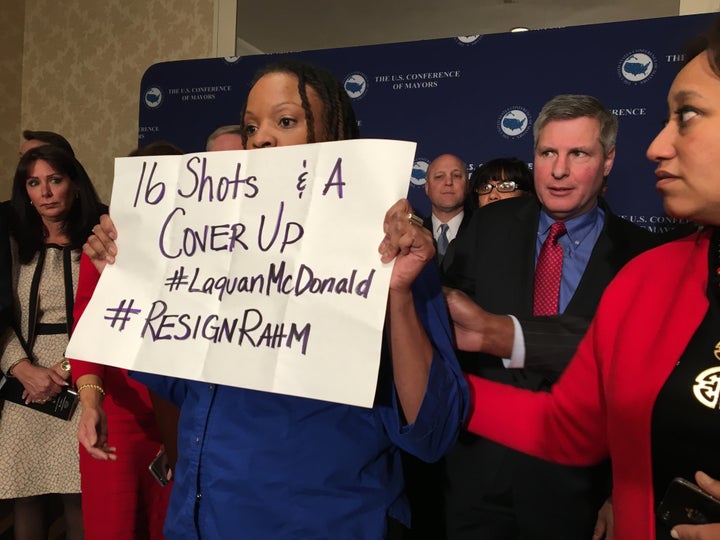 WASHINGTON -- As Baltimore Mayor Stephanie Rawlings-Blake was delivering the opening remarks for the 2016 United States Conference of Mayors on Wednesday, April Goggans sprinted up in front of the podium.
Goggans, 36, was one of several Black Lives Matter activists who wanted to voice their opinions about issues plaguing black communities at the protest, which was organized by Black Lives Matter DMV, the DC chapter of the Black Youth Project and Baltimore BLOC.
She came equipped with a sign reading "16 Shots & A Cover Up #LaquanMcDonald #ResignRahm," a reference to Chicago Mayor Rahm Emanuel and the recent release of a video showing unarmed black teen Laquan McDonald being shot and killed by a white police officer. Since the video was made public, there have been calls from activists and black Chicagoans for Emanuel to resign.
The crux of Goggans' protest was simple and true to the goals of most Black Lives Matter protests: to make people feel uncomfortable and force others to acknowledge issues in black communities.
"Them getting together as mayors doesn't do anything for the millions of people left back in their cities dealing with what they deal with everyday. This is like a fantasy world. It's Disneyland. They're living this [fantasy] ... with their suits and their coffee," she told The Huffington Post.
She said multiple white mayors standing behind the podium spoke of her like she wasn't even there. Asserting her blackness was making white people uncomfortable, Goggans said.
"You could hear everything they were saying. There were white mayors to my left who were totally disgusted. They spoke about me nastily," she said. "But some mayors walked by and said that I was incredibly brave and to keep it up. I'm over whether or not I make people uncomfortable. It's the comfort that allowed them to come here when things going on in their cities are going on."
Goggans said inviting Rawlings-Blake and Emmanuel to speak about community policing was a slap in the face. No mayors should want them to be speaking about police-community relations and safety in communities of color, she argued.
Shai Crawley, a 20-year-old resident of Baltimore, held a sign describing how he believed Rawlings-Blake had failed Charm City. As mayors left for the next panel session, he stepped to the podium and grabbed the microphone.
"Let this be a reminder: We will not be silenced. We will not bow down. We will not go away until our voices as people, as citizens, as human beings, as black bodies in this city are heard," Crawley said. "We will be here. This is our community. And until we stand up as a people, things like this will continue to happen."
Crawley stopped for a moment. He pointed to a red USCM button featuring a slogan that read "Invest and protect," balking at the phrase.
"Stuff like this? It doesn't happen in our communities. Nobody's investing in our communities. Nobody's protecting our communities. If so, we wouldn't have been here today," he said.
In the back of the crowded room, protester Duane "Shorty" Davis held court with several onlookers and reporters. His message was the loudest. Davis, a middle-aged black Baltimore resident, said he doesn't support 2016 Democratic presidential candidates Hillary Clinton and Bernie Sanders. He, too, wants Emanuel to step down, and he isn't a fan of his city's elected officials.
Davis told HuffPost he came out to protest police killings of unarmed black men in Baltimore. He carried a sign with the names of black men shot by police -- Keith Davis, Tyrone West, Anthony Anderson, Maurice Donald Johnson -- asking "Who's next?"
"You pushing blacks out of Baltimore so all they do is clean your bathrooms and fix your beds, cut your grass. There's no careers in Baltimore for black people -- just jobs," Davis said, citing the increased development of the city's inner harbor area under Rawlings-Blake. The money could have been used to provide the city's black community with better affordable housing, he said.
Since 2012, more than 6,800 renters and their families have been evicted in the city annually, according to a report the Public Justice Center released in December. The city has the nation's second-highest percentage of renters facing eviction due to an inability to pay rent. Only Detroit has more renters in danger of losing their homes.
While the U.S. Census Bureau reports that there are 46,800 vacant homes in Baltimore, city officials only count 16,745, which includes properties considered uninhabitable but excludes thousands of homes that are livable but empty.
"In 2016, we gonna bring attention to everything that's wrong in Baltimore until they get it right," Davis said. "[The conference] is just a dog and pony show. When [Rawlings-Blake] shows up and talks about how glamorous the city is -- she needs to start talking about the blight in the community."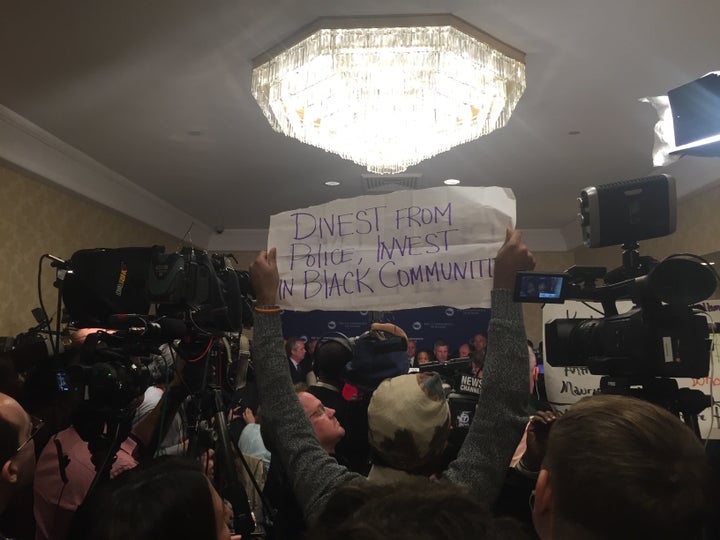 Rawlings-Blake, who is currently USCM president, did not directly address comments from protesters during the conference. However, some mayors made an effort to stop security from removing them from the event. One mayor shouted, "That's what we're here for. Black lives do matter."
Steven Hernandez, the mayor of Coachella, California, was one mayor who supported protesters on Wednesday. He enjoyed their mode of civic engagement, he said.
"When folks take to protest, it's usually because there's recognition of some type of social uneasiness, some type of problem within our society," he told HuffPost.
"There's no doubt that when you look at the urban core … black lives, brown lives -- we've been effected," Hernandez added.
Coachella is over 96 percent Hispanic. Hernandez cited unemployment, high incarceration and murder rates as some of the city's main challenges -- problems that are often prevalent in areas where people of color comprise a large percentage of the population. Policymakers should "not be afraid to really look at what the root causes are," he said.
"You can't do like an ostrich and put your head in the ground and pretend that it's gonna go away. You gotta address it head on, and I'm hoping that they're addressing it head on," he said, referencing Rawlings-Blake and Karen Weaver, the mayor of Flint, Michigan.
Former USCM President Michael Nutter walked into the fray as the protests reached their climax. As a former mayor of Philadelphia, a city that's over 44 percent black, he's seen his share of Black Lives Matter protests before, during and after his tenure.
"There are some serious issues in the United States of America that have to be addressed," Nutter told HuffPost.
"I would strongly urge all the parties to ... develop a list of specific goals and specific actions," he added. "Then ... report back out to communities all across this country about what progress is being made and what steps still need to be taken."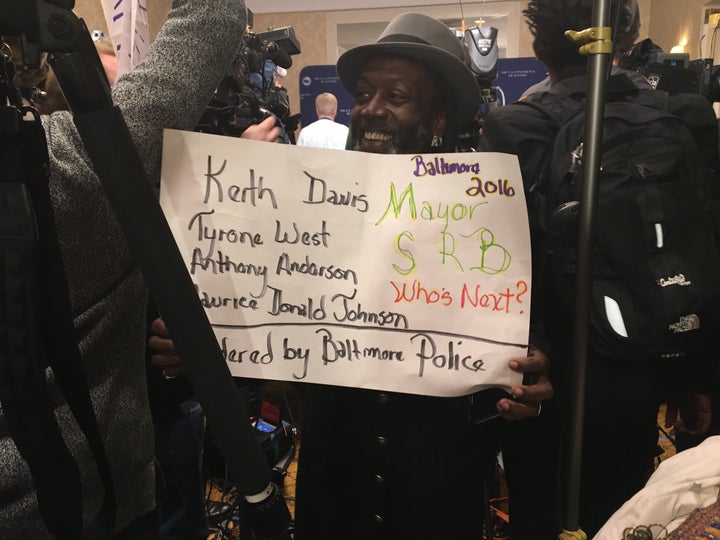 When the mayors dispersed, protesters continued to speak with lingering audience members and reporters. They'd come this far, they said, and they weren't going anywhere.
Even the security guards attempting to clear the premises knew about Davis, the big voice in the room.
"Aye, man. Ask security about me," Davis said with a smile, fixing his hat and pointing to a heckler. "They know me in here. I'm from Baltimore. I got a room. And checkout ain't 'til 3 o'clock."
Correction: An earlier version of this story included Keith Davis in a list of men shot and killed by police. He was shot and wounded, but not killed. The article has also been amended to reflect that the group Stop Police Terror issued a statement of solidarity but did not participate in Wednesday's protest.
Popular in the Community