WASHINGTON -- In July 2013, Opal Tometi walked out of a New York movie theater. She had just finished watching Fruitvale Station, a film documenting the lead-up to Oscar Grant's death at the hands of a police officer in 2009. As Tometi stepped out onto the sidewalk, her phone buzzed.
That is when she discovered that George Zimmerman, who had been charged in the murder of 18-year-old Trayvon Martin, had been acquitted. "I remember sitting on the street corner and getting a slew of text messages, tweets [from] folks who were frantic," Tometi, who went on to co-found Black Lives Matter, said Wednesday during the Washington Ideas Forum. The forum is a two-day series of conversations and debate about America's most pressing issues.
"I remember in that moment, just sitting with the fact that everybody knew what took place," Tometi continued. "And despite all the knowledge, despite the testimonies, despite all of that, Trayvon Martin was put on trial for his own death … I was struck with the fact that my younger brother -- who was 14 at the time -- could have been Trayvon."
After hearing the news, Tometi was inspired to build a movement to prevent this from happening again. She read a Facebook post by Alicia Garza arguing that the anger people felt was justified and that "black lives matter." Inspired by Garza's post, Patrisse Cullors put a hashtag on that crucial phrase and began posting it on social media. Tometi then called Garza and Cullors and said the nascent movement needed its own platforms.
"Beyond just our walls, we need this to actually be very public," Tometi recalled telling the other two, who would become her co-founders. "We need to have other people interact with this message and also share the work that they're doing to ensure black lives matter. And how can we, as a collective … make sure that we are coordinated and uplifting a message that will ensure that all of our black lives would matter?"
"We created #BlackLivesMatter. We created a platform," she continued. "We used our social media presence online in order to forward a conversation about what is taking place in black communities ... This was actually a racial justice project for black people."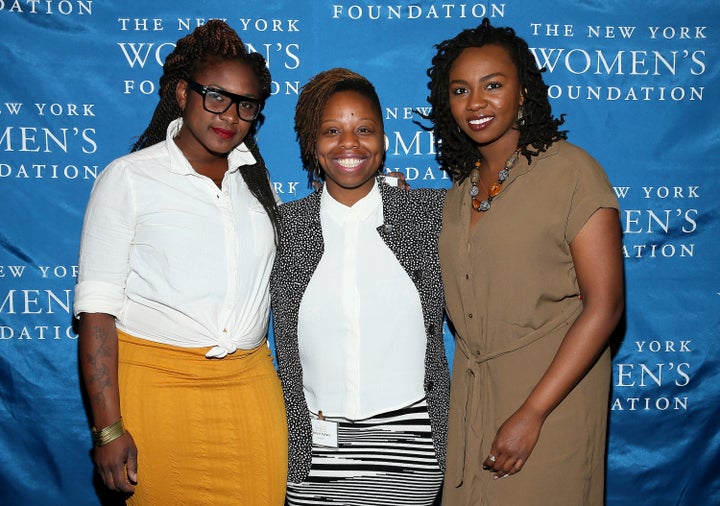 The movement gained significant traction after the fatal shooting of Michael Brown in Ferguson, Missouri. Tometi deemed the protests that followed Brown's death an exemplar of civic engagement.
"People were willing to put some skin in the game and say 'Hey, Mike Brown was murdered here. Our lives aren't mattering. We want to make sure people know about this. There's a crisis here,'" she said. "I think they were very much involved in their right and I'm just so inspired by the people who are taking action all across the country."
Asked about the group's goals, philosophies and tactics -- mainly activists disrupting speeches by presidential hopefuls -- Tometi said Black Lives Matter is open to a variety of strategies for addressing systemic racism, and doesn't claim that one tactic is more effective than another.
"You have a duty in this moment in history to take action and stand on the side of people who have been oppressed for generations … Whatever means you need to take, we believe that folks should do that," she said, adding that the interruptions were courageous and helping to redefine the political process.
Tometi also addressed the allegation that Black Lives Matter is provoking violence. After the death of a police officer in Harris County, Texas, earlier this month, Fox News host Elisabeth Hasselbeck asked why the Black Lives Matter movement hasn't been classified as a "hate group," while an on-screen banner labeled Black Lives Matter a "Murder Movement." Hasselbeck's colleague Bill O'Reilly later piled on.
"When we say black lives matter, we're not saying that any other life doesn't matter. That has never, ever been our message," Tometi said. "Our message has always been from a place of love for our people and even love for our society."
"It's a distraction anyway when people want to pick apart the words," she added. "But if they truly understand the reality of the black experience in the U.S., they would not be so scared to come alongside us."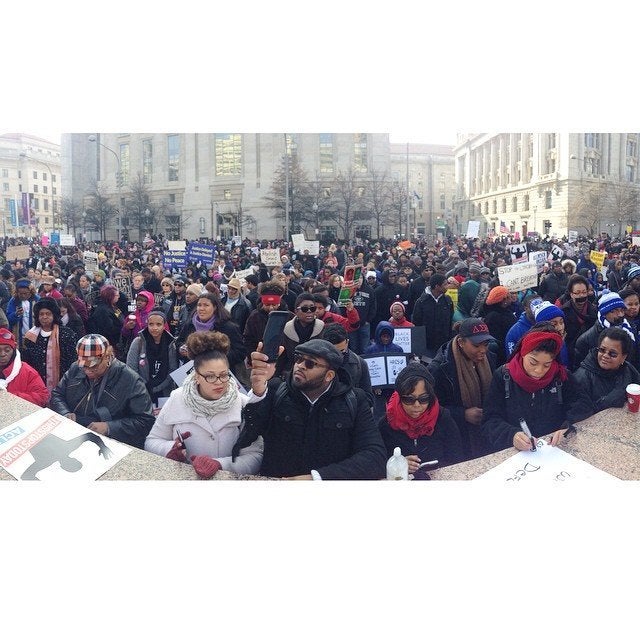 Powerful Black Lives Matter March In Washington
Support HuffPost
The Stakes Have Never Been Higher
Popular in the Community