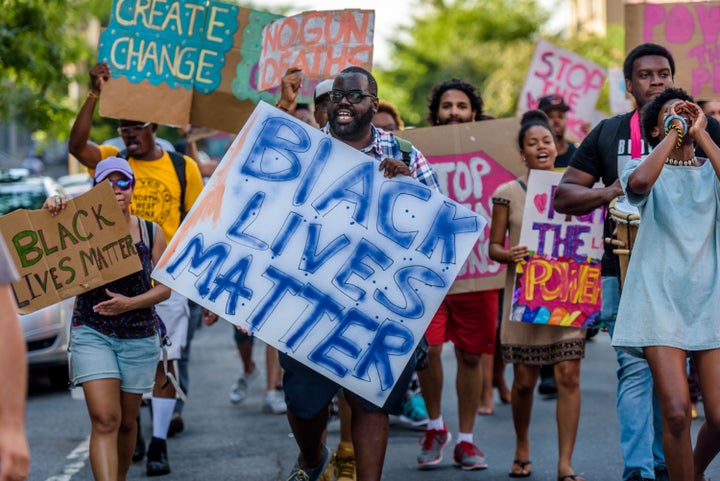 The Obama administration will not recognize the Black Lives Matter movement as a terrorist organization, it said in response to a popular petition that launched earlier this month.
The appeal, which was created July 6 via the White House's official online petitioning platform, compares the anti-racism movement to the self-described Islamic State and asks the Pentagon to maintain consistency when considering the definition of terrorism.
Black Lives Matter's "use of violence and intimidation in pursuit of political aims" makes it similar to a terrorist group, claims the petition. Over 140,000 people signed it in less than two weeks, surpassing the 100,000-signature benchmark that typically draws an official response.
The White House responded to the petition by saying it could not formally address its request because "the U.S. government does not generate a list of domestic terror organizations."
During that event, the president explained that saying "black lives matter" does not mean other lives don't matter. Rather, he said, the movement "simply refers to the notion that there's a specific vulnerability for African-Americans that needs to be addressed. ... It's to suggest that other folks aren't experiencing this particular vulnerability."
Black Lives Matter describes its mission as an "an ideological and political intervention in a world where Black lives are systematically and intentionally targeted for demise. It is an affirmation of Black folks' contributions to this society, our humanity, and our resilience in the face of deadly oppression."
In its response to the petition, the White House also expressed hope that people would respond with productive dialogue, not divisiveness: "We encourage you to engage with your community in the ongoing discussion of how we can better build trust and safety in our communities."
Two days after the petition launched, a gunman fatally shot five police officers after a Black Lives Matter rally in Dallas. The suspect, Micah Johnson, cited frustration over police officers having recently killed Philando Castile in Falcon Heights, Minnesota, and Alton Sterling in Baton Rouge, Louisiana, but reportedly was not an active member of any Black Lives Matter groups.
Three officers in Baton Rouge were also killed Sunday in a shootout with a suspect, although the motives for the attack have not been confirmed. 
REAL LIFE. REAL NEWS. REAL VOICES.
Help us tell more of the stories that matter from voices that too often remain unheard.
BEFORE YOU GO