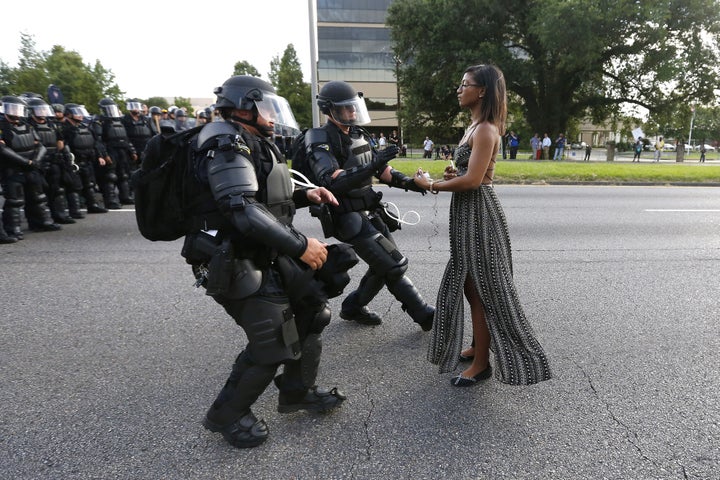 A photo of an unnamed protester at a Black Lives Matter demonstration in Baton Rouge, Louisiana, has become a powerful image of the ongoing struggle between law enforcement and black Americans.
More than 100 people were arrested during a protest outside the city's police headquarters on Saturday following the death of Alton Sterling, who was shot and killed by police outside a convenience store last week. At least three journalists were arrested, as was prominent activist DeRay Mckesson.
The woman in the image above, which was taken by Reuters photographer Jonathan Bachman, was among those arrested for refusing to leave an area highway. The moment and the photo evoke Tiananmen Square's infamous and unknown "Tank Man." Neither Reuters nor the Associated Press was able to identify the woman, who was later detained.
Bachman told The Atlantic that police in riot gear were moving protesters off the Airline Highway to the side of the road when he saw the woman calmly plant her feet and refuse to leave. He said, for the most part, the demonstrations in the city have been peaceful and the woman's actions reflected that:
It happened quickly, but I could tell that she wasn't going to move, and it seemed like she was making her stand. To me it seemed like: You're going to have to come and get me. And I just thought it seemed like this was a good place to get in position and make an image, just because she was there in her dress and you have two police officers in full riot gear.

It wasn't very violent. She didn't say anything. She didn't resist, and the police didn't drag her off.
Protesters gathered in a number of cities around the U.S. this weekend following the shooting deaths of Sterling in Baton Rouge and Philando Castile during a traffic stop in a suburb of St. Paul, Minnesota. Hundreds were arrested as protesters in the Twin Cities shut down I-94, a major highway, and threw rocks, bottles and fireworks at officers. Police responded with pepper spray and fired non-lethal rounds
President Barack Obama on Sunday warned violence against police could harm the Black Lives Matter movement and its calls for fairness in the criminal justice system, just days after five police officers were killed by a sniper in Dallas.
"I want to say to say to everyone concerned about ... racial bias in the criminal justice system that maintaining a truthful, serious and respectful tone is going to help mobilize American society to bring about real change," Obama said.
"My heart has been totally torn out of my chest by both violence perpetrated on officers and violence perpetrated by officers," Preston Gilstrap, a retired Dallas police officer, told The Huffington Post's Christopher Mathias. "These officers were there to protect the protesters and make sure their expression of discontent and freedom of speech were protected."
This story has been updated with the identity of the woman in the photo.
CORRECTION: Philando Castile was shot and killed not in Minneapolis, but in a suburb of St. Paul, Minnesota.
Popular in the Community