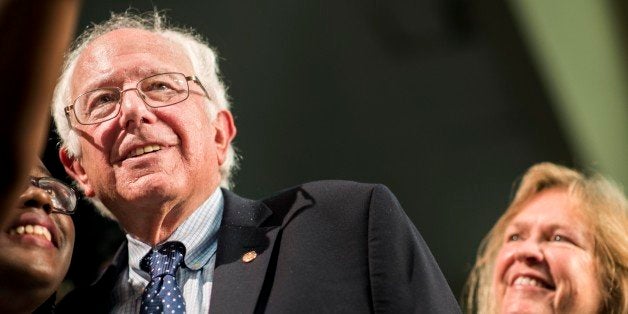 With February 1st, the day Iowans caucus, looming closer, campaigns are inundating Iowa's television screens with a barrage of new advertisements. Between the back-to-back pitches and attacks lambasting viewers during commercial breaks in Iowa, Bernie Sander's newly released ad offers a minute of relief. For sixty seconds, only the blissful sound of Simon and Garfunkel singing "America" emanates from the television. The ad showcases peaceful scenes of Iowan farmers walking through fields, young professionals looking into the screens of their Apple products and thousands of Sanders fans cheering him on at rallies around the state. Although the scenes are set to the sound of Simon and Garfunkel's "America," some opponents have argued that the idyllic images, showing nearly all Caucasian faces, do not represent America at all.
"From this ad it seems black lives don't matter much to Bernie Sanders," David Brock, the head of several Super PACs backing Hillary Clinton, told the AP.
This accusation is made more significant by the fact that it comes just a couple weeks after Sanders definitively rejected reparations for African-American descendants of slaves, a notion popularized by Ta-Nehisi Coates, one of America's most respected racial justice scholars.
When asked about reparations during the Iowa Black and Brown Forum, he made his position clear in contrast to former Secretary of State, Hillary Clinton, who answered nebulously, "I think we should start studying what investments we need to make in communities to help individuals and families and communities move forward."
For his frankness in contrast to Clinton's, Sanders received a lot of criticism from opponents, claiming he only embraces radical ideas that tackle injustices related to classism. Meanwhile, according to opponents, he ignores racial injustices. Writing for The Atlantic, Ta-Nehisi Coates even equated Sanders' rejection of reparations to tolerating "white supremacy."
These critics ignore that reparations are not the only way to tackle a complicated problem that Sanders does his part in recognizing.
"The real issue is when we look at the poverty rate among the African American community, when we look at the high unemployment rate within the African American community, we have a lot of work to do," he offered before suggesting a strategy of "targeting our federal resources to the areas where it is needed the most and where it is needed the most is in impoverished communities, often African American and Latino."
If implemented, Sanders' key policy proposals would radically improve the lives of many African-Americans. In addition, Black Lives Matter activists have praised his racial justice plan, which details exactly how he would turn this country into one that "affirms the values of its people of color."
Reparations are not the only way forward for the African-American community. Sanders' position does not mean he is indifferent to voters of color. In fact, his policy proposals and decisions show Black Lives Matter to Bernie Sanders.
Popular in the Community