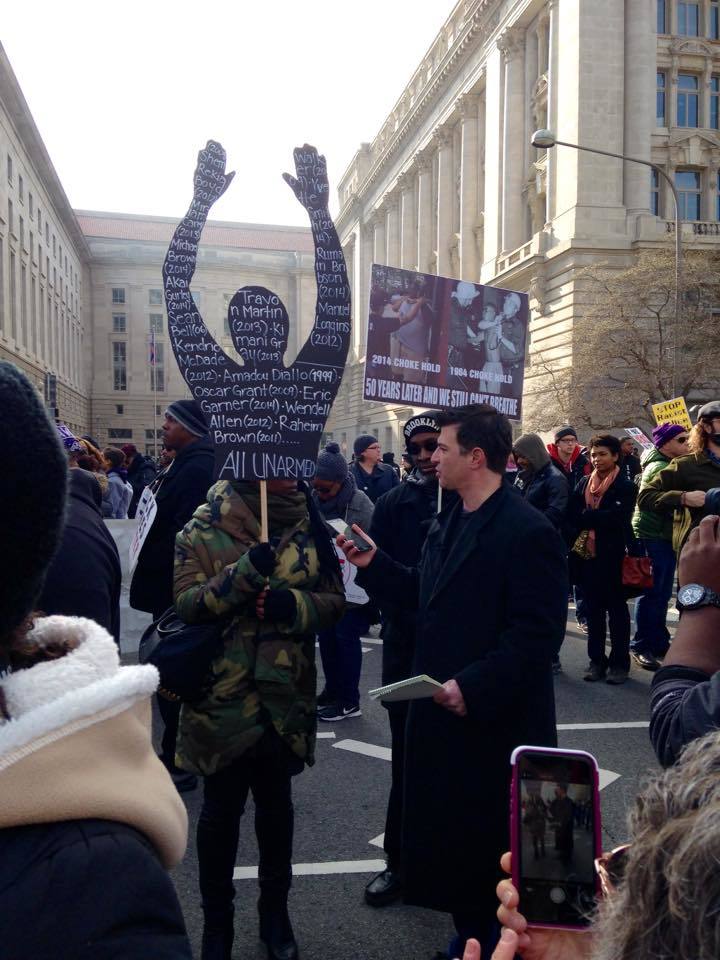 Where is the tipping point? Tragedies, massacres, murders have become so commonplace that most of us hardly take note.
Some killings rise to hashtag level, and for a few brief days or weeks we repeat the names of the dead or the places where they were killed: Trayvon Martin; Newtown; Sandra Bland; Ferguson; San Bernadino; Freddie Gray; Orlando. And to those, we now add Alton Sterling and Philandro Castile.
Some hashtags presage a movement. That's what happened in 2013 after #BlackLivesMatter which began appearing in the wake of the acquittal of the murderer of Trayvon Martin. A year later, with the police murders of Michael Brown in Ferguson, Missouri, and Eric Garner in New York City, Black Lives Matter had clearly established itself as a movement.
At first they were blocked from taking the mic, but many of us in the crowd yelled "let them speak" and prevailed. Frankly, from where I was standing on Freedom Plaza it was hard to hear the remarks that finally were allowed.
The gist of the remarks were, I learned later, to demand that the leaders and the tens of thousands of participants assembled do more than just stand around and march down the street. If Black lives truly mattered, we had to do more.
Nearly two years later, and too many more murders of Black people by police, the "doing more" has yet to happen.
Yes, consciousness has been raised, police cameras have been mandated in some places, and a small number of the more egregious prosecutors and officials have lost their jobs. In the white community—my community—some introspection and owning up about white privilege has had some good results, including a more appropriate and supportive cadre of allies.
In the past 48 hours, there's been a groundswell of grief and anger about the police murders of Alton Sterling and Philandro Castile. Could their cold-blooded murders be the tipping point?
Will these murders bring Americans out in the streets for a sustained campaign? Will lawmakers in Baton Rouge, Louisiana, and St. Paul, Minnesota, seize the state capitals down the street from where each of the killings took place and demand justice? Will the racism behind these killings get as much attention in the media as the graphic videos and speculation about the past histories of the victims?
What is the tipping point? Is there a tipping point? Or is racism so much a part of our country and its institutions that this is 'just the way it is?'
Popular in the Community