On March 11, 1959, when A Raisin in the Sun premiered at the Ethel Barrymore Theatre, Lorraine Hansberry became the first African-American woman to have a play produced on Broadway. Prior to her death from pancreatic cancer at the age of 34, Hansberry also wrote The Sign in Sidney Brustein's Window and, with her husband Robert Nemiroff, co-wrote To Be Young, Gifted and Black: An Informal Autobiography. That title inspired Nina Simone to compose a song (with lyrics by Weldon Irvine) that was also entitled "To Be Young, Gifted and Black."

Wikipedia now lists at least 82 African-American playwrights ranging from those who are deceased (Maya Angelou, James Baldwin, Langston Hughes, August Wilson) and those in their eighties (Douglas Turner Ward, Melvin Van Peebles, Adrienne Kennedy, Ed Bullins) to artists like Dael Orlandersmith (56) and Anna Deavere Smith (64), who are still writing and performing their own monologues.
While playwrights such as Lynn Nottage (51), Suzan Lori-Parks (52), George C. Wolfe (60), and Ntozake Shange (66) are familiar names on the theatrical landscape, a younger generation of gifted African-American dramatists such as Katori Hall (34) and Marcus Gardley (37) have been impressing audiences with their work.
Back when she was enjoying her success on Broadway, I doubt that Hansberry (who is purported to have been a closeted lesbian) would have thought of naming her autobiography To Be Young, Gifted, Black, and Gay. But I can't think of a more appropriate way to describe 34-year-old Tarell Alvin McCraney whose plays, in the past five years, have been presented to Bay area audiences by the American Conservatory Theatre, Magic Theatre, Berkeley Repertory Theatre, and Marin Theatre Company.
The Marin Theatre Company recently staged the Bay area premiere of McCraney's Choir Boy which, although commissioned by the Manhattan Theatre Club as part of a co-production with the Alliance Theatre of Atlanta, had its world premiere at the Royal Court Theatre in London in the Fall of 2012. Following its American premiere at MTC in June of 2013, it has been produced by several regional American theatre companies.
As the play begins, its protagonist, Pharus Jonathan Young (Jelani Alladin), who has been chosen to become the leader of the Drew Prep Chorus the following year, is proudly singing the school song at the senior class's graduation ceremony when he is interrupted by a heckler calling him a sissy and faggot. When hauled before the headmaster (Ken Robinson) of the Charles R. Drew Prep School for Boys and ordered to explain why he froze while singing the school song, Pharus falls back on the school's tradition of loyalty to his classmates. He may be a screamer, but he's not a snitch.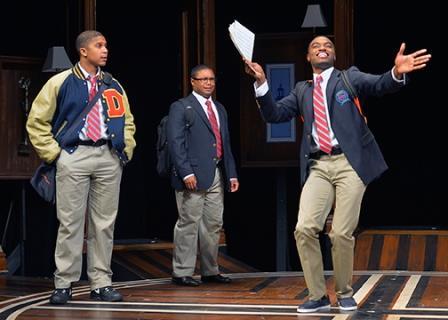 Jaysen Wright, Forest Van Dyke, and Jelani Alladin
in a scene from Choir Boy (Photo by: Kevin Berne)
Upon his arrival at Drew, the first student assigned to room with Pharus had requested a transfer. His current roommate, Anthony Justin James (Jaysen Wright) may be a top jock with smelly feet, but "AJ" is acutely aware of the numerous ways in which Pharus has never hesitated to help him with his studies and be polite to his family. Among the other students in the Drew Prep Chorus are:
David Heard (Forest Van Dyke), a young man who hopes to become a minister but whose falling grades are threatening his scholarship.
Bobby Marrow (Dimitri Woods), the homophobic class bully whose uncle is the school's headmaster.
Junior Davis (Rotimi Agbabiaka), Bobby's loyal sidekick.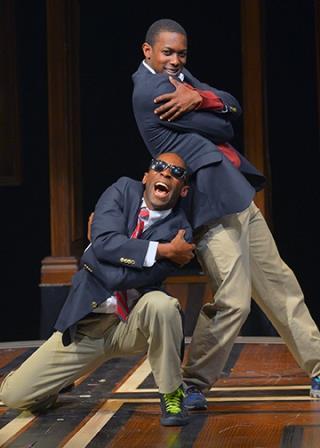 Junior Davis (Rotimi Agbabiaka) and Bobby Marrow (Dimitri
Woods) in a scene from Choir Boy (Photo by: Kevin Berne)
Most of the young men in the Drew Prep Chorus have been admitted to the school on scholarship and are acutely aware of the opportunities that might be afforded to them by a private versus public school education. For Pharus, whose love of music runs deep, the chance to lead the chorus is not just an honor but a dream come true. He also knows that his leadership position gives him a way to get back at Bobby.
Because this is a play about choir boys, Darius Smith's contribution as the production's music director is a key element of its success. Throughout the evening, the ensemble's singing is nothing less than thrilling. McCraney's play even offers something The Kinsey Sicks have never attempted: singing a cappella while nude and taking a shower!

Following a steamy encounter in which Pharus is assaulted in the showers by a closeted student (and refuses to name his attacker), Headmaster Marrow calls in a favor from one of the school's retired teachers, Mr. Pendleton (Charles Shaw Robinson), asking him to teach a special class in philosophy and become the faculty sponsor for the chorus. As McCraney explains:
"In black churches, often choir members are gay, but no one talks about it. We hand down this oral tradition that is spiritually charged and politically charged and often conveyed through music, but we look at culturally effeminate boys and don't talk about them as human beings. We think of them as great singers and extraordinary musicians and talents, but their lives, who they are as people, is left outside of our conversations or our cultural consciousness, even to this day -- which struck me because it's not like it happens in a vacuum. What we deem as effeminate or feminine traits start and continue early on. We try to mold and shape them into something else, and when it doesn't happen, we get silent about it."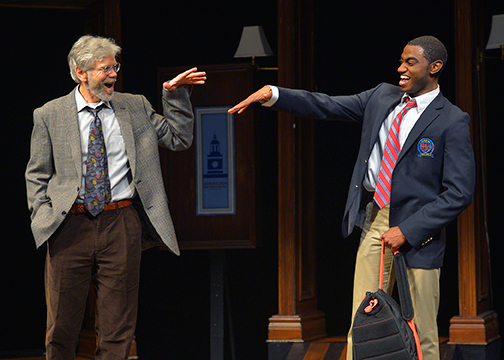 Mr. Pendleton (Charles Shaw Robinson) and Pharus Jonathan Young
(Jelani Alladin) in a scene from Choir Boy (Photo by: Kevin Berne)
"That's extraordinary to me, because I thought: 'How is it possible that we can celebrate someone, celebrate what makes him individual, but also keep trying to make him somehow fit into the middle?' It's a universal thing. It doesn't just happen in the black community -- it happens in all communities. I took this micro-idea and wanted to explore it and create dialogue around it. I think it hits on universal themes of individual versus the whole, but also very intimate ideas that are woven into specific communities of color."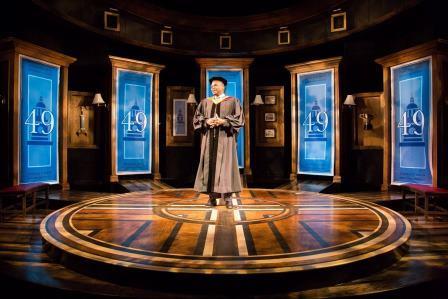 Jason Sherwood's striking unit set for Choir Boy
With superb lighting by Kurt Landisman and a highly effective unit set designed by Jason Sherwood, Kent Gash's crisp direction of MTC's highly energetic production keeps the cast constantly in action while it maintains a sharp focus on Pharus (an exceptionally smart and talented young man who has figured out a way to be gay and proud without having to lie about who he is). As he has done in some of his other plays, McCraney has written a magnificent confession scene in which, after having been gay bashed in the showers, Pharus opens up to his roommate and describes the critical reward for his efforts that has always eluded him.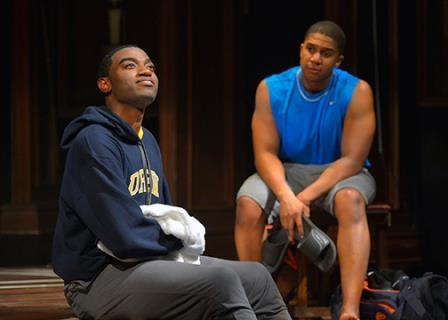 Pharus (Jelani Alladin) and his roommate, AJ (Jaysen Wright) open
up to each other in a scene from Choir Boy (Photo by: Kevin Berne)
To his credit, AJ not only reminds Pharus of his many acts of kindness, but comes through like a champ in a touching display of compassion. While MTC has assembled an exceptional ensemble for Choir Boy, I was particularly impressed with the performances by Jaysen Wright, Forest Van Dyke, and Charles Shaw Robinson. Janeli Alladin's riveting portrayal of Pharus is a tour de force filled with youthful ambition, genuine pathos, and undying optimism. His performance is a theatrical gem which should definitely not to be missed. Here's the trailer:
The recent events at a pool party in McKinney, Texas underlined the sad fact that simple everyday activities (driving while black, swimming while black) can appear highly suspicious to white authority figures. Brit Bennett's recent Op-Ed piece in The New York Times entitled "Who Gets To Go To The Pool?" offers a jaw-dropping history of water-related racism in America.
In Naz & Maalik, a poignant independent film that was screened at the Frameline 39 Film Festival. the action follows two male teenagers who, in addition to having dark skin, are closeted Muslims. Any moments of intimacy between them must be carefully hidden from friends, family, and anyone else who could "out" them to members of their community. According to filmmaker Jay Dockendorf:
"The essence of the story, who the characters are, what their struggles are, came from the experience of subletting a room from a Muslim man who was in the closet to his family at the time, but not to me. He and I and his partner talked a great deal about the experience of being a closeted Muslim and his ability to reconcile those two conflicting identities. I interviewed that guy, asked his permission to put the story into the movie, and got it. I don't think I would have made the movie without his permission."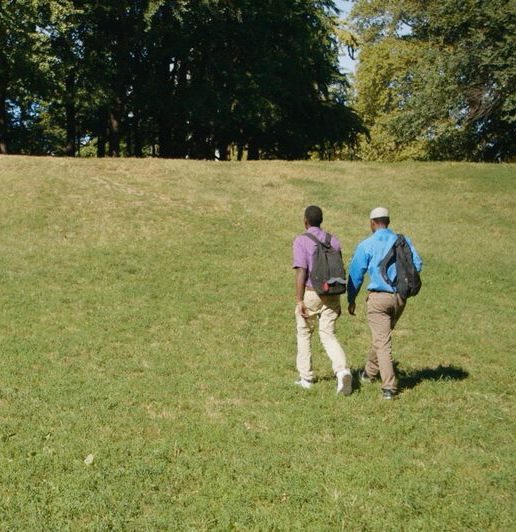 Maalik (Curtiss Cook, Jr.) and Naz (Kerwin Johnson, Jr.)
walk through Prospect Park in a scene from Naz & Maalik
Whether hustling "Saint cards" and lottery tickets on the streets of Brooklyn or taking a leisurely stroll through Prospect Park, Naz (Kerwin Johnson, Jr.) and Maalik (Curtiss Cook, Jr.) must constantly be on the lookout for the police. Yet the two men share the kind of physical intimacy and easy camaraderie which telegraphs an extremely close friendship to anyone who sees them.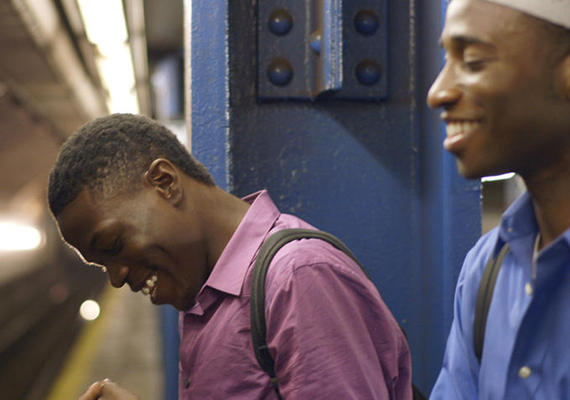 Maalik (Curtiss Cook, Jr.) and Naz (Kerwin Johson, Jr.) tease
each other on a subway platform in a scene from Naz & Maalik
Their troubles begin when a white undercover cop (Bradley Brian Custer) attempts to sell them a gun. After Naz and Maalik show no interest in purchasing the weapon, the cop nevertheless reports them to a white female FBI agent (Annie Grier) who is trying to scope out the Bedford-Stuyvesant neighborhood during the "War on Terror."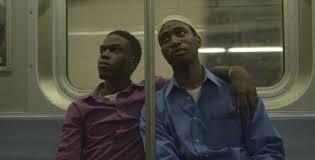 Maalik (Curtiss Cook, Jr.) and Naz (KerwinJohnson, Jr.)
ride the New York City subway in Naz & Maalik
The FBI agent's pointed questions (and the fact that Naz and Maalik give different answers to her queries about their whereabouts on the previous night) help the woman sniff out the fact that the two men are gay. Things take a turn for the worse when Maalik purchases a live chicken for his mother's birthday and insists that Naz slaughter it according to Halal tradition. When Naz balks, the chicken escapes and steps off the building's rooftop, with tragic consequences for a driver at street level.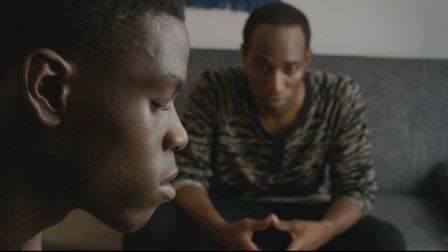 Maalik (Curtiss Cook, Jr.) and Naz (Kerwin Johnson, Jr.)
in a tense moment from Naz & Maalik
Shaken by the day's events, Maalik thinks about telling his parents that he is gay. After leaving Maalik's apartment, Naz enters the subway carrying his bicycle. Upon detraining, he starts to ride the bicycle on the empty platform but is stopped by the same undercover policeman who tried to sell him a gun earlier that day.
Written and directed by Jay Dockendorf, Naz & Maalik includes scenes which could be applicable to any family (Naz's younger sister demanding money to buy her silence about a secret). Strong supporting performances come from K'Sandra Sampson as Naz's mother, Monciana Edmonson as Maalik's mother, Ashleigh Awusie as Cala, and Sholanty Taylor as Shanda.
Having grown up in Brooklyn, I was particularly impressed with the footage Dockendorf shot on subway platforms and within moving trains. His camera easily captures street life in New York as well as some of the stranger personalities one might encounter at any given moment.
Calling all HuffPost superfans!
Sign up for membership to become a founding member and help shape HuffPost's next chapter