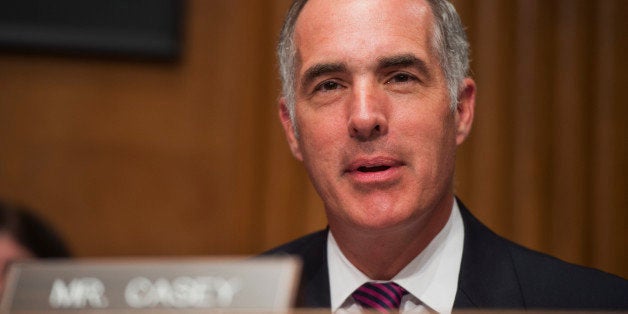 WASHINGTON -- Senate Democrats rolled out a plan Thursday that they said would make it harder for coal companies to cheat miners suffering from black lung disease out of the benefits they should be entitled to.
The bill, proposed by Sens. Bob Casey (D-Pa.) and Jay Rockefeller (D-W.Va.), is designed to reform the legal system administering workers' black lung claims so that lawyers and doctors working for the coal industry can't game it so easily.
"We've seen in the last year the scourge of black lung and the tremendous difficulties miners have in claiming benefits," Casey said on a call with reporters Thursday. "These hard-working miners and their families deserve much better."
Among other measures, the legislation would require companies to fully disclose all the medical evidence in individual cases, ramp up criminal penalties for false statements by lawyers and doctors, and give miners better access to health assessments when companies dispute their claims.
The reforms directly address the findings of an investigative series published by the Center for Public Integrity last year. The stories by reporter Chris Hamby detailed how lawyers and doctors on the coal industry payroll have managed to defeat miners' benefit claims by misdiagnosing illnesses and withholding critical evidence.
Since the 1970s, the federal government has administered a benefit program for miners who develop black lung disease, a wretched affliction caused by coal dust exposure and characterized by chronic shortness of breath and coughing. The program, funded by coal companies, provides a modest monthly payment to compensate miners who can demonstrate they developed the disease through their jobs.
Black lung has been a scourge for generations, even though it's preventable when the right dust controls are in place. The disease once appeared to be fading away, but it's made a resurgence in recent years in central Appalachia. Figures released Monday by the Centers for Disease Control and Prevention indicate that a progressive and more deadly form of the disease has reached its highest level in decades in Kentucky, West Virginia and Virginia.
Luke Popovich, a spokesman for the National Mining Association, the industry's leading lobby, said in an email that while "one new case of black lung disease is too many," recent figures on black lung were "not symptomatic of an epidemic." He said the proposal would do "nothing" to ensure that miners get the benefits they're owed.
"[T]he legislation being introduced today under the guise of equity would unjustifiably liberalize the criteria for determining eligibility, opening the program to fraud and abuse and placing limits on an operator's ability to defend against unjustified claims," Popovich said. "It will result in more litigation with the losers being those who truly suffer from occupational disease resulting from coal mine employment."
The black lung reform bill proposed by Senate Democrats, however, has little chance of going anywhere in the current Congress. The mining lobby opposes the reforms, and House Republicans have been reluctant to put any new regulations on the business community. Congress couldn't even manage to pass a mine safety reform bill after 29 workers died in the Upper Big Branch mining disaster in West Virginia in 2012. An independent investigation of that tragedy found the coal operator, Massey Energy, to have been negligent in the workers' deaths.
This post has been updated with comment from the National Mining Association.
REAL LIFE. REAL NEWS. REAL VOICES.
Help us tell more of the stories that matter from voices that too often remain unheard.
BEFORE YOU GO
PHOTO GALLERY
U.S. State Capitol Buildings