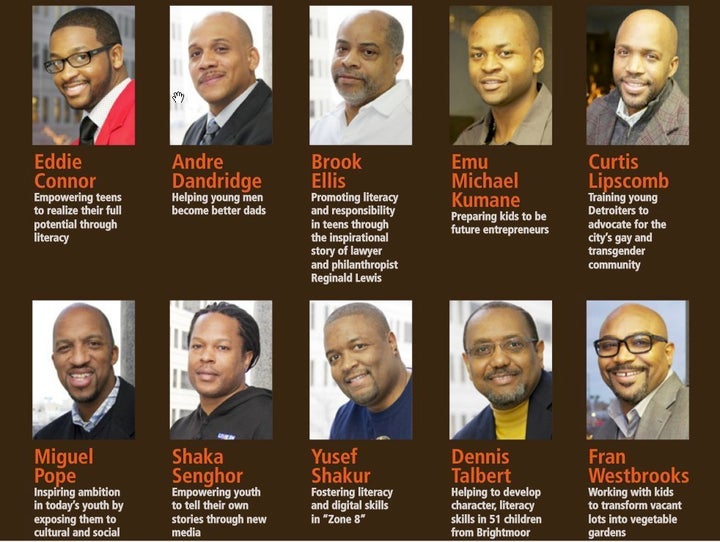 Ten inspiring black men in Detroit are set to receive a total of $200,000 to further their work in the city.
Black Male Engagement (BME), a project of the Knight and Open Society Foundations with branches in Detroit and Philadelphia, announced its Leadership Award grant winners Monday. Twenty men, 10 in Detroit and 10 in Philadelphia, will receive grants from $5,000 to $40,000 for community projects.
BME (pronounced "be me") launched in August. The initiative offers support and positive reinforcement to black men who are active in their communities, as well as a social network for these men to discuss ideas and experiences. Some 1,065 Detroiters have shared their stories through videos on the organization's website.
Detroit's leadership award winners include a mentor, a lawyer, former prisoners who now teach literacy and media skills, an LGBT rights activist, entrepreneurs, and one Comeback Kid.
"The 10 BME winners and broader community exemplify Knight Foundation's vision for an informed and engaged Detroit: leaders who make it easier for others to lead," said Rishi Jaitly, Detroit project director for the foundation, in an email to HuffPost.
"There is no cavalry coming to save the day in black communities in America. The answers we're looking for reside right within the hearts, hands and heads of community residents," said Shawn Dove, campaign manager of the Open Society Foundation's Campaign for Black Male Achievement, in a release. "BME recognizes black men and boys as assets to the community, not as problems to be solved, and we're thrilled to be a partner in this strategy."
Detroit's BME winners already may be familiar local figures thanks to their community work. Now, with funding up to $40,000, they'll be able to significantly raise the profiles of their new projects and the communities they serve.
Check out the Detroit BME winners and watch their video statements below. For the Philadelphia winners, head here.
PHOTO GALLERY
Black Male Engagement Challenge Grant Winners
Twenty men, 10 in Detroit and 10 in Philadelphia, will receive grants from $5,00
The winners of the 2012 BME Leadership Award in Detroit are:
Connor survived cancer as a young teenager and has since dedicated his life to serving as a teacher and mentor, working through schools and media to help young people understand their potential.
Project: Connor will lead book clubs at schools and at off-site field trips to expose Detroit teenagers to important life skills and character traits that he has embraced during his life. ($10,000)
Winner: Andre Dandridge, New Young Fathers
Dandridge is a law school graduate who helps small businesses overcome legal obstacles. As a young father, he founded New Young Fathers, a local initiative to help equip young men with the skills they need to be great dads.
Project: Dandridge will lead a series of in-depth workshops that New Young Fathers will conduct across the city, designed to make young men more equipped for fatherhood, more aware of their potential and more inclined to join a local support network. ($25,000)
Ellis was in prison when his life was transformed by reading the biography of Reginald Lewis – lawyer, investor, philanthropist and the wealthiest black man of his day.
Project: The Reginald Francis Lewis Reading Academy will strive to improve literacy, civic responsibility and academic achievement at Martin Luther King, Jr. High School. Each enrolled student will read and write a self-affirming essay on the Reginald Lewis biography and "Lonely At The Top" a new e-memoir by his daughter, Christina Lewis-Helpern, and be exposed to a literacy mentor; 30 boys will participate in a competitive college readiness program at Michigan State University. ($40,000)
Winner: Emu Michael Kumane
Kumane is a manager in the auto industry who volunteers at local schools through Big Brothers Big Sisters Detroit.
Project: Drawing on his network in schools and in the corporate community, Kumane will lead a project to expose 100 young people to the business world. They'll meet with 20 local businesses, learn how they work and devise a plan for an enterprise they'd like to start. ($25,000)
After observing the potential of young people in Detroit, he began helping youth around him take action against discrimination.
Project: Lipscomb will oversee the LEAD project, which will facilitate an in-depth training of 22 young Detroiters to become more effective advocates of social issues facing the city's LGBT community. ($20,000)
Pope is a global career development facilitator and motivational life coach who advises and volunteers for various community projects in his neighborhood and the city.
Project: Pope will launch Be Exposed, a program to inspire ambition in young people by exposing them to new cultural and social activities, including shows, restaurants and field trips to new cities. ($5,000)
Senghor started writing while he was incarcerated and later developed a career as an author and speaker who inspires young people with his voice.
Project: Senghor will launch and oversee the Live in Peace Digital and Literary Arts Project, which will coach young people on how to fully express their life stories across media. The project will result in each young person creating his or her personal "anthology" of stories. ($25,000)
Shakur is a former inmate who has became a well-known community activist focused on youth empowerment in a Detroit neighborhood known as Zone 8.
Project: Shakur will increase the impact of the cyber café he has opened in his neighborhood by providing literacy classes, digital training and school supplies to young people in the neighborhood. ($10,000)
Talbert, a former media executive, is now a pastor devoting himself to mentoring youth in Detroit's Brightmoor neighborhood.
Project: Talbert will lead Rescue 51, an initiative of four BME Challenge participants to develop literacy skills, character and a knowledge of health and wellness issues in 51 children in Detroit's Brightmoor neighborhood. ($20,000)
Westbrooks is an advertising executive who founded Detroit Comeback Kids, which offers young Detroiters innovative, project-based experiences across the city.
Project: Through Detroit Comeback Kids, Westbrooks will help kids plant vegetable gardens in unused lots across the city, by matching young Detroiters with local culinary arts experts and senior citizens who own vacant lots they seek to beautify. Small vegetable stands will offer extra produce to the community. ($20,000)
Calling all HuffPost superfans!
Sign up for membership to become a founding member and help shape HuffPost's next chapter