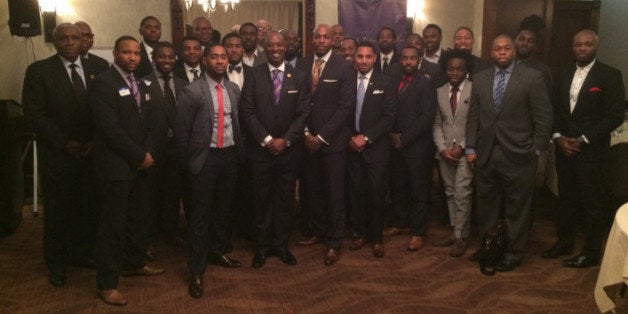 Black men in the U.S. have been described as being stuck in a "permanent recession," with unemployment rates consistently higher than those of other demographic groups. But an advocacy group based in Washington, D.C., is working to tackle the problem head-on.
The institute, according to its description, will provide both experienced and novice millennial black male entrepreneurs with a 16-week program featuring "a curricula led by subject matter experts from the framework of our nation's most competitive business institutions. The entrepreneurs will also receive business development counseling from a cadre of diverse business leaders with a culminating experience that allows cohort members to pitch to a selection of CEOs and investors from the region."
The group celebrated its first cohort of participants at an event at the City Club in Washington last month.
"We know that having a cohort and having people around you to support you is great, but also having that business savvy, that curricula and the expertise of senior leaders, is going to help us propel these guys to higher heights and accelerate their growth," Jean said.
Even as national unemployment has trended downward since the height of the Great Recession, the unemployment rate among black men has remained robust. In April, black male unemployment dipped below 10 percent for just the first time in seven years.
The disparity appears to hold up regardless of education levels. According to a report released last year by the Center for Economic and Policy Research, black college graduates were generally twice as likely to be unemployed in 2013 as their white peers. The same study reported that a white man with a recent criminal history was more likely to receive a follow-up call after a job interview than a black man with no criminal record and an otherwise identical resume.
According to The Root, Jean and Keith Benjamin, the institute's chief organizer and connector, hope eventually to expand the program on a national scale. Such growth, they say, could have a big effect on both the black community and the business world.
"The implications on economic development and workforce development will provide young black males with leverage and influence, which in turn will allow them to serve as business leaders in various sectors," Jean told The Root.
Watch a video from the initiative's April launch event:
REAL LIFE. REAL NEWS. REAL VOICES.
Help us tell more of the stories that matter from voices that too often remain unheard.
BEFORE YOU GO
PHOTO GALLERY
Anti-Police Protests