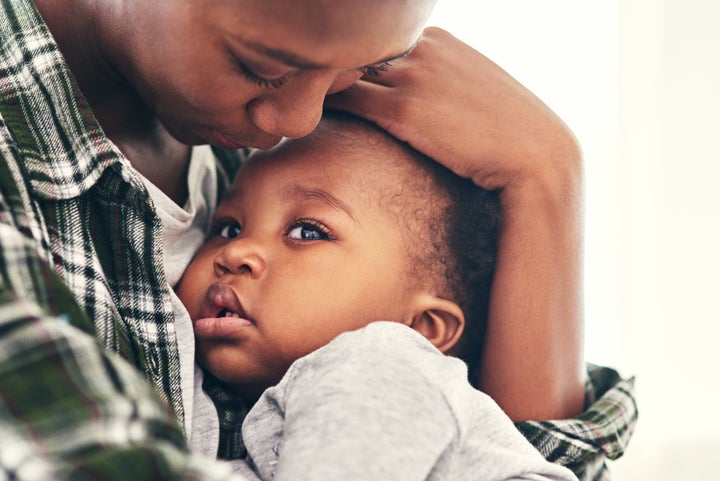 Earlier this month, our family ― our village ― sat in the misty rain as our youngest son, Christopher Daniel Cook, received his bachelor's degree, with Honors, from Princeton University. The drops of that rain couldn't compare with the mistiness of my eyes, as I saw manifested my 22 years of pouring into and loving up on another Black male. Two years ago, we were there as our oldest son, Samuel, a Johns Hopkins Grad, received his white coat as he began Drexel's medical school program with hopes of becoming an orthopedic surgeon.
So many of our friends, neighbors, and absolute strangers called to congratulate me, but the striking surprise was the number of Black men who said their eyes filled up as they read about it on social media, when I posted our photo, "Proud Mom of a Princeton Grad." The men wanted to stay on the phone for long conversations about how important it is to lift up Black men ― about how proud they were.
Others, of all socioeconomic backgrounds, have asked that I write a book on raising successful Black men. I think it's time that we start claiming success and drown out ― even erase ― the negative tapes that so many replay and perpetuate through language, actions and deeds. Yes, it's tough being Black in America. All Black mothers share our stories about "The prayer, the call, and the cry," knowing each day that as we pray over our sons, they are targeted. We know and that we might get that "phone call," and certainly we cry ― regularly. Life "ain't been no crystal stair," as Langston Hughes wrote, but we've had some nice spiral staircases, in our penthouse apartments, and in summer homes.
I've tried to mother, not smother; love enough so they'd know what love feels like, and "tough love" enough to know there are boundaries, not barriers; and show them that they always need to know authority, give and receive respect, say "thank you," and lead by example.
Ours was an unusual model. Being a trailblazing woman leader, pastor, diplomat mom, I was in the public eye, and so often our family "roles" were reversed.
His dad and I co-parented, co-partnered, He was the better cook and insisted on "home-cooked meals" over fast food. I was the "go getter", often going after contracts and contacts. But I made a decision at their birth that I would be Mom and not have someone else raise my children. We could afford a nanny, but we'd work without one. So I learned how to keep their lives normal, fun and loving, navigating the nasty places and celebrating the great ones. Church was part of our upbringing, so yes, even if they had sleepovers the night before, we had to give the Lord the Sunday Sabbath. I planned great vacations away from New York City, and learned how to keep my speaking schedule lucrative, yet nearby. Private schools, for them, with our schedules, was the best option. They cost alot, but they were an investment that paid off "big-time." They LOVED school, from the onset, so I never had to do homework help, nor get on them to complete their projects.
Fast forward: They were raised to be good Black men. They now have women in their lives, and yes, it was hard the first time I saw them take another woman's hand (smiles). But they are now on their paths, their journeys. I don't step off the ship, but I am no longer the captain ― perhaps, a good "deck hand" who will help steer when asked, and who will continue to pray for them. They know they can always come home, hopefully for visits and not to stay. I will continue to work, to help them with their "extra" needs, but they know how to live off of, and budget, what's in their hands (not my credit card).
Christopher left the morning after graduation for Miami, to work with Teach for America, and hopes to attend law school. Samuel is taking part one of his medical Boards, and has six more years. So we have two BMW's ( Two Black men working), with dreams not deferred, but delivered. They are two good Black men on their journey.
It has been a joy to be their mother. Thank you, God, for allowing me to share these special moments.
Rev. Dr. Ambassador Suzan Johnson Cook is the 3rd U.S. Ambassador at Large for International Religious Freedom. Nominated by Secretary Clinton and appointed by President Obama, she served our nation, and two presidents, for more than 10 years. Owner of Charisma Speakers, she is in demand as a Professional Keynote Speaker and consultant around the globe. She is the mother of two successful Black men. She can be reached at CharismaSpeakers@gmail.com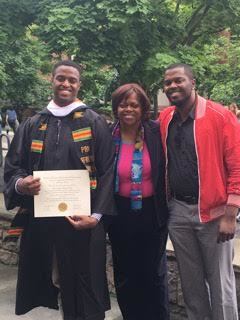 Popular in the Community