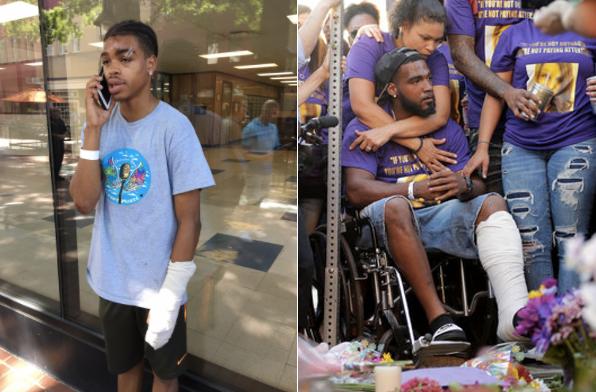 In one case, 20-year-old Deandre Harris was brutally beaten by a mob of white supremacists holding metal poles. Harris told HuffPost on Tuesday that he is currently recovering from the severe injuries he sustained, which include head gashes, a broken wrist and a chipped tooth. He also said that he is currently looking to hire a lawyer.
Photographer Zach D. Roberts captured the harrowing moment Harris was beaten in an image that has since gone viral:
In another instance, counter-protester Marcus Martin was hit by a driver that deliberately crashed into a crowd of protesters. The crash killed 32-year-old paralegal Heather Heyer and would have also hit Martin's fiancée had he not rushed onto the scene moments before.
Martin sustained injuries from the attack, including a broken leg. That moment was captured in a photo that has also gone viral: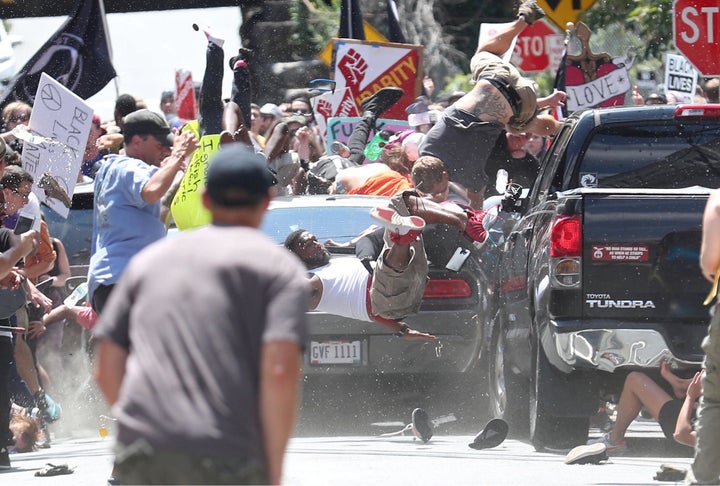 Both images exemplify the egregious acts of violence that took place on Saturday. The rally, which was led by hundreds of white supremacists, neo-Nazis and KKK members, was a direct response to the planned removal of a statue honoring Confederate Gen. Robert E. Lee. It very quickly turned into a massive gathering that plainly demonstrated how America has yet to reckon with its widespread issues of racism and white supremacy.
Harris and Martin echoed some of the same sentiments in the days since the attacks. In fact, Martin explains that it was the racism being espoused at the rally on Saturday that encouraged him to attend in the first place and express intolerance of such hatred.
"I wasn't going to attend the rally, but then I get on Facebook, and I see videos of them just beating [people] with torches," Martin told CNN on Tuesday. "And that's what I stand for, I stand for my black community. I stand for everything, what's right. And by me being able to see what was really going on, I couldn't, I couldn't allow myself not to go."
Martin said his motive in attending the demonstration was to "stand up and spread love." He also mourned the death of Heyer and called out her alleged killer, who he said showed no remorse for his actions.
"He took it upon hisself ... to walk out the rally, to get in his car, to find out where the good protest was going, and you find us and you run us down," Martin said. "He knew exactly what he was doing. His intentions [were] clear. He wanted pain. He wanted hurt. He wanted blood. That's what he was after."
Harris, who said he is spending his time on recovering and identifying his attackers, also condemned the violence he and others faced at the rally.
"I think for them to be allowed to come here and protest is really crazy," Harris told The Root, explaining how he was beaten in a parking garage right beside a police station, but no cops came to his aid. "I understand everyone is entitled to their freedom of speech, but the government and the mayor made a bad business move. It's only caused havoc in your own city. It's crazier that people have the hatred in their heart to want to kill black people."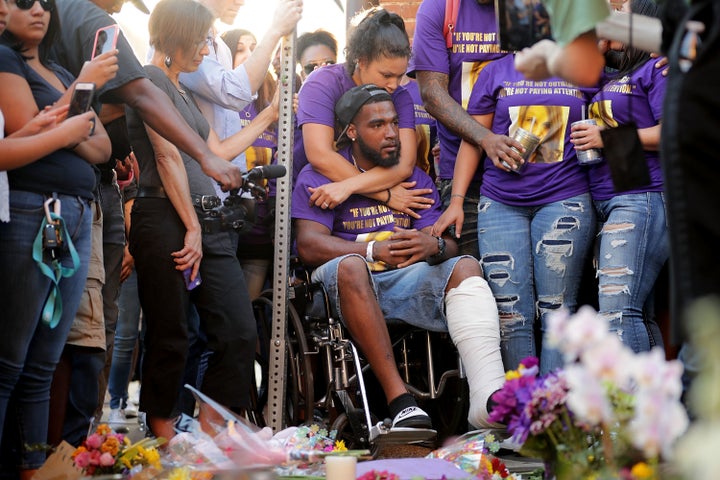 David Straughn, a Black Lives Matter organizer who calls Charlottesville home, said white nationalists descended upon the city last weekend with a specific agenda: "They came to intimidate, harm and assault predominantly people of color," he told HuffPost.
Straughn said he attended an event Friday at a local church, along with speakers Dr. Cornel West and Traci Blackmon, where attendees were told to stay indoors as a group of white nationalists approached the area.
"No members were allowed to leave and we were held hostage in that church," Straughn said. "It was like something from the '60s. It was something I had heard about and had never thought I'd witness in my lifetime."
"Charlottesville has put on display the ways in which white supremacy has fueled and continues to fuel a genocide against black people, both in this country and around the world.""
However, Straughn said the real horror reigned on Saturday, as he witnessed firsthand the hate and violence that unfolded in the streets of Charlottesville. Straughn, who said he marched alongside hundreds of others as part of a peaceful protest demanding justice, was just steps away from Heyer before she was fatally struck by a car allegedly driven by a white nationalist.
"I was standing a foot away from Heather Heyer," he recalled. "I watched the life pass from her eyes. It was the most horrific thing I had ever seen in my life."
Straughn said he called medics immediately and worked with others to aid those who were injured. He said he wishes he could have done more to help save Heyer's life ― and that he had the opportunity to meet her family at a vigil to express his love and support for the bravery she showed.
"She will not die in vain," he told them.
"They're coming for bodies, they're coming to hurt predominantly people of color," Straughn said of the white nationalists who rallied. "They came to strike terror into the heart of Charlottesville."
"We don't live in a post-racial society," he added. "We still live in a society where people are coming at our heads for looking and acting a different way. Nobody is safe."
Patrisse Cullors, co-founder of Black Lives Matter, summed up the horror in Charlottesville and what it means for black lives in America.
"Charlottesville confirms the violence that black people endure every day," she told HuffPost in a statement. "[It] has put on display the ways in which white supremacy has fueled and continues to fuel a genocide against black people, both in this country and around the world."
Before You Go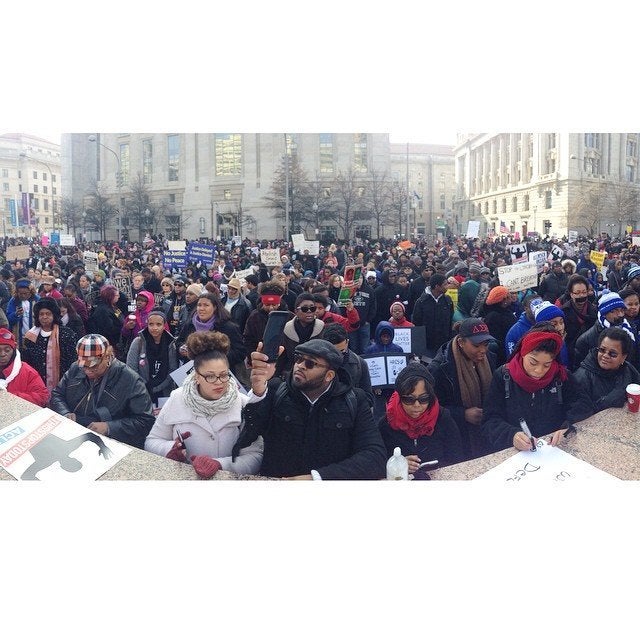 Powerful Black Lives Matter March In Washington
Popular in the Community