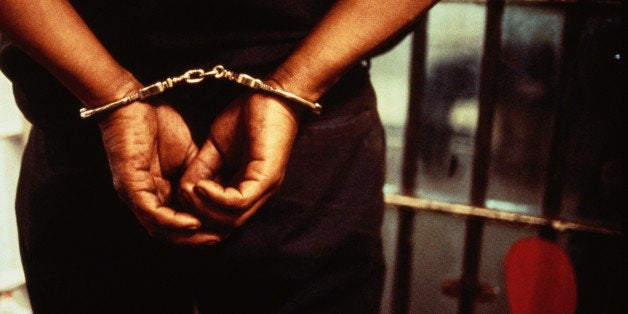 A jaw-dropping number of African-American men who do not complete high school risk ending up in prison.
According to a new report from the Brookings Institution's Hamilton Project, black male dropouts born in 1975 have a 70 percent chance of ending up in prison.
That percentage is more than three times lower for white male dropouts.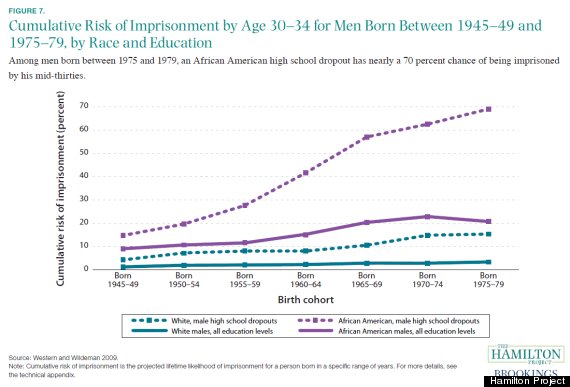 "It's a very dramatic statement about the importance of keeping kids in schools and the consequences that occur when you don't," Dennis Parker, director of the Racial Justice Program at the American Civil Liberties Union, told HuffPost. "I hope this statistic wakes us up to the problems that we face as a society. It affects not only those people but all of us."
Parker said this is bad news for the average taxpayer who pays for incarcerating prisoners.
"It also makes it impossible for a large number of people to reach their potential," Parker said.
The costs of incarcerating Americans of all races can be seen below. In 2010, the country spent about $80 billion to lock people up.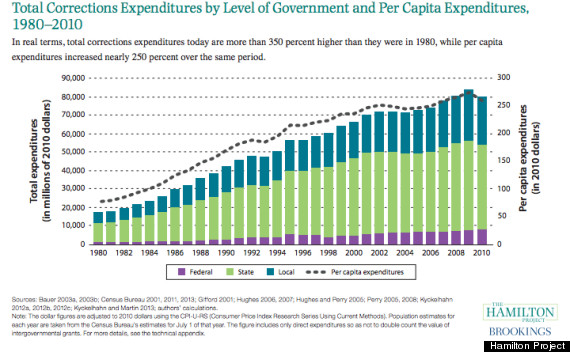 The effects of not completing high school are felt unevenly, as can be seen from this chart. By the age of 14, a child born to a black father who dropped out of high school has a 50 percent chance of having a dad in prison. Less than 10 percent of white dads without a diploma wind up in prison, the study shows.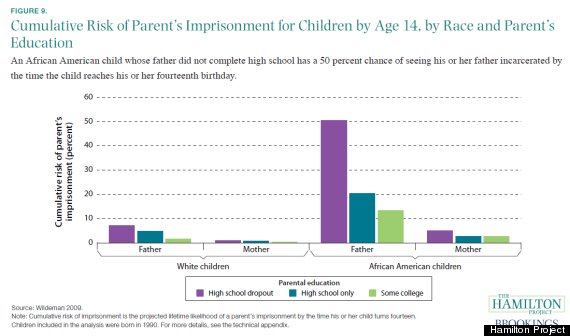 "We've seen an increase in students being suspended from school, which means they're more likely to drop out," Parker said. "It is an extreme concern for us now."
The racial disparity in the statistics may have to do with the fact that, as several studies have shown, black men are discriminated against at every stage of the criminal justice process from arrest to conviction to sentencing.
"Solitary confinement is torture, and it's a crime against humanity to lock folks up when 60 percent of them are there for soft drugs, and everybody knows 12 percent of those are on the chocolate side, 12 percent of those are on the vanilla side of flying high in the friendly skies every week taking drugs, but 65 percent of the convictions are chocolate," West said, according to Democracy Now. "That just lets us know that the legacy of white supremacy is still operating in America."
Like Us On Facebook |

Follow Us On Twitter |

Contact The Author
Related
Popular in the Community