The two black men arrested at a Starbucks in Philadelphia last week while waiting for a friend spoke out publicly for the first time Thursday, revealing the store manager called 911 two minutes after they arrived.
Rashon Nelson and Donte Robinson walked into the Starbucks on April 12 at approximately 4:35 p.m., they told ABC's "Good Morning America." Nelson said he immediately asked the store manager if he could use the bathroom, but was told restrooms were for paying customers only.
Nelson said he "left it at that" and joined Robinson at a table to wait for their friend to arrive for their scheduled 4:45 p.m. business meeting. The Starbucks manager then approached the men and asked if they wanted to order something, according to Robinson, and they declined.
At 4:37 p.m., approximately two minutes after they had arrived, the manager called 911.
″They can't be here for us," said Robinson, recalling his initial reaction when police officers entered the Starbucks a few minutes later.
"As soon as they approached us, they just said we had to leave," Nelson said. "There was no question of, you know, 'Was there a problem here between you and the manager? [or] 'What happened?'"
Police didn't explain why they were being arrested, Robinson said.
"We wasn't read any rights ― nothing," Robinson said. "Just double-lock handcuffs behind our backs and escorted out and put into a squad car."
"The police were called because these men hadn't ordered anything," Melissa DePino, a writer who recorded the incident, tweeted last week. "They were waiting for a friend to show up, who did as they were taken out in handcuffs for doing nothing. All the other white ppl are wondering why it's never happened to us when we do the same thing."
The store manager who called 911 has since left the company, according to Starbucks. Company CEO Kevin Johnson has publicly apologized and vowed to "fix" the issue, in part with more training for store managers on company guidelines and unconscious bias.
More than 8,000 Starbucks locations will be closed next month so employees can receive racial bias training, the company announced Tuesday.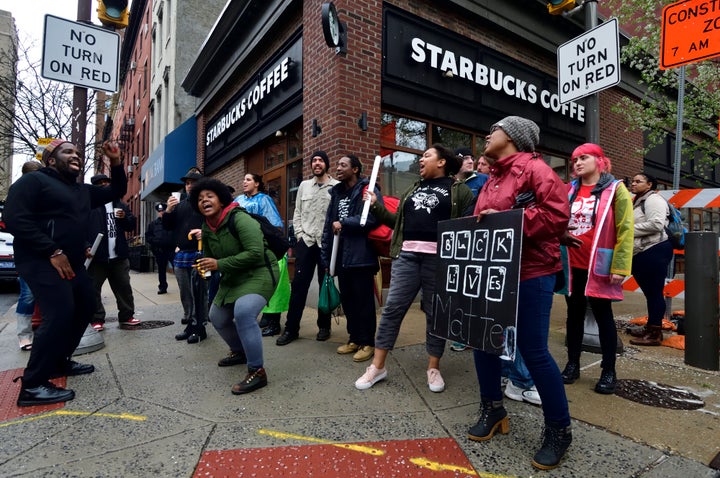 Nelson and Robinson spent hours in a jail cell after their arrests, The Associated Press reported. They were released around midnight after the district attorney declined to prosecute them for trespassing.
"You go from being someone who's just trying to be an entrepreneur, having your own dreams and aspirations, and then this happens," Nelson told AP. "How do you handle it? Do you stand up? Do you fight? Do you sit down and just watch everyone else fight for you? Do you let it slide, like we let everything else slide with injustice?"
The two men are now involved in mediation with Starbucks, which they hope will lead to lasting change, such as requiring a customer bill of rights to be posted in stores and new policies for customer ejections and racial profiling.
"This is something that has been going on for years and everyone's blind to it, but they know what's going on, if you get what I mean" Nelson said. He added that he and Robinson hope to "help people understand that it's not just a black people thing ― it's a people thing. That's what we want to see out of this and that's true change."
Support HuffPost
Every Voice Matters
Popular in the Community