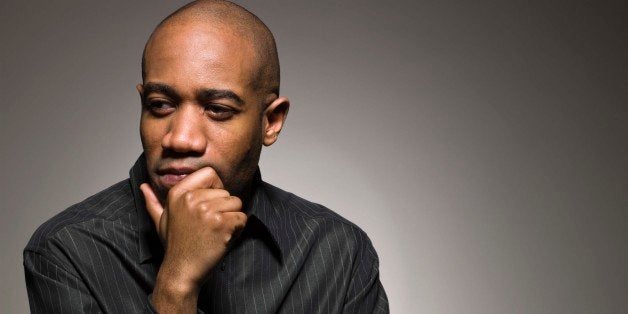 How being 80 black men tore down the walls of false masculinity
I cried so much you would have thought I was at a funeral.
It was the ugly cry; the kind you only do when you're alone. This time I wasn't alone. I was standing arm-in-arm in a "Commitment Circle" with 80 black men called "BMe Leaders" who literally supported each other's weight for hours.
Most of the room cried that afternoon and you could literally see and feel the burdens lift as we tore down the walls of false masculinity and shared with our brothers our pains, hurts, and perplexities.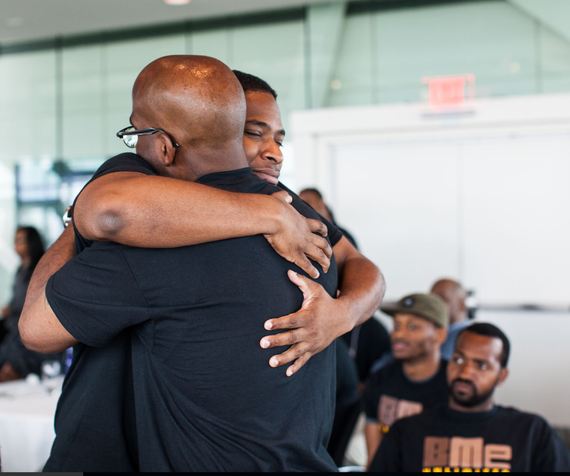 Let me take you back to that life changing experience in Washington D.C. on Sunday May 22, 2016. At the end of our National Orientation Weekend (BMe NOW) we hold a closing circle ceremony in which all the men from the gathering make a commitment to themselves based on what they took away from the conference.
During last year's closing circle, I walked away with confidence and liberation. That year I shared with a room full of black men that I was gay and not ashamed of who I was anymore. To my surprise I was received with love and open arms even though a majority of the room identify as straight black men.
Since then I'd been carrying some really hurtful words from people that I love dearly. The pain from the word scars was too much for anyone to bare but yet I carried them every day. Instead of crying out for help or confiding in someone, I felt desperately isolated and even self-destructive.
It's one thing to face critics when your posse has got your back. It's another thing to face to critics and your posse is on their side. Coming out can be one of the most liberating decisions one can experience. But it can also be one of the most hurtful and isolating.
This year's closing circle I voiced these emotions for the first time. I cried like no one was in the room, I literally threw my burdens down. I shared that because of the strength in the room I was walking away committed to accepting the love that is already out there for me and rejecting any hate or negativity towards me no matter who it comes from.
The response of support was overwhelming. And I realized all this time I've been suffering alone for no good reason. By the time everyone got done sharing their stories I realized that everyone in the room was suffering and going through alone.
We were all coping and dealing with life alone. Yet we were the very ones working every day to lead and build in our communities. We were strong for everybody else but ourselves.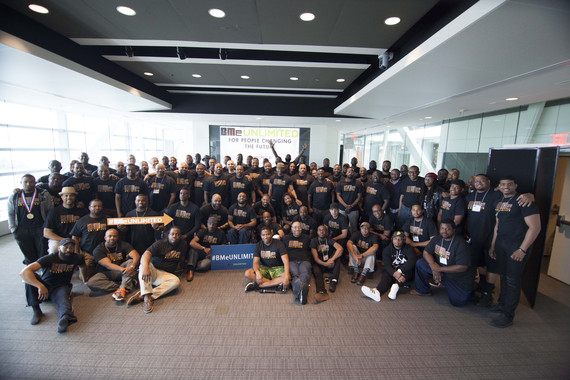 After I realized this common thread I vowed to never walk alone again. Walking in silence and suffering alone is dangerous.
According to Centers for Disease Control and Prevention (CDC), the suicide rate has doubled for black men nationally since the 1980s, making it the third leading cause of death for black men, ages 15 to 24, trailing homicide, and car accidents.
Pain, stress, depression, oppression, counseling, therapy, mental illness, are all considered taboo topics in the black community especially amongst black men. We are taught to "be strong and deal with it", "Be a man, stand tall". Even from a young age we tell our boys "stop all that crying and be a big boy", "Men don't cry".

The only time expressed emotion is acceptable amongst black men is when we're angry or having a really good time. These polar opposites leave out all the other emotions in between.
Most times crying is seen as weakness but if we are honest about it's a natural release of internal emotions. And if done healthily can heal a lot of sorrow. Emotional tears have special health benefits. Biochemist and "tear expert" Dr. William Frey at the Ramsey Medical Center in Minneapolis discovered that reflex tears are 98% water, whereas emotional tears also contain stress hormones which get excreted from the body through crying.

We can no longer hide behind the myth that being emotionally vulnerable as a man makes you weak or less of a man. If you are depressed, sad, stressed, oppressed, in pain, thinking about ending your life - get help and stop feeling ashamed because of the stigma associated with being vulnerable.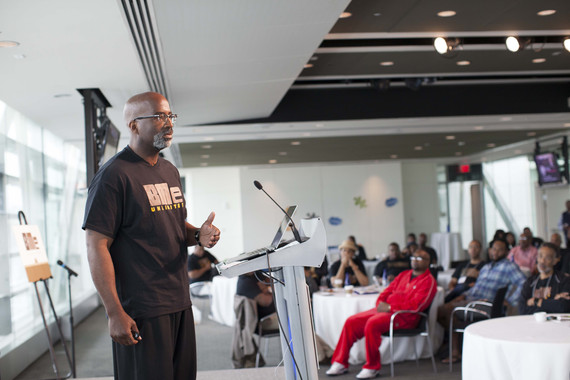 BMe Leader Jason Wilson of Detroit and BMe Leader Changa Bell of Baltimore co-lead our health and wellness workshop and literally had some of the brothers in tears because they were willing to speak their truth. They both suffered life threatening health scares and shared with the group the steps they took to turn their lives around and save themselves and their families.
The last time I felt love and power like that I was at a church revival. We cried, we laughed, we comforted, we left revived and restored. Unfortunately, not everyone has a room or brotherhood or safe space they can turn too. But there is help and you don't have to suffer alone ever.
None of us have to suffer alone. Not black men, veterans, women, children, elderly, gay, straight, you name it. Alone we suffer but we do Better Together. I invite you to join our brotherhood at www.bmecommunity.org.
•National Suicide Prevention Lifeline 1-800-273-8255 (24/7) Press 1 for Veterans line
•Disaster Distress Helpline 1-800-985-5990
Text TalkWithUs to 66746
TTY for Deaf/Hearing Impaired: 1-800-846-8517
DATING ABUSE & DOMESTIC VIOLENCE
•loveisrespect 1-866-331-9474/tty: 1-866-331-8453 (24/7)
•National Domestic Violence Hotline 1-800-799-7233 (24/7)
•RAINN: Rape, Abuse and Incest National Network 1-800-656-4673 (24/7)
CHILD ABUSE
•USA National Child Abuse Hotline 1-800-422-4453 (24/7)

RUNAWAYS
•National Runaway Safeline 1-800-786-2929 (24/7)
•National Safe Place Text SAFE and your current location to the number 69866 (24/7)
EATING DISORDERS
•National Eating Disorders Association 1-800-931-2237 (Monday-Friday, 11:30 am-7:30 pm EST)
•ANAD: National Association of Anorexia Nervosa and Associated Disorders 630-577-1330 (Monday-Friday,12 pm-8 pm EST)
CUTTING/SELF INJURY
•Safe Alternatives 800-366-8288 for information on seeking help
SUPPORT FOR GAY, LESBIAN, BISEXUAL AND TRANSGENDER (GLBT) YOUTH
•GLBT National Youth Talk Call 1-800-246-7743 (Monday-Friday, 4pm-12 am EST/Saturday, 12pm-5pm EST)
•The Trevor Project 866-488-7386 (24/7)
REPRODUCTIVE HEALTH
•Planned Parenthood 1-800-230-7526

VETERANS
•Veterans Crisis Line 1-800-273-8255 (24/7)

Below are just a few comments about the transformative moment:
Over 80 Black male leaders from around the country gathered for training, community building and to be awarded the President's Volunteer Service Award at the White House. We gathered in Washington D.C. under the theme BMe Unlimited and heard from Black leaders in design, policy, finance, and philanthropy who shared their life-changing discoveries, visions, and dynamic personal stories of triumph.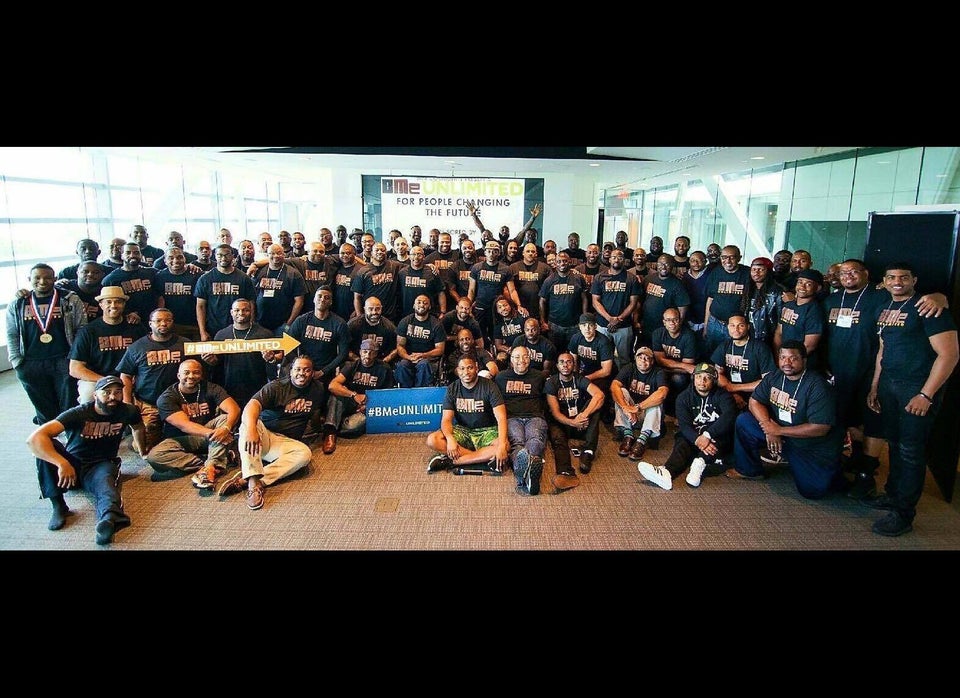 BMe Unlimited Experience
Support HuffPost
Every Voice Matters
Popular in the Community