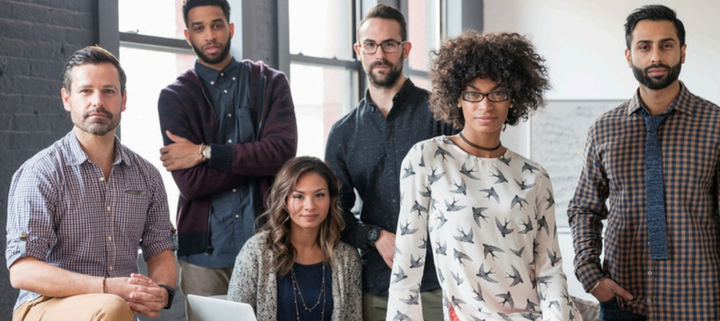 Racial issues continue to fester in America, but this has not instilled a sense of despair or hopelessness among black millennials, a new study finds. In fact, researchers say they have found the opposite.
Data from a collaborative study conducted by the University of Texas and Hispanic advertising agency Richards/Lerma released on Monday reveals that black millennials are most optimistic about their future when compared to Hispanic, Asian and white millennials. The study, titled "Millennials Deconstructed," also has other fascinating findings about where millennials ― young adults between the ages of 18-34 ― who make up America's most racially diverse generation in history, stand when it comes to having faith in the American dream and their ability to succeed in the future.
Researchers ― who say the study was designed to decode the relationship millennials have with America ― say some of the results were surprising, even noting in the report that "the data reached out and smacked us with untold cultural stories that challenge popular notions about each race and ethnicity."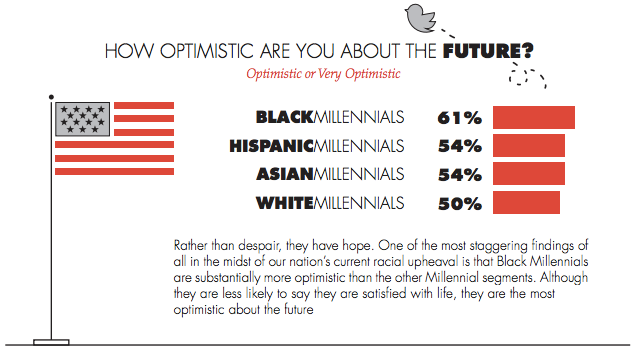 Researchers, who looked at over 1,000 respondents, say that black millennials in particular show some of the study's most interesting and counterintuitive discoveries, writing: "A reasonable person may expect to uncover a sense of despair, apathy, or hopelessness. In this case, a reasonable person would be wrong."
"We found the opposite," it continues. "With a heightened sense of control over their future, [black millennials] have the most faith that their hard work will pay off."
Pointing to the role of black activists in calling out systemic racism and white privilege, researchers say some may interpret this as "showing disrespect for America, apathy, playing the victim [and/or] asking for handouts." Instead, rather than reporting feelings of neglect or disrespect, 83 percent of black millennials say they are proud to be an American. And although black millennials (67 percent) are closely tied with Hispanic millennials (66 percent) in being less likely to say they are satisfied with life when compared to Asian (71 percent) and white (71 percent) millennials, most black millennials (61 percent) hold on to a sense of hope and optimism rather than feelings of apathy.
"This suggests their vocalization of injustice isn't at odds with respect for their nation," the study says of black millennials. "In fact, it's possible their motivation to speak up is because of their national pride, because they hold their country to a high standard."
""Our communities are resilient and innovative, often making a way out of no way.""
Researchers say that they expected black millennials to be the most likely group to reject the concept of the American dream, which is traditionally defined in the study as "the ability to achieve success and prosperity through hard work, determination, and initiative." However, the study showed that, although 55 percent admit their race has made it more difficult to attain the American dream, black millennials (49 percent) are more likely than any other segment to say they still strive for it.
The study also showed that, compared to other groups, black millennials have the strongest sense of control over their future (56 percent), place more value in hard work (59 percent) and are more likely to believe that people can achieve their dreams if they work hard enough (59 percent).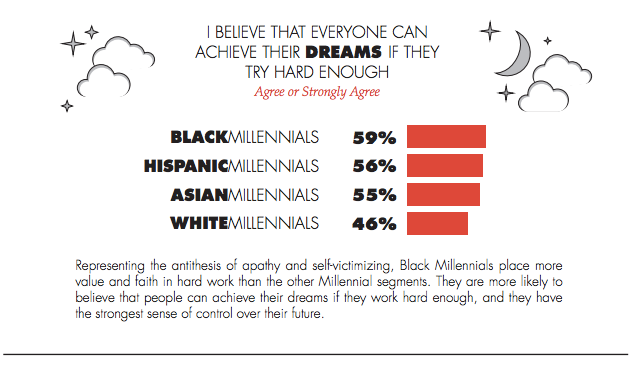 This doesn't come as a total surprise to 28-year-old Dante Barry, a black millennial activist and co-founder of the social justice organization Million Hoodies, whose unrelenting work with black millennials around the country has shown him the resilience that many of them possess. He says this strengthens his faith in their collective ability to effect positive change.
"At Million Hoodies, I get to work with hundreds of young Black people around the country, and I am reminded every day about what our communities have to do in order to live a decent life," he told The Huffington Post. "Our communities are resilient and innovative, often making a way out of no way. Black people can combat systemic racism in community with other black people."
Another notable finding shows that it is Hispanic millennials who, despite feeling misrepresented and blamed as cultural intruders, are reported to "be the most traditionally American Millennial segment, adherents of classic American virtues with a high level of energy to build a better future for the country." The study shows that Hispanic millennials have the greatest sense of American pride (54 percent), which stands in strong contrast to white millennials, who were reported as having the least (40 percent).
"[Hispanic millennials] are perhaps the most traditional keepers and seekers of the American dream," Chaille Alcorn, the brand planning director for Richards/Lerma, told HuffPost. "In other words, 'making America great again' requires Hispanics."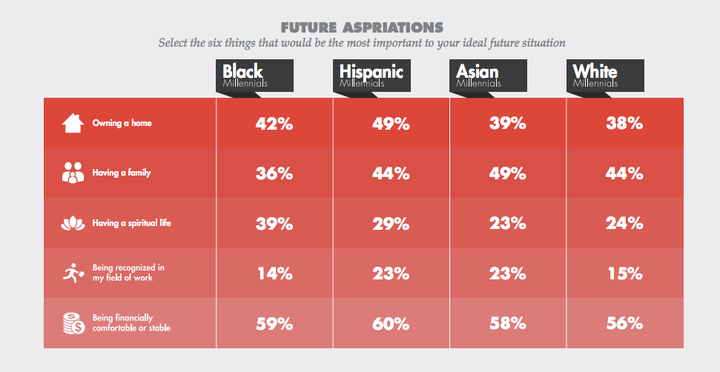 While white millennials are tied with Asian millennials in being most likely to say they are satisfied with life (71 percent) than black or Hispanic millennials, they rank the least optimistic about the future. They also report the lowest levels of enthusiasm or interest about their future, the American dream, achieving financial comfortability, owning a home, getting a college or advanced degree, traveling, helping others, and experiencing and learning new things.
"This lower-grade energy and excitement about the future and decreased faith in the American dream suggests that it will be the ethnic minority segments who contribute the most energy and optimism toward America's future," Alcorn says. "Without minority millennials influencing the future of the country, the outlook appears bleak."
The importance of young people of color, especially at a time when overt racism and xenophobia run rampant, is certainly not lost on 27-year-old Rhonesha Byng, a businesswoman and founder of HerAgenda, a digital media platform for millennial women. She, like Barry, wasn't taken aback by the study's findings because she knows black millennials have "no other choice" but to persevere, place value in hard work and push for change.
"If we give in and feel despair on a daily basis, that won't solve anything," she told HuffPost. "These systems were not built with us in mind, they weren't built for us to succeed, so when there's another black person excelling we have to champion them, and if you're that black person succeeding you have to keep going."
"Nothing is handed to us," she added. "We are already taught from a young age that we have to work twice as hard, and I believe now more than ever we have access to more examples of black success and black excellence."
Popular in the Community