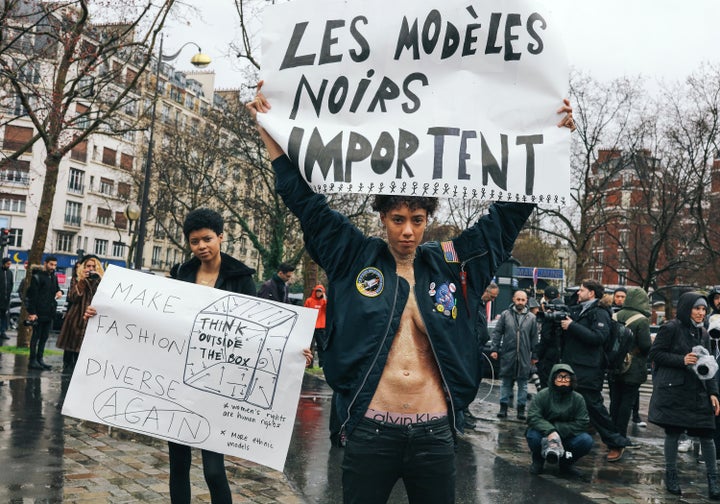 Indi Irvin, a U.K.-based model signed with MSA Models, protested outside the Balenciaga show on Saturday, holding up a sign that read "Les Modèles Noirs Importent," or as it's translated, "Black Models Matter." The signage spoke to the brand's historical lack of diversity on the runway.
Irvin explained on Instagram that she was planning to protest Lanvin or Celine, or any show that "was big enough to grab the attention back to the cause," and it "just worked out best at Balenciaga." She also explained why she felt like now was the right time to speak out.
"2017 was a big year not only politically but also for my modeling career as it was my first season in the European market," she wrote. "It is very different here compared to the NYC I'm used too [sic]. February was black history and march is women's so it just felt right."
A few days prior, Irvin pointed out that Gucci, which showed at Milan Fashion Week on Feb. 22, featured just 17 models of color out of 119 total models. "It's 2017," she wrote.
The protest caught the attention of many news outlets and street style photographers, including Phil Oh (Mr. Street Peeper) and Melodie Jeng, and with good reason. While Balenciaga did not return a request by The Huffington Post for comment at the time of publication, we applaud Irvin for taking matters into her own hands in the name of inclusivity.