The city's Metropolitan Police Department said in a statement that officers were responding to a possible car theft after a recognition software flagged a license plate. Suspects shot at the police officers after the car was stopped with spike strips and the off-duty officer, an 11-year department veteran who lives nearby, came out with his firearm to offer assistance, according to the statement.
The on-duty officers had asked the 38-year-old to get on the ground and he complied, but then they recognized him and told him to stand up and walk toward him.
"At this time, a responding officer (36-year old white male with over 8 years of service) just arriving in the area observed this and fearing for his safety and apparently not recognizing the off-duty officer, discharged a shot, striking the off-duty officer in the arm," the statement says.
The victim was treated in hospital but has since been released, police confirmed. His lawyer, Rufus J. Tate Jr., told local news outlets that he considers the incident more severe than an accident. The police department has given no description of a threat, he said.
"This is the first time that we are aware, that a black professional, in law enforcement, himself being shot and treated as an ordinary black guy on the street," Tate told Fox News. "This is a real problem."
Police have launched an investigation into the incident during which one of the three suspects in the car theft was also shot in the ankle.
The officer who fired his gun has been placed on administrative leave, along with six other officers, according to the police statement.
Neither the victim nor his fellow officer have been publicly identified. St. Louis Police Department did not respond to HuffPost's request for comment.
The news comes after authorities released dash cam footage on Tuesday of Philando Castile's shooting by St. Anthony Police Officer Jeronimo Yanez in Minnesota. Footage showed that Castile, a black man, also complied with the officer's orders before being shot and killed.
Yanez was found "not guilty" of manslaughter by a jury but has been fired from his police department. The Castile case has highlighted a fear that there may be no justice for black Americans killed in police shootings, advocates say.
"It's just like, a punch in my stomach, it's a punch in the gut," Castile's friend, John Thompson, told HuffPost Tuesday. "Look what happened to Philando for doing all the right things. It hurts. Every time I talk about it, it hurts."
"I'm so tired of being tired, I'm so tired of being sad, I'm so tired of being angry at this system."
Before You Go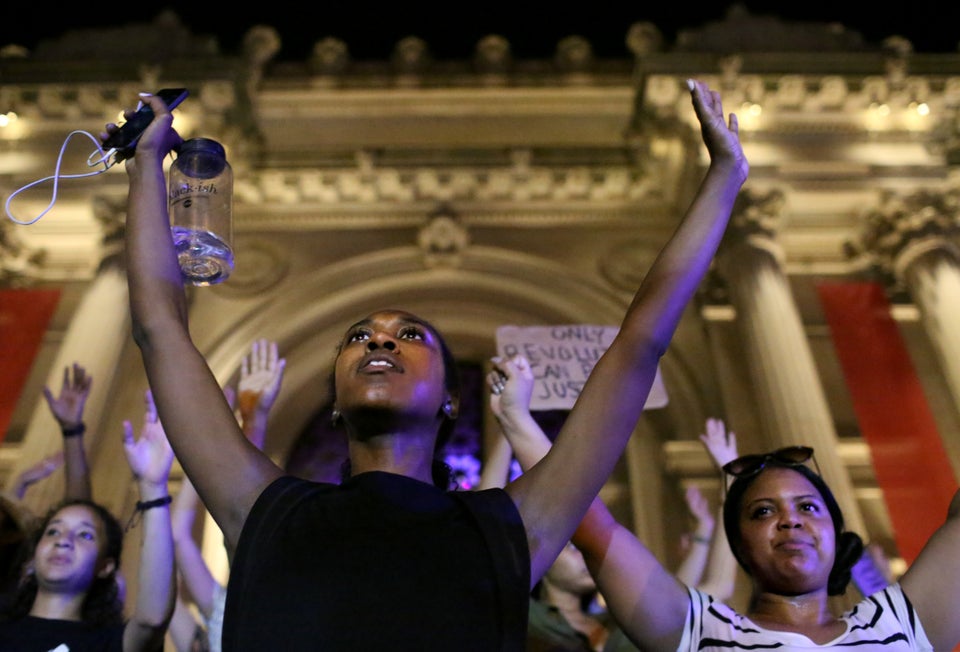 Peaceful Protests Over Alton Sterling and Philando Castile Shootings
Popular in the Community