The Black Panther party sprung up in 1966 as a response to the police violence black Americans faced in Oakland, Calif. As the party grew to different cities across the country, one organizer rose up the ranks as a proponent for solidarity across racial boundaries.
His name was Fred Hampton and he quickly became an influential member and deputy chair of the Illinois chapter. He was later described as the Panthers' "main voice for racial unity" and this recognition is noted in a new documentary, "The Black Panthers: Vanguard of the Revolution. In a HuffPost Live conversation on Tuesday, the documentary's filmmaker Stanley Nelson Jr. remembered Hampton's unique brand of revolutionary thinking.
"He came out of the traditional civil rights movement. He had been the leader of the NAACP youth organization," he told host Zerlina Maxwell. "He was trying to unite different groups in Chicago. So he was trying to unite poor white people, he was trying to unite Latinos, and he was being successful. They were uniting with the Panthers."
At just 21-years-old Hampton's life was cut short during a police shootout on the west side of Chicago in 1969 -- a raid some believe was a "pretext for killing" the young leader. According to Nelson, Hampton and the larger Black Panthers organization had drawn the ire of FBI director J. Edgar Hoover who sought to suppress the party through COINTELPRO.
"J. Edgar Hoover … looked at it as his charge to keep the status quo and he felt that any change was wrong. And so that's what he was trying to do," Nelson said. "Now I don't think that was his charge, necessarily, from the president, but J. Edgar Hoover really operated autonomously from everyone else and did what he wanted to do."
Hampton's story is just one aspect of Nelson's latest project, which chronicles the Panthers. As the documentarian explained, the Black Panthers stood in stark contrast to the mainstream civil rights movement at the time.
"It was a very kind of 'do it yourself' movement. It wasn't the traditional civil rights movement of Martin Luther King, which was kind of calling on the government, calling on the nation to change," Nelson said. "The Panthers movement was more [about realizing] there's a problem in the community, how can we solve it? And the way to solve the violence by the police was to police the police themselves."
Watch the full HuffPost Live conversation with Stanley Nelson Jr. here.
Sign up here for Live Today, HuffPost Live's morning email that will let you know the newsmakers, celebrities and politicians joining us that day and give you the best clips from the day before.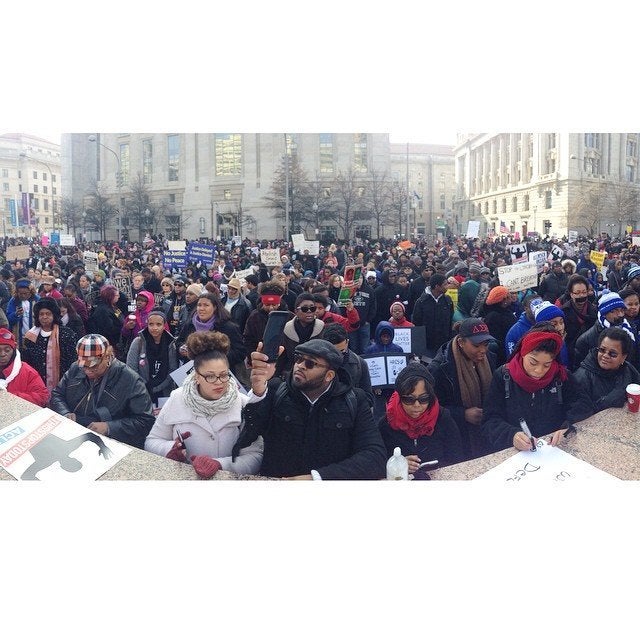 Powerful Black Lives Matter March In Washington
Popular in the Community