So it is written in the pop-culture bible: No heroic quest is complete without a dark night of the soul, that pivotal moment when a costumed crusader questions his or her ability to protect the world or else reaches an impasse about how to do so.
This crossroads occurs in Marvel's newest chapter, "Black Panther," but it feels more like a "Lion King" homage than a comic-book cliché. After the titular warrior T'Challa has been crowned ruler of the African nation Wakanda, his late father appears to him against the violet twilight, just as Mufassa materialized in young Simba's hour of need. "I am not ready to be without you," the mourning T'Challa tells his papa, who gently promises that T'Challa has spent his life training for this precious juncture. He's gonna be a mighty king, so enemies beware.
A mighty king indeed, one whose story vastly outshines the 22 movies and 10 television series logged since the so-called Marvel Cinematic Universe began in 2008 and the DC Extended Universe launched in 2011.
Like many a franchise, "Black Panther" steeps itself in well-trod mythology ― Arthurian folklore, James Bondian valor, and, yes, a fitting dose of "The Lion King," which itself borrows from "Hamlet." In most instances, particularly when it comes to the mind-numbingly homogenous superhero craze, listing the tropes we've seen a dozen times over is a dispiriting exercise. Not here.
Thanks to the careful work of director Ryan Coogler, who co-wrote the "Black Panther" script with "American Crime Story" scribe Joe Robert Cole, the movie's familiar elements are comforting instead of tiresome. That's because what bookends them is fresh and more invigorating than anything this genre has produced in the 21st century.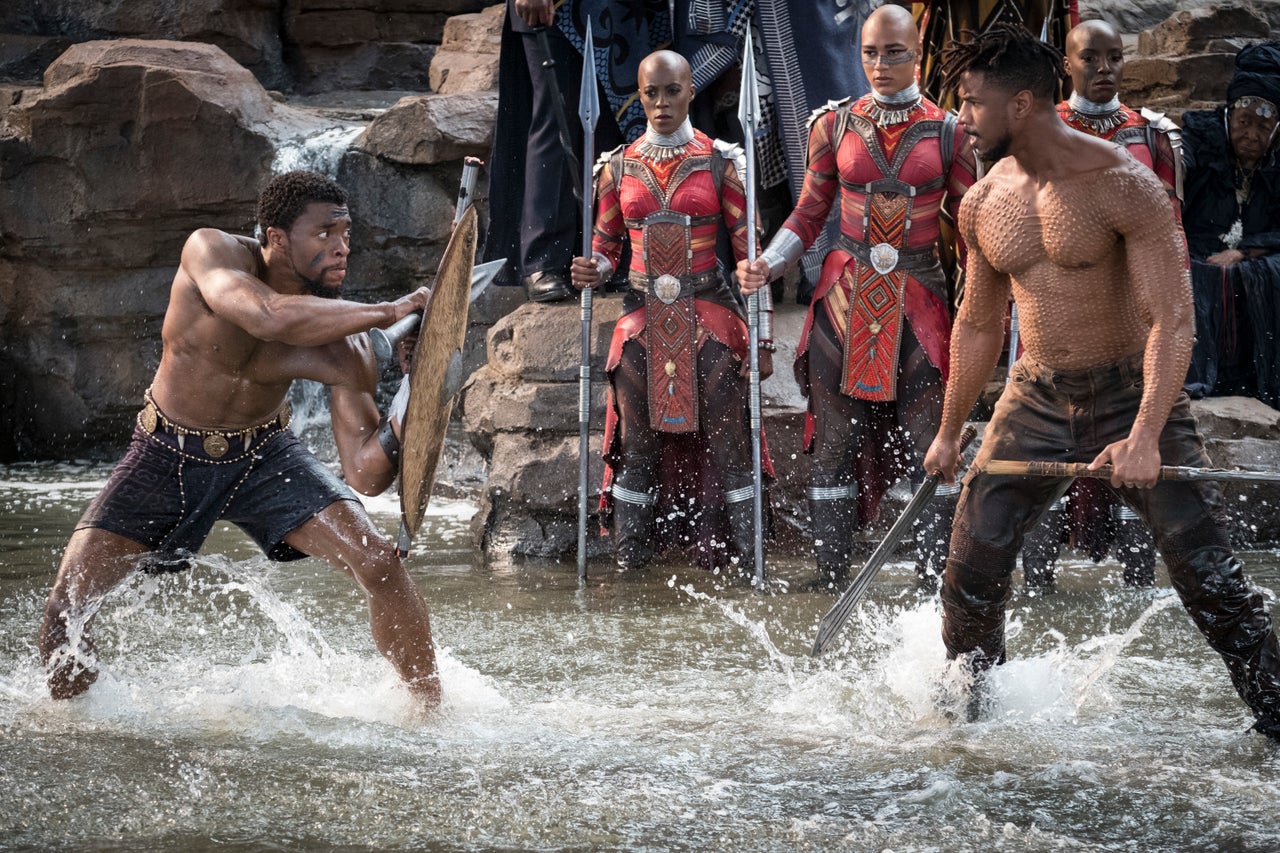 Of course, a lot of that is owed to the fact that no superhero flick has ever looked like this. None has had an almost exclusively black cast, and most are likelier to take place in the far reaches of outer space or some version of New York City than they are a fictional utopia in Africa.
And even the brightest spots in the Marvel and DC catalogs don't feature characters as nuanced and interesting as the ones seen in T'Challa's homeland, where muscular women are heroes, warring with other nations is not the answer, armored rhinos act as guards and everyone's attire glitters so spectacularly it might as well have catwalked straight off a Wakanda Fashion Week runway.
As the poised but restrained T'Challa, Chadwick Boseman, our de facto biopic master thanks to his roles as Jackie Robinson ("42"), James Brown ("Get On Up") and Thurgood Marshall ("Marshall"), once again proves himself a sturdy leading man. He's aided by a choice ensemble that includes Lupita Nyong'o as a charitable operative and well-rounded love interest, Danai Gurira as the captain of a female squadron, "Get Out" breakout Daniel Kaluuya as T'Challa's right-hand confidant, MVP Letitia Wright as his quippy tech-whiz sister Shuri, Angela Bassett as his royally robed mother, Forest Whitaker as an Obi-Wan-esque archbishop who oversees the crowning of Wakanda's monarch, and Martin Freeman as an American CIA envoy who joins T'Challa in protecting his paradise.
In an inspired casting choice, it's Michael B. Jordan, a stud among heroic studs after "Fantastic Four" and his previous Coogler collaborations ("Creed" and the fantastic 2013 indie "Fruitvale Station"), who becomes T'Challa's foil. Sporting a mean mug and a gritty dreadlocked updo, Jordan plays Erik Killmonger, a fallen angel who returns to the birthplace that exiled him with one mission in mind: overthrowing T'Challa and bandaging the emotional scars hardening his superpower-hunting soul. Killmonger seeks vengeance that would demolish Wakanda's isolated, technologically rich culture ― the very culture that has avoided colonialism and relieved its inhabitants of the systematic racism blanketing the globe. Jordan brings a grizzled vigor to the screen without losing what makes good villains so potent: a tangible sense of the injustices life has brought upon them.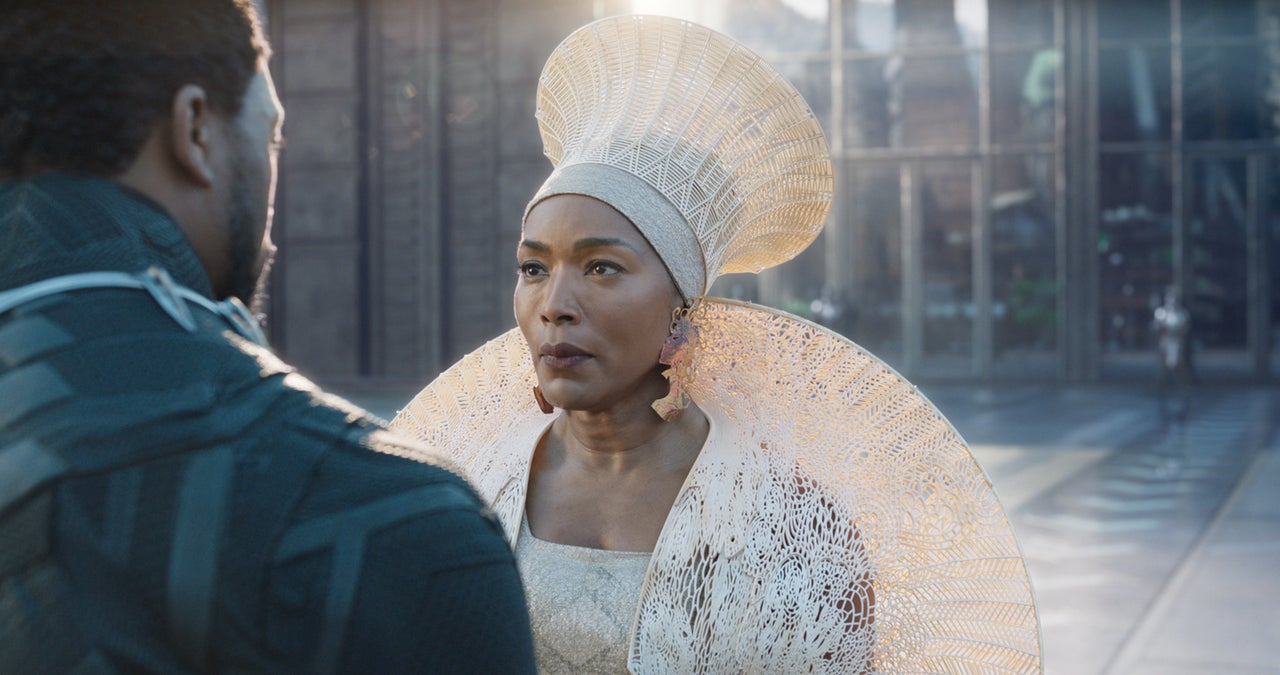 T'Challa and Killmonger's conflict yields a smattering of battles, as is routine for any comic-book spectacle's third act. And the action itself is far from perfect. Like too many films of this ilk, it's smothered in gaudy computer-generated renderings and edited for maximum velocity, detracting from the intimate character beats Coogler has laid out. However judicious it is overall, "Black Panther" further proves these movies would be better with less capital. Even our craftiest filmmakers can't resist hitting that extra VFX keystroke when allotted, in this case, a reported $200 million budget. Jumping from the lush flora and fauna of Wakanda ― that resourceful land where sunrises and sunsets punctuate unfathomable sci-fi beauty ― to the overcooked culminating fight sequences is like a rude jolt in an otherwise smooth roller coaster. (Credit for the aforementioned beauty goes to director of photography Rachel Morrison, whose work on "Mudbound" just made her the first woman nominated for the cinematography Oscar.)
To its benefit, "Black Panther" isn't overflowing with these gangbuster action scenes. In fact, a couple of its most thrilling moments are ritualistic hand-to-hand skirmishes set atop a multihued mountain where onlookers' uniforms form a rainbow of colors.
Even down to those onlookers, this is far more character-driven than anything Marvel has done, and I don't mean "character-driven" in the vein of, say, "Thor: Ragnarok," a romp that tried oh-so-hard to reinvent the wheel via canned, quirky humor. Here, everyone is steeped in the mythos of their ancestry but committed to a more diplomatic future. Their wisecracks are grounded in the politics of Wakanda and its relationship to other regions, as when Shuri says of Freeman's agent, "Great, another broken white boy for us to fix."
To wit, "Black Panther" thawed my superhero-agnostic heart, which, with all due respect to the objectively well-made "Dark Knight" and the first "Spider-Man" go-round, hasn't truly adored one of these movies since Tim Burton was making Batman. Until now, at least.
"Black Panther" gives voices to people we rarely see in big-budget, mythology-heavy Hollywood productions, and it does so with just enough serenity to avoid feeling like a factory-produced cog in the interconnected Marvel wheel. No superhero tale is apolitical, but this one's social undercurrents, about protecting neighbors and banding together to furnish a better society, are especially resonant as our government tells us how to make America great again. Coogler is among the best in his class: All hail Wakanda, where history bridges the past with all that's to come.
"Black Panther" opens in theaters Feb. 16.
Before You Go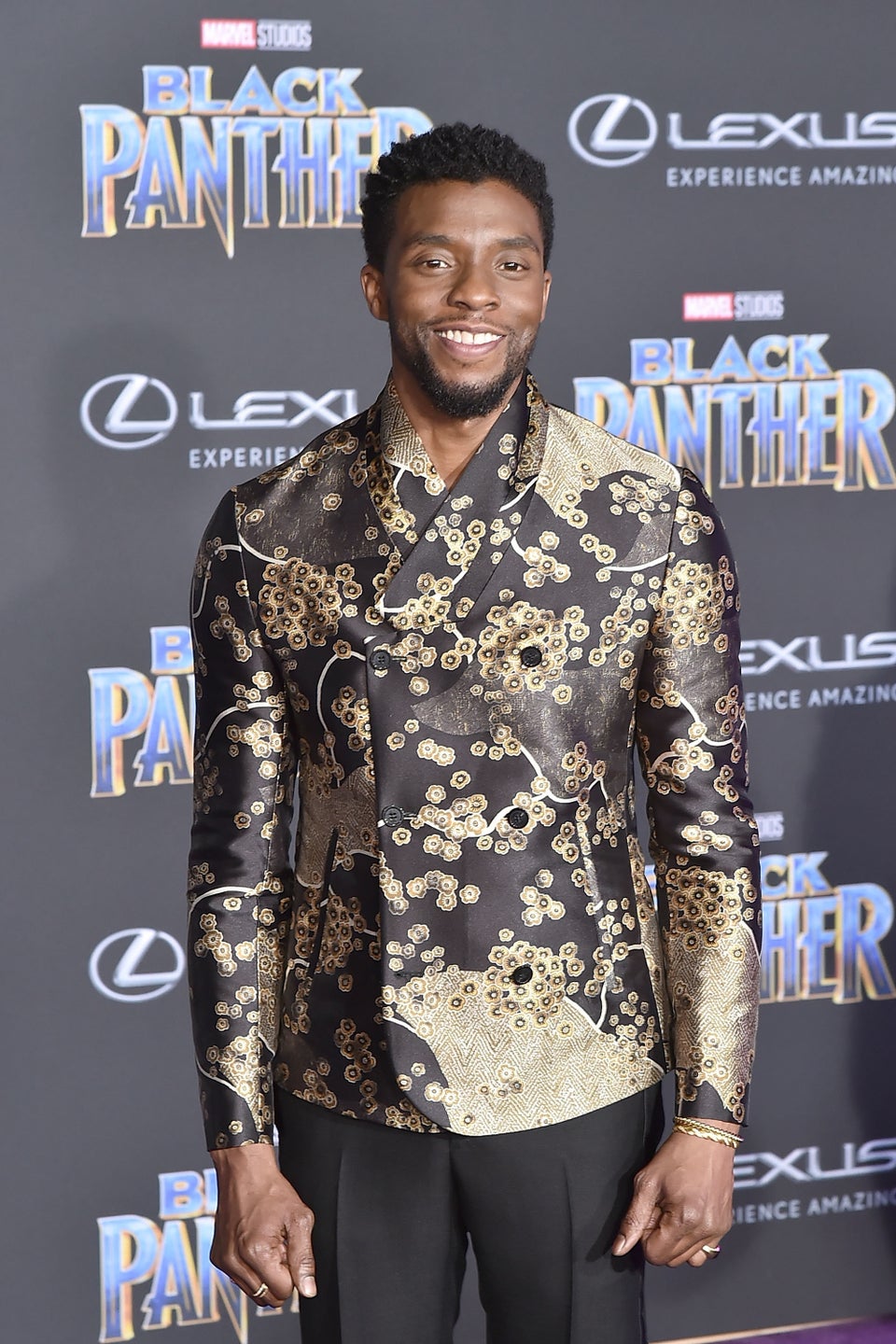 'Black Panther' Premiere Celebrates African Royalty